Plumbytes vs Malwarebytes AntiMalware
Today, anti-malware software companies offer users a wide range of various anti-spyware and anti-malware products. The cyber crime rate increases every day; criminals improve their techniques, and it becomes more and more difficult to protect the computer. We can see warnings here and there urging to install an anti-malware software to prevent virus attacks, however, choosing the right product from such variety of available products can be tough. Today, we are going to compare two products – Plumbytes Anti-malware and probably more known program – MalwareBytes AntiMalware. You might think that the more popular program is better than the less-known one, but we suggest you not to judge hastily. We suggest reading this Plumbytes vs Malwarebytes AntiMalware comparison first and only then decide which program you wish to use.
Latest versions: Plumbytes Anti-Malware 1.0.1.9; Malwarebytes AntiMalware 2.2.1.1043.
Free versions: Plumbytes Anti-Malware Free; Malwarebytes AntiMalware Free.
Paid options: Plumbytes Anti-Malware 2016; Malwarebytes AntiMalware Premium.
Installation: During installation, we haven't encountered any difficulties – both programs can be installed quickly and easily. However, we have noticed one disadvantage in Malwarebytes – we have installed it in a different language, and the text in the program has been clearly auto-translated. We believe that it is better to provide properly translated text rather than haphazardly translated one. The rest of the installation process went smoothly.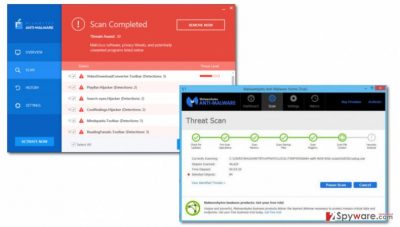 System requirements: Malwarebytes Anti-Malware is compatible with 32/64-bit versions of Windows 7, 8, 8.1, and 10. It is also compatible with Windows Vista (Service Pack 1 or later, 32/64-bit), and Windows XP (Service Pack 2 and later, 32-bit only). Plumbytes Anti-Malware is also compatible with 32/64-bit Windows 7, 8, 10, Vista (with SP2, 32 bit only) and XP (with SP3, 32 bit only). While Plumbytes asks for 60 MB free disk space and 512 MB RAM, Malwarebytes asks for more. It needs even 2048 MB RAM, except 256 MB for Windows XP, 800 MHz CPU or faster with SSE2 technology, 20 MB of hard disk space and greater than 1024×768 screen resolution. However, Malwarebytes offers a version for Mac users, too.
Scanners: We must note that both programs have a very friendly user interface. They both are designed to scan the system and particular areas automatically. Therefore, the user does not need to adjust any settings, just to sit back and relax until these programs finish to scan the system. However, if the user wants to do something at the same time while the scanners are active, he/she might notice that Malwarebytes scan lasts longer and that it slightly slows down the computer system. Meanwhile, Plumbytes Smart scan feature helps to scan the system faster and get scan results sooner. We have also noticed that Malwarebytes Anti-Malware presents each virus components separately, while Plumbytes shows each infection as a category that can be expanded. The user can choose whether he/she wants to see all files related to the infection or just to see the summarized results.
Malware removal: After scanning the system, both of these anti-malware programs offer malware removal service. The user can select and deselect threats that he/she wants to remove, and then eliminate them with a single click. Now, we have to say that the free version of Malwarebytes can remove threats for free, however, the full pack of useful features comes only with the Premium version, which is a paid one. The paid version of Malwarebytes can not only clean the infections, but also to prevent future infections, block malicious websites, hide from malware and, supposedly, scan the system quickly. As we have mentioned already, Plumbytes has proven to be a faster scanner. For comparison, Plumbytes can scan the system for free and detect numerous computer threats, but it clearly states that all advantageous features come with the licensed version of it. The paid version of Plumbytes Anti-Malware 2016 comes with these functions: malware and spyware detection, browser "anti-hijack" protection technology, fast scan, basic security threat detection, and premium support service. Now, let us talk about the last feature. It appears that Plumbytes offers 24/7 Technical Support service; this feature is very helpful because it means that users who discover that the anti-malware program cannot identify or remove a certain threat successfully can ask for individual help from IT technicians and get a custom fix for their computers. In comparison to Plumbytes, Malwarebytes suggests sending a ticket or posting on their forums for help. In our opinion, this way customers might have to wait for help longer than contacting 24/7 support service offered by Plumbytes.
Final notes: There is no doubt that both programs are powerful and useful, however, there are some aspects that you should evaluate before installing one or another program. Although Malwarebytes Anti-Malware software is often advertised as a free anti-malware program, we believe that it would be right to say that it is a free malware removal tool, because all of its anti-malware features are available only for those who purchase its full version. Plumbytes offers free scan feature to allow the user to see whether the computer is infected or not, and it clearly states that it is a paid anti-malware program. Besides, Plumbytes can refund your money within 60 days from the purchase day, while Malwarebytes provides a twice shorter period to fill refund request form – 30 days.
If you want to see more Plumbytes vs other security programs comparisons, navigate to this post – Plumbytes review.
About the author