Cybercrime nowadays is not a new concern. As the number of cyber attacks increases, PC users seek for computer protection tools. You might end up with a question – should I install Plumbytes Anti-Malware or SpyHunter? Naturally, computer users do not want to waste money buying several different programs just to test them and decide which one is better. Therefore, software reviews and comparisons can help you decide which program actually meets your expectations and can effectively remove computer threats. We have prepared this Plumbytes vs. SpyHunter comparison to help you decide which program to choose.
Latest versions: Plumbytes Anti-Malware 1.0.1.9; SpyHunter 4.23.0002.
Free versions: Plumbytes Anti-Malware Free; SpyHunter Free.
Paid options: Plumbytes Anti-Malware 2016; SpyHunter 4.23.0002.
Installation: Both these programs can be installed quickly and easily. You have to download the selected program from a trustworthy web source, then launch its installer, follow instructions and complete the installation by clicking "Finish" button.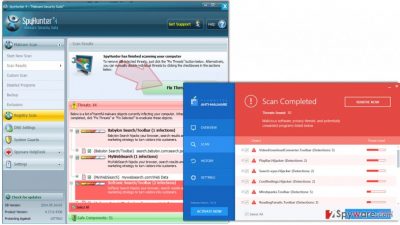 System requirements: At the moment, both programs are compatible with Windows OS only. They are supported by 32-bit and 64-bit versions of Windows 10, Windows 8, Windows 7. Both versions work with Windows Vista, but Plumbytes works only with the 32-bit version with SP2, and speaking of Windows XP, SpyHunter is compatible with the 32-bit version with SP2 or later, while Plumbytes is compatible with the 32-bit version with SP3 version only. Plumbytes also requires 512 MB RAM space and 60 MB disk space, while SpyHunter needs 256 MB RAM space and 75MB disk space.
Scanners: The system scan can be started easily using both programs. The user just needs to run the scan with a single mouse click and sit back. However, it seems that Plumbytes has a more friendly user interface since it is not filled with various buttons and customizable options. SpyHunter can be customizable in a number of ways – the user can choose which computer areas to scan, configure DNS settings and adjust various other options. For an inexperienced computer user, all these settings might seem confusing. Plumbytes offers Smart Scan feature, so the user does not have to adjust any scan settings manually – the program scans the computer system and essential areas automatically. We have also noticed that Plumbytes scans the system faster than SpyHunter does. After checking the system, both programs provide scan results and determine their threat level. The user can quickly eliminate threats with a single mouse click. Both programs can be easily customized to install software updates automatically as soon as their developers release them. That helps to keep their database up-to-date and make these programs capable of removing newest spyware/malware examples.
Malware removal: When these programs finish the system scan, they both provide a list of detected infections and their threat levels. The user can deselect identified programs and files in case he/she does not want to remove them. SpyHunter provides a feature that allows the user to add particular detected threats to the Exceptions list if the user considers them safe.
It is also worth mentioning that both programs provide free technical support for their users. It means that the user can get in touch with professional IT experts and get help from them absolutely for free. This feature is a guarantee that the computer gets fixed in case the program fails to identify or remove it automatically.
Final notes: Considering the fact that Plumbytes Anti-Malware license key, just like SpyHunter's, cost the same amount of money – 34.99 Euro excluding VAT, the user has to pay attention to features of these programs and their main differences. Both programs are legitimate, reliable and safe to use, and both of them are powerful spyware and malware removal tools. However, if you want an easy-to-use program, which scans the computer system in a shorter time, you might want to opt for Plumbytes. Another advantage of this program is that it provides a 60-day money back guarantee, while SpyHunter asks to send the refund request within 30 days from the purchase date.
More comparisons on Plumbytes and other computer security programs can be found in Plumbytes review.
About the author