Pre-installed viruses in 38 mobile models greet new Android users
If you have recently bought a new phone with Android operating system, do not expect it to be clean from viruses. Recent discovery revealed pre-installed infections in over a dozen of mobile models. Such brand names as Samsung, Lexus, LG, Lenovo, Oppo, and Xiaomi have been compromised with having an unpleasant "gift" for mobile users – hidden malware[1]. Mainly Samsung model variations contain a pre-installed infection: Samsung Galaxy Note 3, Samsung Galaxy Note Edge, Samsung Galaxy Note 4, and Samsung Galaxy Note 5. The disguised malware is most likely spyware, while some of the devices possess the ransomware called SLocker virus. Recently, a variety of Android viruses has sprung: talking screen locker Android ransomware[2], fake charging apps[3] and Android trojans[4].
It is no surprise that the cyber villains come up with most astonishing hacking techniques. While in previous cases, users might have escaped the Android infection by simply not downloading one or another program, in this case, the felons have outwitted themselves. Virus researchers speculate how brand new mobile phones and tablets with Android OS were infected with the spyware malware and ransomware. Two companies are suspected to have distributed corrupted devices. The majority of compromised devices contain an info-stealing virus. Fewer mobile phones are infected with Slocker and even Locky ransomware[5]. Check Point Software Technologies Ltd specialists, who made the discovery, have not disclosed more information on which companies sold the corrupted devices, only scarcely mentioned that one was "large telecommunications company, " while the other – "multinational technology company"[6].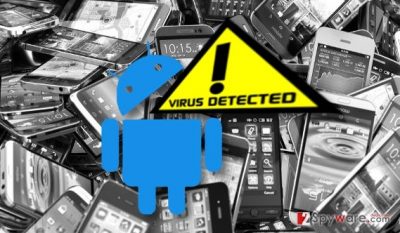 This incident is only one of the countless Android virus hijack stories. Lately, virus researchers have noticed an increase in Android trojans. In order to increase the scale of the infected devices, racketeers create botnets to carry out their malevolent plans. However, the current case outmasters all previous hijack techniques. Users with low cyber security awareness might not have the slightest idea about the disguised "gift." Thus, this variation of Android virus reminds a common truth: having an anti-virus software on your tablet or phone is a necessity. In addition, after purchasing a phone, you might reset the device to its factory settings.
About the author
References
Read in other languages