Preventing Locky virus: 5 tips for taking control
It is hard to find an Internet user who hasn't heard about Locky virus and its inflicted broad-scale damage on the entire online world. In case you rarely use the Internet and might not be aware of this virus, and why it causes so much havoc, then we are glad to enlighten you about this cyber threat. Locky virus is a ransomware-type program, which targets your personal data and encrypts it. After that, it displays a ransom note demanding the specific amount of money in order to retrieve the encrypted data. Due to the complexity of this virus, it has managed to infect thousands of computers worldwide and is believed to swindle millions of dollars from private and corporate users. Surprisingly, this virus hasn't been stopped yet and is still rampaging in the virtual world. Therefore, we provided some recommendations which will help you prevent infiltration of Locky and decrease its damage. They are listed below: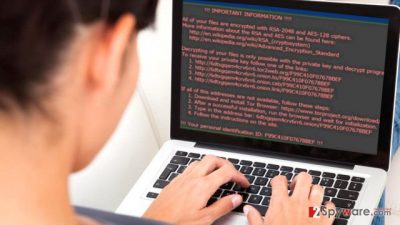 Avoid opening suspicious emails or spam, which is seemingly sent to you by governmental institutions. It has been observed that the malware prefers to spread itself via emails that are filled with Word or JavaScript attachment. Beware of any emails, which have such subject title as ATTN: Invoice J-98223100 or similar. Even if you have regular business with the mentioned institutions, inquire them directly in case of on doubt. If you work in a company, instruct your colleagues to be careful with each of emails received from unknown senders. You should also let them know about this threat.
Back up your system files regularly. You can use external drives, online backup solutions, cloud storage and similar solutions to keep the copies of your most valuable files safe. Beware that in most of the cases data kept on online storage solutions (Dropbox, Google Drive or Microsoft OneDrive) can be affected by ransomware because they are connected to your computer via the network.
Install reliable security software. It is essential to have one since you might overlook the infected files, especially Trojans, which have the tendency to disguise themselves masterfully. Moreover, it is vital to update your anti-spyware and anti-virus regularly so that the software receives newest virus definitions as frequently as possible. The anti-malware program might often come in handy when dealing with minor malware as well.
Update your system software daily. Certainly, updating is crucial. Having the newest version of the browser means that the probability of a ransomware hijack is minimized. Moreover, renewing system programs not only ensures the effective performance but also decreases the possibility of corruption.
Disable macro settings. One of the peculiarities of Locky ransomware is that it activates itself if the macro settings are enabled on the system. If they are not, then, it asks you to do it. Of course, you should ignore such requirement. No matter that macros are disabled by Microsoft by default, you should make sure that the settings on your computer and your colleagues' computers are right.
Summing up, these security measures should help you to keep safe from the ransomware. However, be realistic and remember to 'hope for the best, but prepare for the worst.' If you are infected, read Locky removal guide.
About the author
Read in other languages