Reimage repair Virus. Is it safe? 2022 guide included
Reimage virus Removal Guide
What is Reimage virus?
Reimage virus – a wrong term used to describe a legitimate PC Repair program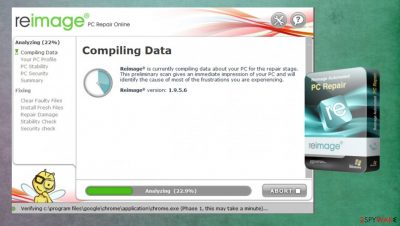 Reimage contains powerful anti-malware capabilities and works as a reliable system optimization tool.
Reimage Repair virus is a term that should not be used to describe a legitimate Windows Repair software. This application functions as a useful tool that helps users by scanning the systems for errors and fixing various issues related to Windows OS. To fix detected problems, you need to buy the full version, which reinstates bad or missing components without a need to restart a computer or, in worst cases, perform a full reinstall of the operating system.[1]
Software can also be used for fixing the damage done by trojans, rootkits, worms, spyware, or other malware. The Desktop version of the app can also be obtained from the official website and directly from us. Alternatively, some third-party sites can also offer this tool. However, be careful and use only official providers to prevent malicious versions on your system.
Note that it is not an anti-virus program, so it is unlikely to stop any incoming malware – you should use appropriate solutions for the purpose alongside the tool. Additionally, while it might be possible to get rid of certain computer infections with it, its main feature is to repair the operating system post-infection and fix various errors unrelated to malware.
Name
Reimage, Reimage Repair
Type
PC Repair software
Official website
reimageplus.com
Features
Fixes various Windows errors, Blue Screen of Death (BSOD), virus damage, corrupted DLLs, and improves computer's performance
Distribution
Users can download it from the official website
Compatible with
Windows XP, Windows Vista, Windows 7, Windows 8, Windows 8.1. Windows 10
Versions

Reimage Express
Reimage Plus
Reimage for Mac
Reimage for Android
You might have seen this application offered as an optional application during the software installation process, as well. If you failed to pay attention to its installation process and overlooked Reimage Repair offered to you as an optional program, you might have installed it without realizing that[2]. For this reason, this legitimate program has been named "Reimage virus."
However, Reimage Repair is not a virus – the malware gets onto the system to damage it or steal personal information, and this is not at all the purpose of the application. If it showed up with its scanners, you must have agreed with its installation. To avoid installation of unwanted applications, you should always install software correctly, e. g., select "Custom" or "Advanced" installation mode to see optional components of the software.
Reimage PC Repair has also been wrongfully labeled as "scareware"[3], and people have been made to believe that it seeks to convince them to purchase its full version – it is not the case at all. If you see many ads, it is due to the adware program installed on your system. To stop the pop-ups and other commercial content, terminate all the PUPs manually or by using an anti-virus program. However, if your computer needs a remedy for various issues caused by malware or frequent errors, FortectIntego is one of the best choices — more information about this program you can find in Reimage review.
Software offers numerous features, including effective corrupted file fix
We have been testing Reimage for several years continuously and have been impressed by the program's ability to refresh system files with the new ones without having to reboot or reinstall computer system. Besides, it is also useful to detect any hardware problems that would otherwise be hard to detect.
Users who tried Reimage tool seem to be happy as well:
My Lenovo Thinkpad would not update Windows 10. I tried every solution I could find on the web. Nothing worked. I spent many many hours trying to fix it myself. Then I installed Reimage and voila, problem solved. My Windows 10 is now up to date for the first time in months. Hooray!
There are several scam sites that display fake pop-up notifications about bogus virus infections, the purpose of which is to trick users into installing bogus tools that will show thousands of allegedly bad entries. In order to remediate the situation, they will be asked to purchase a full license of the app. These are shady practices used by shady affiliates and should never be trusted. Reimage Repair will not engage in such ways, and will only indicate precise locations of issues that need to be fixed.
We know that there are many computer users who have been using only free PC optimizers, security tools, antivirus programs, or other applications. However, you should remember that these tools are not always as effective as paid ones. Cybersecurity specialists note that malware infections are constantly growing[4], so it's important to keep up with them and install the best protection on your computer.
If you installed Reimage as an optional offer, you should scan your machine and check for issues it finds – you can then choose whether you want to purchase the license or not in order to repair them. Alternatively, you can uninstall Reimage if you do not like its functionality. However, we advise you to keep it, as it is an effective tool to repair your computer even without much IT knowledge.
Main functionality and 2019 updates
Reimage Repair is a sophisticated and advanced piece of software, packed with many helpful features. To determine problems, security software first performs a detailed system scan, looking for damaged or missing system files, such as .dlls or corrupt registries.
As soon as the scan is complete, users will be informed about the findings and prompted to eliminate all threats. Reimage removes the virus damage and replaces all damaged files with brand new ones, stored in an internal database which consists of more than 25,000,000 Windows system files. This database is continually updated so that only correct type of data is injected into the damaged machine.
Besides an already impressive functionality, the software is continually updated. The latest 2019 patch consisted of version 1.8.6.8 release which included:
The Revamped algorithm to speed up the computer repair process;
Improved functionality of malware cleaning process on all Windows versions
Bug fixes.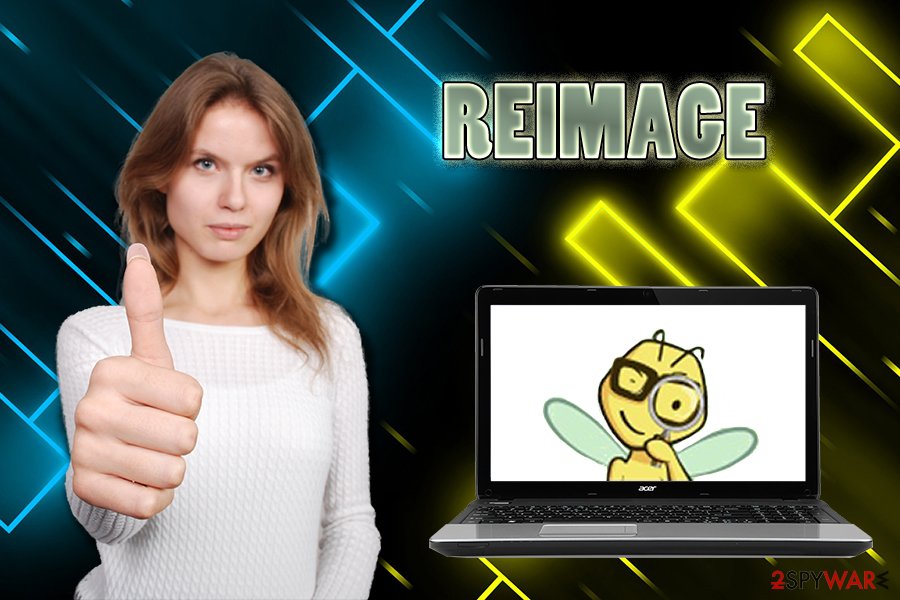 Reimage repair can not be titled as Reimage virus
Unexpected Reimage appearance on the system explained
There are numerous third-party websites that store thousands of applications, and users can download them for free. In some cases, these sites compile the programs into a single, standalone package that consists of multiple applications. Unfortunately, the installers that offer that application might sometimes include pre-ticked boxes that allow Reimage installation, and this has nothing to do with the app itself but rather the distributors.
While there is nothing wrong with offering users to try applications for free, the pre-selected boxes, misleading placements of buttons, fine print text, and similar practices often fail to inform users about the optional offers during the installation process of the desired app. Therefore, you should only trust installers from reputable websites that do not use misleading techniques in order to make you install the software you might not want on your machine in the first place.
However, it is sometimes hard to know which sites can be trusted. Thus, you should always be aware of software bundling practices used by websites and make sure to pick Advanced/Custom settings during the installation process – carefully examine each step and remove the marks from all the pre-ticked boxes to avoid apps you do not want.
Reimage Repair removal steps explained in-depth
As we have already mentioned, "Reimage virus" is a false term, and its main goal is to help users. However, if you have a potentially unwanted program installed on your machine, it might be that you will be shown several ads that advertise the product. If you do not wish to see these promotions, you should find and eliminate PUPs from your machine.
Nevertheless, installing sofware can be a great solution to many, especially those who have been struggling with the sluggish operation of the PC, frequent errors, and other issues.
However, if you do not require the functionality of this app (technically, all the repairs can be done manually, but it usually applies to more proficient users), you can easily remove Reimage Repair[5] following these steps:
Click Start menu → Go to Control Panel → Select Uninstall a Program or Add/Remove Programs.
Find Reimage or Reimage Express, right-click on it and select Uninstall.
Video guide to help users restore their system more quickly
If you decided to uninstall Reimage Repair completely, use a video providing useful few tips to bring your PC back to its previous state.
Reimage Q&A:
Before you start Reimage removal, read the most popular questions regarding this program. It is clear that this application is capable of improving your computer's functionality and removing damage done by computer infections.
Question. I've noticed that an increased number of ads on my browser. These ads are mostly saying that I need to download a full version of some program called Reimage Repair in order to protect my computer. What is more, there is now a Babylon Toolbar sitting on my browser which I find completely useless. Who's to blame for the appearance of these annoying ads and toolbars, and how can I remove them?
Answer. If you are seeing frequent ads on your computer that urge you to buy Reimage Repair, it means that your system is infected with adware. In this case, the most likely culprit is Babylon Toolbar – a browser hijacker that changes web browser settings without permission and then exposes users to commercial content.
While most of the adverts are legitimate and offer reputable tools, the increased amount of ads can be extremely frustrating to deal with. Be aware that the ads are not initiated by this app but rather an unknown potentially unwanted program. To stop ads, browser redirects and other unwanted activity, you should terminate Babylon Toolbar and similar unwanted programs installed on your device.
Question. Can anyone explain to me what Reimage PC Repair is? Is it a virus on not? It's been bugging me for a while prompting me to buy its full version and redirecting me to various suspicious websites. How can I remove it?
Answer. The PC Repair software is not a virus, but rather a useful application that can be used to repair a damaged computer. The intrusive advertisements that ask you to install the tool are not related to the developer itself but rather parties that promote the tool via advertisements. Its appearance on your computer should make you think what freeware you have installed on your computer without being attentive because ads by this app are mostly caused after installing a potentially unwanted program.
In order to get rid of them, you need to uninstall unwanted apps. However, please be aware that Reimage Repair is not related to the intrusive ads, and should be treated as a standalone application that is used to fix various PC issues. Thus, try out the app and purchase it if you like it. Otherwise, uninstall Reimage via the Control Panel.
Question. I've seen an online ad prompting me to download Reimage which looks like a reliable system scanner. What is your position as regards this tool? I downloaded the setup but I am not sure if I should install it. Is it reliable or should I remove the setup file and find another tool to scan my system?
Answer. Reimage is reliable, and you can download it if you want to check your computer for malware damage, system errors, hardware problems, and similar system issues. However, to solve these problems, you will have to buy its full version. If you want to repair your system for free, that is hardly possible, as you will either have to pay for the work of professional IT technicians or learn how to fix PC issues manually.
Alternative Software
Different software has a different purpose. If you didn't succeed in fixing corrupted files with Reimage, try running Combo Cleaner.
How to prevent from getting system tools
Protect your privacy – employ a VPN
There are several ways how to make your online time more private – you can access an incognito tab. However, there is no secret that even in this mode, you are tracked for advertising purposes. There is a way to add an extra layer of protection and create a completely anonymous web browsing practice with the help of Private Internet Access VPN. This software reroutes traffic through different servers, thus leaving your IP address and geolocation in disguise. Besides, it is based on a strict no-log policy, meaning that no data will be recorded, leaked, and available for both first and third parties. The combination of a secure web browser and Private Internet Access VPN will let you browse the Internet without a feeling of being spied or targeted by criminals. 
No backups? No problem. Use a data recovery tool
If you wonder how data loss can occur, you should not look any further for answers – human errors, malware attacks, hardware failures, power cuts, natural disasters, or even simple negligence. In some cases, lost files are extremely important, and many straight out panic when such an unfortunate course of events happen. Due to this, you should always ensure that you prepare proper data backups on a regular basis.
If you were caught by surprise and did not have any backups to restore your files from, not everything is lost. Data Recovery Pro is one of the leading file recovery solutions you can find on the market – it is likely to restore even lost emails or data located on an external device.
About the author
References
Removal guides in other languages