Reimage repair Virus. Is it a real threat? Guide included
Reimage virus – a wrong term used to describe a legitimate PC Repair program
Questions about Reimage virus
Reimage Repair virus is a term that should not be used to describe a legitimate Windows Repair software. This application functions as a useful tool that helps users by scanning the system for errors and fixing various issues related to Windows OS. To fix detected problems, you need to buy the full version which reinstalls bad or missing components without a need to restart a computer restart or, in worst cases, perform a full reinstall of the operating system. Additionally, Reimage Repair can be used for finding malware[1] as it collaborates with Avira Antivir and uses its database. The Desktop version of Reimage can also be obtained from the official website and directly from us. Alternatively, some third-party sites can also offer this security tool. However, be careful and use only official providers to prevent malicious versions on your system. 
Name
Reimage
Type
PC Repair software
Also known as
Reimage Repair
Official website
reimageplus.com
Features
Fixes various Windows errors, Blue Screen of Death (BSOD), virus damage, corrupted DLLs, and improves computer's performance
Distribution
Users can download it from the official website here
Compatible with
Windows XP, Windows Vista, Windows 7, Windows 8
Versions

Reimage Express
Reimage Plus
Reimage for Mac (under construction)
Reimage for Android
You might have seen this application offered as an optional application during the software installation process as well. If you failed to pay attention to its installation process and overlooked Reimage Repair offered to you as an optional program, you might have installed it without realizing that[2]. For this reason, this legitimate program has been named as "Reimage virus." 
However, we can assure you that Reimage Repair is NOT a virus. Keep in mind that it cannot step into the computer without its owner's permission. If it showed up with its scanners, you must have agreed with its installation. To avoid installation of unwanted applications, you should always install software correctly, e. g. select "Custom" or "Advanced" installation mode to see optional components of the software.
Reimage PC Repair has also been wrongfully labeled as "scareware"[3] and people have been made to believe that it seeks to convince them to purchase its full version. In this case, we should say that some of its ads are displayed quite frequently, but you can ignore them and do not buy anything. However, if your computer needs protection, Reimage is one of the best choices. More information about this program you can find in Reimage review.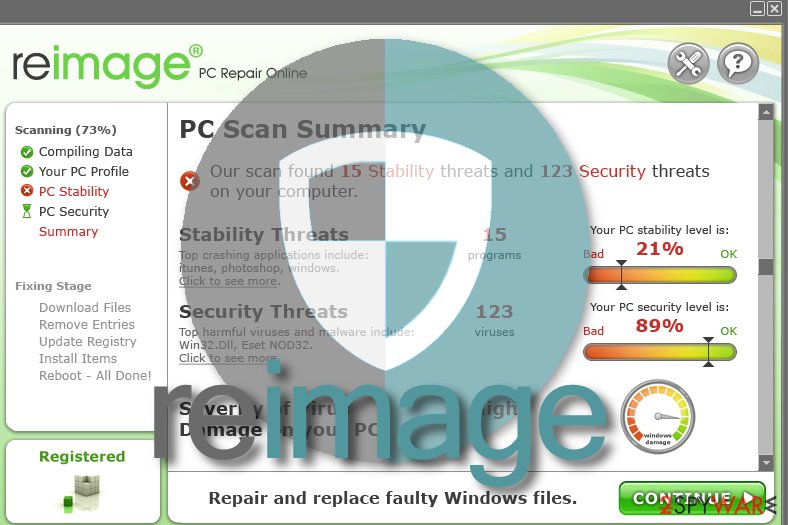 Reimage contains powerful anti-malware capabilities and works as a reliable system optimization tool.
Reimage Repair offers numerous features, including effective file fix
We have been testing Reimage for several years continuously and have been impressed by the program's ability to refresh system files with the new ones without rebooting computer system. Besides, it has Avira Antivir removal tool added, so it can also be used for removing different kinds of malware. Users who tried this tool seem to be happy as well:
My Lenovo Thinkpad would not update Windows 10. I tried every solution I could find on the web. Nothing worked. I spent many many hours trying to fix it myself. Then I installed Reimage and voila, problem solved. My Windows 10 is now up to date for the first time in months. Hooray for Reimage!
When having the app on your computer, you will see system scanners and pop-up ads stating that your PC is in danger or safe. Their aim is to convince you that you need to purchase its license. Beware that your computer cannot be in a serious situation because these notifications are not displayed for no reason. After clicking "Start Repair" button, you can find yourself on the official website of this program urging you to purchase lifetime support for Reimage Plus. But that's business, right? That's your choice to buy or not to buy this program.
We know that there are many computer users who have been using only free PC optimizers, security tools, antivirus programs or other applications. However, you should remember that these tools are not so strong and effective. Cybersecurity specialists note that malware infections are constantly growing[4], so it's important to keep up with them and install the best protection on your computer.
If you have already downloaded this program, you should either uninstall Reimage or keep it on your computer as the security software. Several years ago, it started its partnership with Avira Antivir, so you can be sure that you will remove malware with the help of this program. However, when installing this app, make sure that you deselect pre-selected check marks reporting about optional components. 
Main functionality and 2019 updates
Generally, Reimage Repair is a sophisticated and advanced piece of software, packed with many helpful features. To determine problems, security software first performs a detailed system scan, looking for malware and other damaged files. As we already mentioned, the app is using a powerful Avira AntiVir engine for virus detection.
As soon as the scan is complete, users will be informed about the findings and prompted to eliminate all threats. Then removes the virus and replaces all damaged files with brand new ones, stored in an internal database which consists of more than 25,000,000 Windows system files. This database is continually updated so that only correct type of data is injected into the damaged machine.
Besides an already impressive functionality, the software is continually updated. The latest 2019 patch consisted of version 1.8.6.8 release which included:
The Revamped algorithm to speed up the computer repair process;
Improved functionality of malware cleaning process on all Windows versions
Bug fixes.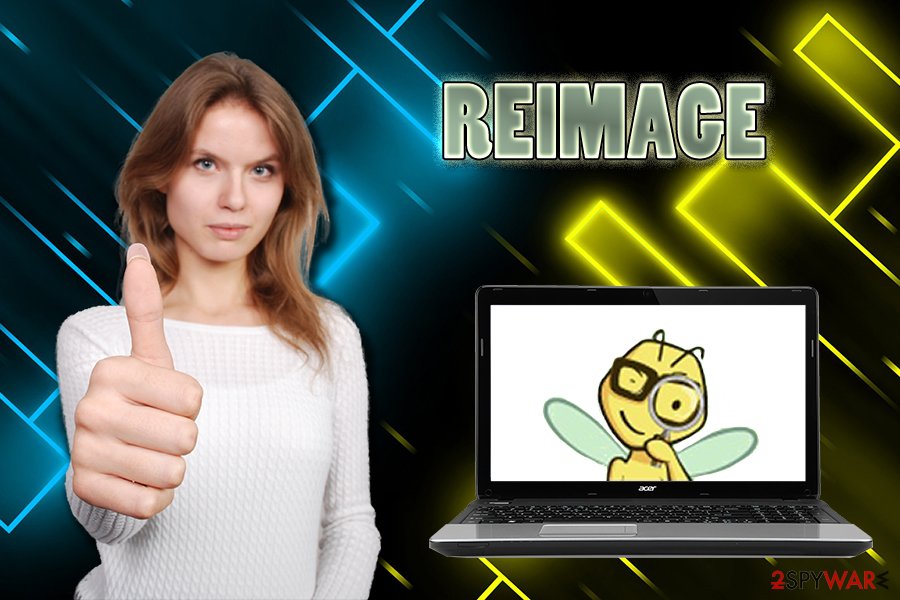 Reimage repair can not be titled as Reimage virus
Unexpected Reimage appearance on the system explained
Computer users have always been trying to blame someone else for installing various applications on their computers. However, it should be noted that Reimage CANNOT get on your computer without your permission. This program has to be downloaded either from its official website or from some third party website that has decided to be involved in its distribution.
Either way, the installation process requires the user's intervention. If you decided that you want to install Reimage Repair on your computer, you might be offered to install "Recommended" setup, which includes AVG Safeguard Toolbar and mysearch.avg.com browser extension.
Of course, these programs are reliable security tools, so you can safely install them. However, if you don't want to see changes on your computer, you should be attentive and prevent their installation by deselecting pre-checked check marks[5]. However, you can do it only if you choose the "Advanced" installation mode. While having this software, sometimes you may receive pop-up ads offering you to purchase Reimage PC Repair Online as it is a paid security software.
Reimage Repair removal steps explained in Depth
As we have already mentioned, "Reimage virus" is NOT a virus or malicious program. However, its ads may disappoint you because they can actively offer you to purchase its license. If you are ready to do that, you should not hesitate and download it as this tool has been approved by various security experts as an exceptional program to improve your computer's functionality.
However, if you still believe in this virus theory and don't want to keep it, you can easily remove Reimage Repair following these steps:
Click Start menu → Go to Control Panel → Select Uninstall a Program or Add/Remove Programs.
Find Reimage or Reimage Express, right-click on it and select Uninstall.
Video guide to help users restore their system more quickly 
If you decided to uninstall Reimage Repair completely, use a video providing useful few tips to bring your PC back to its previous state. Keep in mind that uninstalling the app will also eliminate its changes on your computer, so if you used Reimage to fix issues on it, they will be recovered. 
Reimage Q&A:
Before you start Reimage removal, read the most popular questions regarding this program. It is clear that this application is capable of improving your computer's functionality and protecting from malware. All doubts have been initiated by the program's competitors.
Question. Recently, I've been receiving a lot of messages that my computer has been infected and the only way for me to save it against the threats is to buy a full version of Reimage PC Repair online software. However, I don't recall downloading this tool in the first place… Are these warnings legitimate or is it a scam?
Answer. You are dealing with a legitimate PC Repair software which is called Reimage PC Repair. This program has received various comments because it is believed that it seeks to trick computer users into buying its paid version. However, we could hardly find an anti-virus or anti-malware program that is offered on the Internet for free.
What is more, just like hundreds of similar free programs, this program has been distributed in the bundle with freeware. However, these days are gone. You can download this program from its official website. If you have recently installed some free application on your machine and you know that you failed to monitor its installation, you should look for questionable browser extensions on your computer.
Question. I've noticed that an increased number of ads on my browser. These ads are mostly saying that I need to download a full version of some program called Reimage Repair in order to protect my computer. What is more, there is now a Babylon Toolbar sitting on my browser which I find completely useless. Who's to blame for the appearance of these annoying ads and toolbars, and how can I remove them?
Answer. You've just encountered a phenomenon called bundling. Bundling is a legitimate distribution technique used to spread several programs at once. In most of the cases, this method is used for the distribution of potentially unwanted programs like browser hijackers and adware-type programs.
However, such tools as this program can also be installed in a bundle with free software. If you want to get rid of Reimage PC Repair ads, you should uninstall this program and reset your web browser.
Question. Can anyone explain to me what Reimage PC Repair is? Is it a virus on not? It's been bugging me for a while prompting me to buy its full version and redirecting me to various suspicious websites. How can I remove it?
Answer. The PC Repair software is NOT a virus. It is a PC repair tool that promotes its full version on the Internet. Its appearance on your computer should make you think what freeware you have installed on your computer without thinking because ads by this app are mostly caused after installing this program.
In order to get rid of them, you need to uninstall Reimage. However, if you have worries that your computer is not safe, you should let this program do its work for you. You can perform a full system scan with this program and fix issues that are detected on your computer.
Question. I've seen an online ad prompting me to download Reimage which looks like a reliable system scanner. What is your position as regards this tool? Is it reliable or should I remove the setup file and find another tool to scan my system?
Answer. Reimage is reliable and you can download it if you want to check your computer for malware, errors and similar system issues. However, to solve these problems you will have to buy its full version. If you don't want to pay for anything, you should look for another program.
Question. Please help!! I've been dealing with lots and lots of ads redirecting me to suspicious websites and warning me about infection of the system. I always see a message that this can be stopped by downloading Reimage. Is it a legitimate tool or the source of these ads? How can I remove it?
Answer. There is no doubt that this software is reliable and can help you check your computer and see what problems it has for free. However, you will have to buy its full version to eliminate these problems on your computer. You can trust this program, it is a legitimate tool that you can use to check your computer for issues. If you want a free tool, try Reimage Express.
Alternative Software
Different security software includes different virus database. If you didn't succeed in finding malware with Reimage, try running alternative scan with Combo Cleaner.
About the author
References
Removal guides in other languages

March 27th, 2016 at 5:15 am

Reimage software had its fair share of problems in the past, happy they resolved all problems and now its a clean and fast tool! It does great job!


May 3rd, 2016 at 10:47 am

Could you please send me a login key for Reimage Repair which I purchased on May 24th 2015.Running a trial version of Reimage convinced me that this program could be v.useful to me.
The login key I have on record is-[redacted],but RI does not respond to this code now.
Thanks in Advance
John Hitchen


May 3rd, 2016 at 10:51 am

Dear John,

We are not the developers of Reimage, so please contact the official developer of this software. You can send a question for them here: http://www.reimageplus.com/submit-ticket/


September 30th, 2016 at 1:22 pm

Three of Windows 10s files, audiodg.exe, fontdrvhost.exe and Music.UI.exe gave caused Panda to give me error messages, and prevented me from hearing any audio from any app or from the Internet. Spyhunter, HitmanPro, Panda itself, and AVG antivirus scanned my computer and reported no threat. But Reimage techs. fixed the problem. So I heartily recommend their services.


April 18th, 2017 at 12:40 am

Do you know if this program fixes .dll files?