How to remove system tools
Be careful when you choose which System tools to use
System tools are applications that possess certain functionality and can be used for implementing different tasks. People download them in the hopes of improving computer performance and security,  getting a better experience while browsing the Internet, or simply fixing specific PC errors.
While most of the system tools can be a great help, some might not be as good as they claim to be and might be used as a simple money making mechanism. When it comes to the latter, such app developers do not emphasize user experience or even usefulness of of the application as important, and only seek to gain financial benefits in one way or another. What is worse, that some system tools can be straight out malicious – replicate malware behavior for money extortion purposes.
Malicious tools often use official websites where they can also be obtained from. Such sites are commonly made very attractive and possess certain aspects that are coming from a field of social engineering – they would use fake Facebook profiles to show fake but positive comments or embed names of high-profile tech companies or media outlets in order to seem more legitimate.
Alternatively, users may also acquire potentially unwanted programs while installing other free programs downloaded from the internet. The bundle typically includes a desired application (typically, harmless) and optional installs that users often fail to decline while rushing through installation steps.
There are two main categories that we can distinguish when it comes to malicious system tools (you can find more detailed descriptions below):
Rogue anti-malware
These malicious apps were prevalent when the cybersecurity security business just began to evolve, and people started to treat their online security more seriously. The need for security tools fueled the rise of rogue software that pretends to be fighting malware while being nothing else but malware itself. These programs create fake virus entries and show alarming notifications for users on a regular basis. They might also block certain programs of Windows features from being executed to imitate malware infection on the system.
Fake system optimizers or registry cleaners
Otherwise referred to as scamware or scareware, this software tries to lure users who are unfamiliar with how computers work. To be successful, it claims that it can improve PC performance by deleting allegedly useless registry entries or cleaning junk from the system. The entries found by such apps are usually harmless and would not cause computer speed to improve, as they barely take a few kilobytes of space. The rest of the optimization is also rarely bringing any use, as most of the "improvements" that users feel are highly psychological.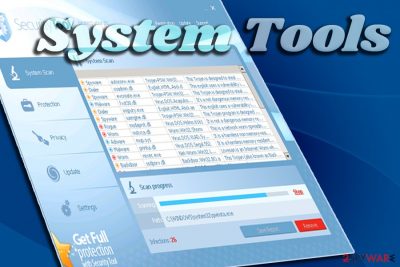 System tools are usually useful applications that make daily computer activities easier. Nevertheless, malicious versions of such applications can cause great damage
Another virus-like behavior that malicious system tools possess is persistence – uninstallation might become a total nightmare, as the uninstaller might not be present or the program might be missing from the installed application list. Besides, even after termination, some system tools might leave traces like browser changes, registry entries, and other components that will keep disturbing users.
Types of malicious system tools that should be avoided
Fake PC optimization tools. No matter that these programs are considered harmless, they can cause annoying system scanners and security notifications on your computer. Typically, they claim that computer is full of various errors (useless registry entries, files, and other content) that should be eliminated. Also, they offer to fix these errors by purchasing their licensed versions. The main problem here is that they can detect only a small part of useless components on your computer. Besides, their removal can hardly increase your PC's speed because you need to remove thousands of them to see the difference in your PC's functionality.
Scareware. Such software does not pose any danger to a computer system as well. However, as its name suggests, it can show misleading system scanners and security notifications for trying to scare you into thinking that your computer is infected. Also, you can be informed that the only way to fix it is to purchase the licensed version of the scareware. Once the developers of such programs get their money, they simply stop showing their misleading warning messages on victims' computers. 
Questionable search engines. In most of the cases, such search sites are considered trustworthy tools for searching. However, they can appear on the system without downloading them. They have been actively spread with the help of bundling, so people can allow their installation without understanding that. Some versions of such system tools can show you forged search results and lead their users to unfamiliar websites.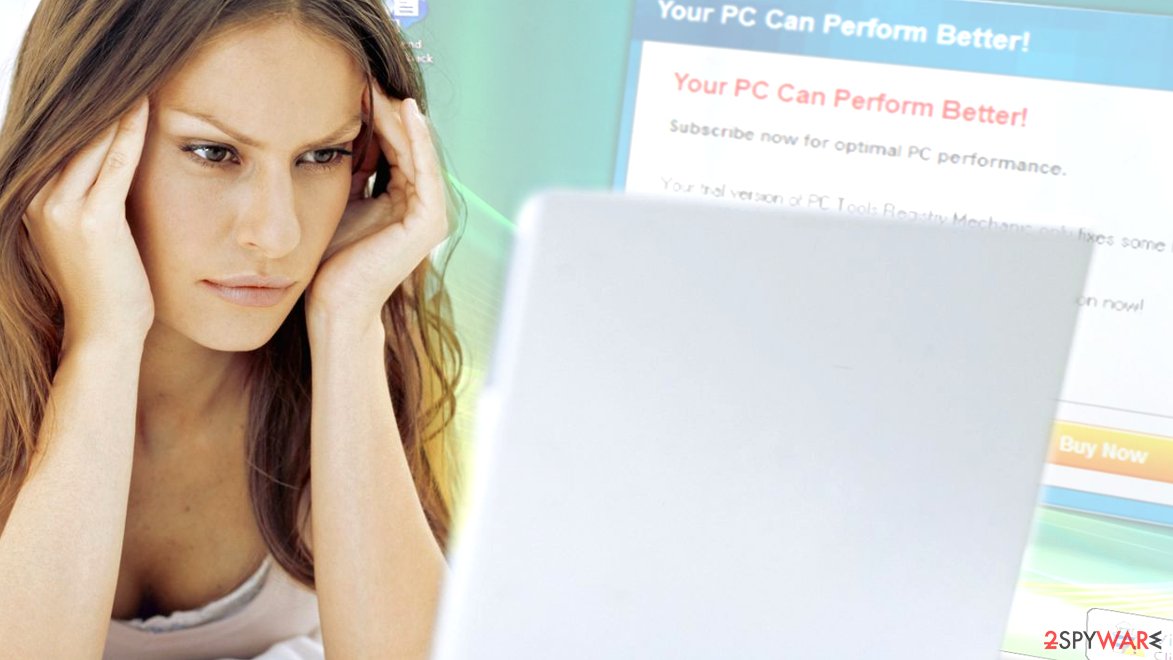 System tools might be useful helpers. However, some system tools might not only result in wasted money but also harm the operating system
Distribution techniques of misleading system tools
Unfair programs, which are categorized as "system tools", shouldn't be downloaded intentionally. Even if they don't pose harm to your useful files and similar data, they can cause unwanted activity. Here are the most popular methods used for the distribution of system tools:
Official sites. You can easily install a system tool with its official website. As we have mentioned, the most of such programs are harmless, so they can be promoted with the help of their sites.
Misleading pop-up ads. Each of pop-up ads should be treated with extreme carefulness, especially the ones that offer to fix a computer for free. If you don't want to end up with a suspicious system tool on your computer, you should stay away from ads claiming that you can scan your computer with a free system scanner or that you should install an update on your computer. Typically, such ads are used for spreading questionable programs.
Software bundles. Bundling takes a very important role in the distribution of legitimate and questionable system tools. To protect yourself, you have to select Custom or Advanced installation method each time you install a free program on your computer.
Most common fake system tools for Windows
As evident, there are two main operating systems that are used worldwide – Windows and macOS/Mac OS X. While the latter is a little less popular overall, malware for the platform has been actively being developed in the recent years, including the system optimizers that show false-positive scan results.
Nevertheless, Windows remains the most popular operating system, so there are more viruses developed for the platform. Below are the most common fake system optimizers and other malicious system tools for Windows OS:
Driver Tonic
Driver Tonic is a potentially unwanted application that usually gets installed together with other software, although users can also install it intentionally on the official website. According to its developers, the app can automatically update all the drivers needed to game without problems, clean the registry and protect from malicious websites on Google Chrome, Internet Explorer, Mozilla Firefox, and other browsers.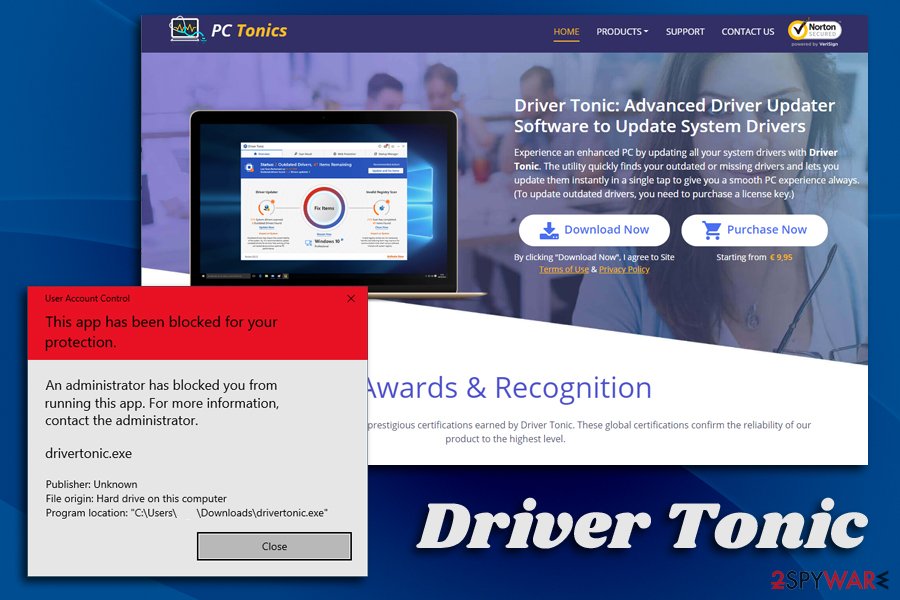 Driver Tonic claims to update your drivers on time by using comprehensive database. However, it can install itself without the permission and install wrong drivers, wasting your time and money
Driver Tonic claims to use a database of 200,000 drivers that can be updated on all systems that the program is installed automatically. However, the app might start showing you fake scan results, indicating multiple outdated drivers, and even install the wrong ones. Corrupt of inappropriate drivers might destroy the operation of multiple Windows parts. The same applies to the Windows registry – the system part that should rarely be touched in the first place.
Besides, Driver Tonic is also recognized as a potentially unwanted program by multiple AV vendors – it could harm your PC. Therefore, never buy a full version of the program and rather use trusted utilities that would help you install the required drivers – Nvidia Experience. Besides, drivers can be downloaded from the manufacturer website or via the Device Manager.
Web Companion
Web Companion by Lavasoft is one of the most controversial and widely-spread potentially unwanted programs that are often offered as an optional component inside bundled software packages. The feature is exceptionally prevalent, as many users complained about the tool appearing seemingly out of nowhere, even after installing new programs carefully.
The rogue installation of Web Companion can be blamed on particularly deceptive installers that do not possess the feature that allows users to decline the installation in the first place. We suggest not installing programs that do not allow to prevent dubious from entering the computer in the first place.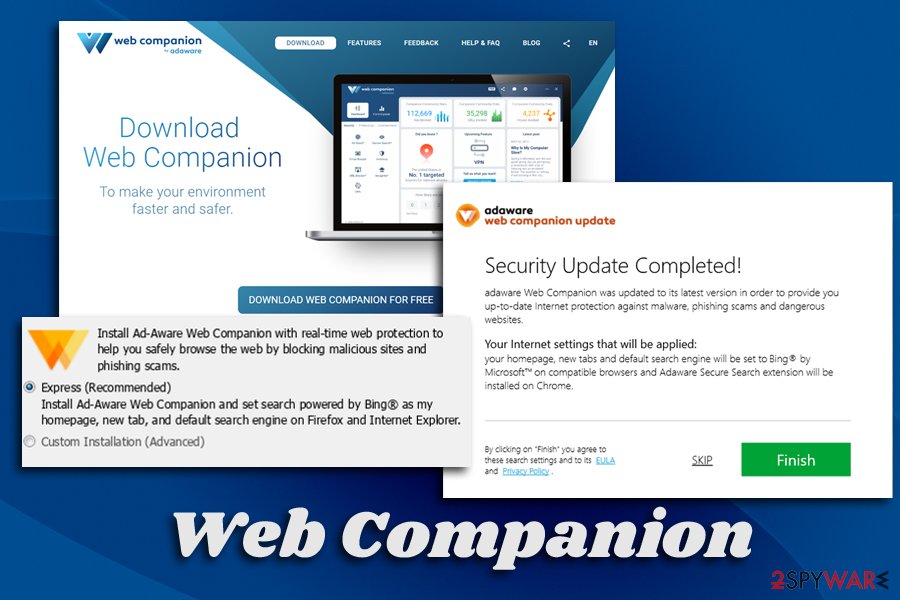 Web Companion uses deceptive techniques for its distribution, namely deceptive installers that do not disclose its presence in the first place
Web Companion is suggested as a useful application that can secure the web browsing sessions by preventing the installation of dangerous adware programs and other unwanted apps. Ironically, this system tools act more like adware and a potentially unwanted program itself. We suggest you remove Web Companion as soon as you notice it on your computer. You should also scan your computer with anti-virus software for best results.
My System Mechanic
My System Mechanic is a classic fake system optimizer that identical to hundreds of other similar software that has been branded as scareware by security researchers, as well as the community. The dubious app was available to download from its official website, although the site is now shut down. Nevertheless, users can still install it together with freeware and shareware apps from third-party sites.
Upon installation, System Mechanic performs an automatic system scan which shows hundreds of issues. The app developers intentionally use red color for displaying the problems and mark them as "high severity level." The threats are distinguished into several categories:
Malware/PUP Threats
System Performance issues
System/User software related
Startup/Uninstall problems
In reality, most of the flagged issues are harmless registry entries related to Google or other legitimate services. Besides, cookies can hardly be considered a security threat, although this program will happily introduce them as such. Additionally, My System Mechanic might delete vital registry parts that might corrupt the operation of the Windows system.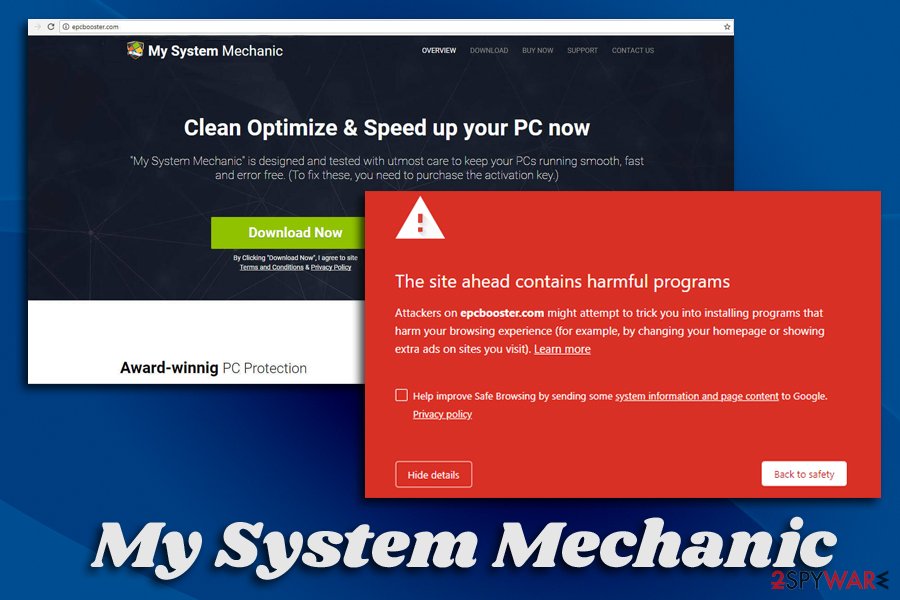 My System Mechanic is one of many fake system optimizers that show fake scan results in order to make users believe that their computers are badly damaged and need fixing
The goal of fake system optimizers like My System Mechanic is to make users believe that their PCs are in deep trouble and need fixing. However, to do that, they need to pay for the registered version of the app – and that is how developers make money. Do not pay for the bogus System Mechanic tool and get rid of it as soon as possible, before it manages to damage your OS.
Macs have been targeted by scareware and similar apps for awhile
For many years, users thought that Mac viruses do not exist and that their system is completely safe from the online dangers. While it might have been the case when macOS was not as popular, cybercriminals always found ways to bypass security measures implemented by Apple.
However, malware is not the only threat to Mac users. Most recently, fake system optimizers and adware have been targeting the platform, and many unwanted apps emerged. Check out the most notorious of such applications:
Advanced Mac Cleaner
Advanced Mac Cleaner claims that it can improve the speed, clean junk files, and optimize the computer for a smooth performance. However, the application is one of the most known apps among cybersecurity community as a scareware app that tries to claim users' money by showing them fake scan results.
Just as other fake system optimizers, Advanced Mac Cleaner is usually installed along with other software or can be promoted via fake Adobe Flash updates or suspicious ads on various websites. It is worth noting that the threat is often promoted via the notorious "Your system is infected with 3 viruses!" scam sites. The worst part is that it was also involved in the malicious Shlayer Trojan campaign that installed apps without permission, redirected to dangerous sites, and disabled the Gatekeeper.
As soon as Advanced Mac Cleaner is installed, the PUP performs a fake scan that immediately shows thousands of detected issues, including duplicate files, cache files, virus infections, and other threats. These issues are obviously fake, and should not be paid attention to. However, the presence of Advanced Mac Cleaner might indicate more severe malware existence – do a scan with a reputable security tool.
TuneupMyMac
TuneupMyMac claims to be certified by a certification body AppEsteem. However, the app is one of many fake system tools that will not only fail to do what it promises but might also damage the operation of a healthy macOS/Mac OS X. Nevertheless, Systweak Software, its developer, claims that the tool can clean the allegedly damaged Mac in just one click.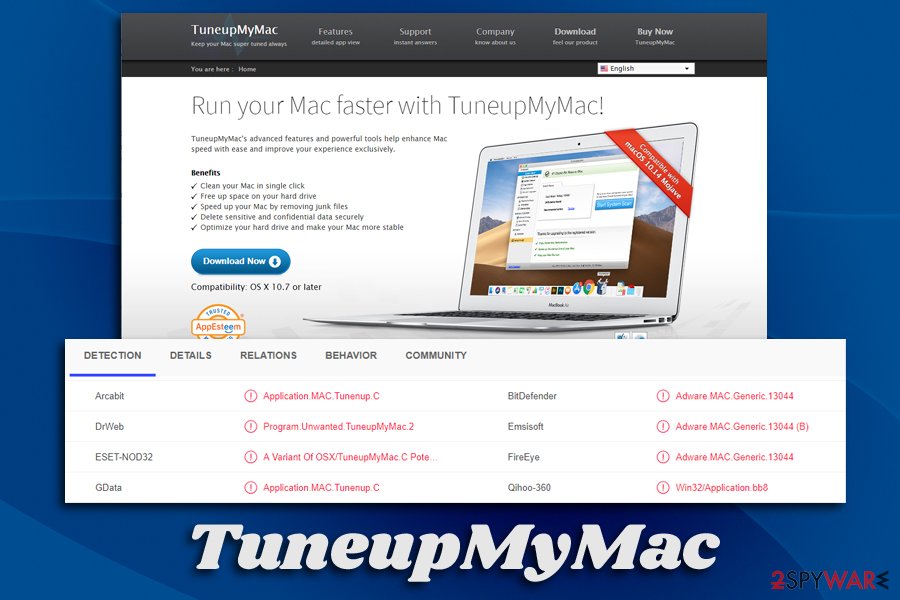 TuneupMyMac is a potentially unwanted program that is hard to close down and uninstall
As soon as TuneupMyMac is installed, it will perform an alleged system scan and will display a variety of issues related to system logs, startup apps, duplicates, and many others. It is evident that the issues are fake and should be ignored. Nevertheless, the application will continuously pressure users to buy its full version and will not stop until it is removed. Nevertheless, those who want to remove TuneupMyMac might be surprised, as the app is almost impossible to shut down and to uninstall it becomes difficult.
In general, users who run newest Macs with the SSD installed should never need optimization software in the first place, as promises of faster machine speeds might result in money loss and the compromised operation of the OS.
Mac Tonic
Mac Tonic can be downloaded from its official website, although users who found the tool on their Macs do not remember visiting it. This is because the dubious system optimizer usually slips in during the installation of freeware acquired from third-party sites or with fake Flash/Shockwave updates. This is another reason to limit the downloads to only official sources, such as the App Store or Amazon. It is also worth noticing that Google now flags the official website of Mac Tonic as malicious that contains "harmful programs" – the warning can hardly be missed as it is displayed on the full browser tab.
Mac Tonic installs itself without permission and spreads its components all over the macOS. This is what makes the removal of the application so tricky. Quite often, experts recommend getting rid of the program by scanning the computer with anti-malware software instead. Finally, paying for the licensed version of Mac Tonic makes no sense, so please make sure you never do that and delete the app as soon as possible.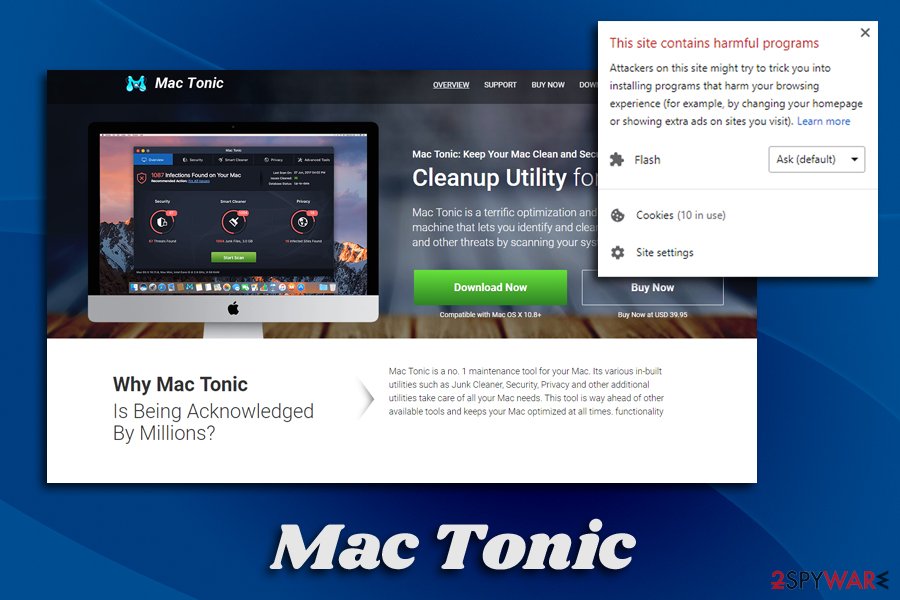 Mac Tonic stems from the same developers as Driver Tonic, and does not meet the expectations of many users
Removal methods that can be used for eliminating system tools
In most of the cases, people decide to remove system tools because they stop using them or simply want to free up space on their hard disk. However, you can also decide that you want to get rid of one of such programs after noticing its unwanted activity on your computer. As we have mentioned, some part of system tools is considered malicious and should be removed from the system. Here are two different options that you can choose for doing that:
Manual removal of system tools. If you have a useless system tool on your computer, you can uninstall it manually. For that, you should use "Programs and Features" by selecting "Start"; "Control Panel" and "Programs". Once you see a program that you don't need, select "Uninstall".
Automatic removal method for eliminating malicious system tools. If you think that you are dealing with the malicious (or suspicious) version of a system tool, you should select Automatic removal option. FortectIntego or SpyHunter 5Combo Cleaner will help you to make sure that there are no unwanted components that are related to your system tool on your computer anymore.
Latest system tools added to the database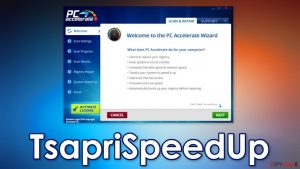 TsapriSpeedUp is a potentially unwanted program that is disguised as a system optimization tool.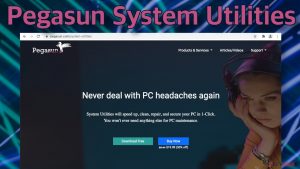 Pegasun System Utilities says that it will maximize your PC performance among many other things.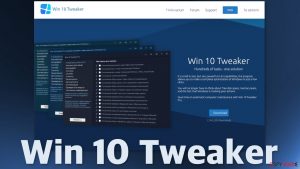 Win 10 Tweaker was flagged by 30 security vendors as malicious, so can be considered a PUP.
Information updated: 2021-06-04