How to remove system tools
System tools are computer programs that can be used for implementing different tasks. People download them to the system with specific intentions, such as trying to accomplish needed tasks, seeking to improve its performance and security, getting a better experience while browsing on the Internet or simply fixing specific PC errors. The most of such programs belong to reputable companies, so they are safe and easy-to-use. You can uninstall a system tool from your computer using its uninstall feature.
System tools can be divided into two different categories – legitimate and malicious. Security experts warn people about malicious system tools because they can act on your computer similarly to computer viruses and malware. No matter what is said on such program's official website, it can start causing unexpected activities right after being installed on a computer. Typically, the questionable versions of system tools cause system slow downs, misleading system scanners, unwanted notifications and pop-up ads, redirects to unknown websites and similar activities. Such system tools can be assigned to "potentially unwanted program" category and should be uninstalled from computer ASAP.
It should be noted that you can find a misleading system tool on your computer without downloading it because such programs have been actively spread in a bundle with other (mostly legitimate) applications. Here, they are presented as optional components that can be noticed if only the user monitors installation of such program. Also, the most of such questionable system tools cannot be uninstalled from your computer in a traditional way because they tend to use specific techniques for hiding themselves from their users. In this case, a reputable anti-spyware is recommended.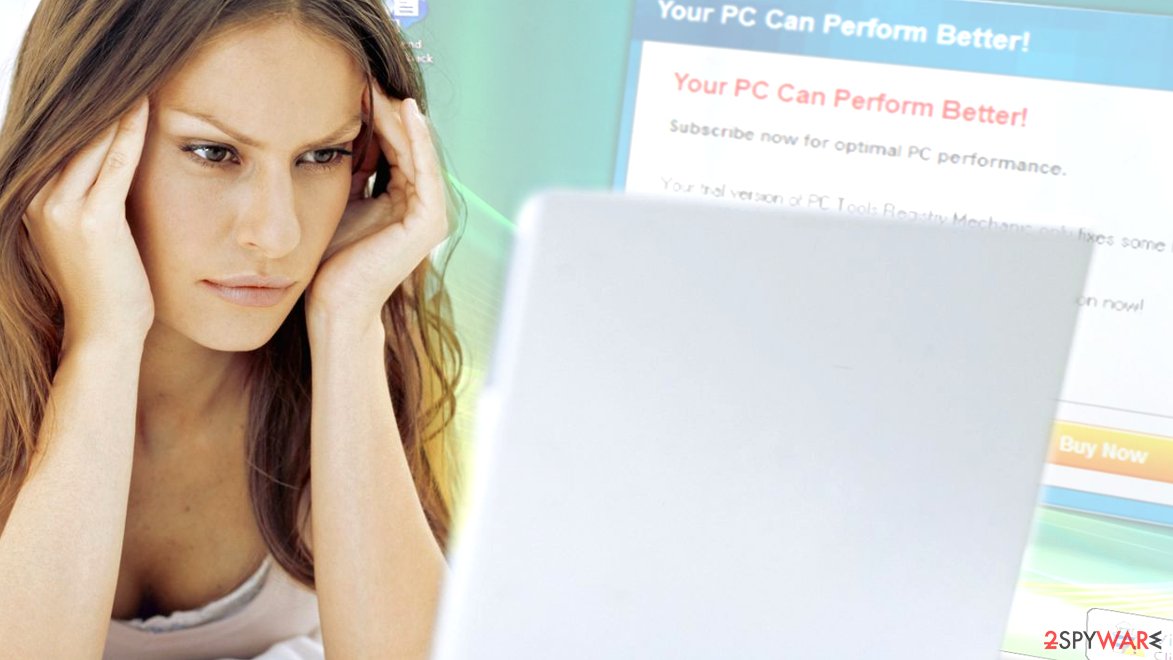 Types of malicious system tools that should be avoided:
Fake PC optimization tools. No matter that these programs are considered harmless, they can cause annoying system scanners and security notifications on your computer. Typically, they claim that computer is full of various errors (useless registry entries, files, and other content) that should be eliminated. Also, they offer to fix these errors by purchasing their licensed versions. The main problem here is that they can detect only a small part of useless components on your computer. Besides, their removal can hardly increase your PC's speed because you need to remove thousands of them to see the difference in your PC's functionality.
Scareware. Such software does not pose any danger to a computer system as well. However, as its name suggests, it can show misleading system scanners and security notifications for trying to scare you into thinking that your computer is infected. Also, you can be informed that the only way to fix it is to purchase the licensed version of the scareware. Once the developers of such programs get their money, they simply stop showing their misleading warning messages on victims' computers. 
Questionable search engines. In most of the cases, such search sites are considered trustworthy tools for searching. However, they can appear on the system without downloading them. They have been actively spread with the help of bundling, so people can allow their installation without understanding that. Some versions of such system tools can show you forged search results and lead their users to unfamiliar websites.
Distribution techniques of misleading system tools:
Unfair programs, which are categorized as "system tools", shouldn't be downloaded to the system. Even if they don't pose harm to your useful files and similar data, they can cause unwanted activity. Here are the most popular methods used for the distribution of system tools:
Official sites. You can easily install a system tool with its official website. As we have mentioned, the most of such programs are harmless, so they can be promoted with the help of their sites.
Misleading pop-up ads. Each of pop-up ads should be treated with extreme carefulness, especially the ones that offer to fix a computer for free. If you don't want to end up with a suspicious system tool on your computer, you should stay away from ads claiming that you can scan your computer with a free system scanner or that you should install an update on your computer. Typically, such ads are used for spreading questionable programs.
Software bundles. Bundling takes a very important role in the distribution of legitimate and questionable system tools. To protect yourself, you have to select Custom or Advanced installation method each time you install a free program on your computer.
Examples of questionable programs that should be avoided:
Disk Optimizer Pro claims to be a program for fixing errors, eliminating old registry entries and improving computer's speed. Unfortunately, but you may fail to see a clear improvement in your PC's functionality after purchasing this application. There are lots of PC users who have already paid for its license and claim that they cannot see any improvement in their PCs' functionality. In fact, we recommend avoiding each of PC optimization tools or at least selecting their free versions. This guarantees that you won't lose your money. In addition, you should remove those optimizers that were installed on your computer in a bundle with other programs. 
You can install PC Mechanic 2015 for protecting your computer from malicious programs and removing unwanted components from the system. Unfortunately, but you can be very disappointed after doing so because it has been proved that this program is capable of nothing. It can hardly show you malicious files and other components that shouldn't be installed on your computer. In addition, it may start causing lots of unwanted notifications on your computer right after it settles down on your computer because the main thing what this program seeks is to scare its users into purchasing its license. 
YAC is a very popular security tool, but you should be really careful with it. First of all, it may alter your homepage and default search engine. After doing so, it may start causing redirects and unwanted pop-up ads on each of your web browsers that are used for promoting its licensed version. It's up to you to decide whether it is worth purchasing it or not. Nevertheless, the most of security experts believe that this is a straight way to the money loss.
Removal methods that can be used for eliminating system tools:
In most of the cases, people decide to remove system tools because they stop using them or simply want to free up space on their hard disk. However, you can also decide that you want to get rid of one of such programs after noticing its unwanted activity on your computer. As we have mentioned, some part of system tools is considered malicious and should be removed from the system. Here are two different options that you can choose for doing that:
Manual removal of system tools. If you have a useless system tool on your computer, you can uninstall it manually. For that, you should use "Programs and Features" by selecting "Start"; "Control Panel" and "Programs". Once you see a program that you don't need, select "Uninstall".
Automatic removal method for eliminating malicious system tools. If you think that you are dealing with the malicious (or suspicious) version of a system tool, you should select Automatic removal option. Reimage or SpyHunterCombo Cleaner will help you to make sure that there are no unwanted components that are related to your system tool on your computer anymore.
Latest system tools added to the database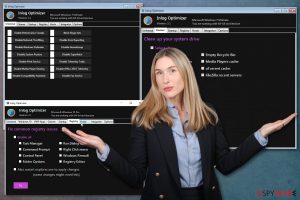 Inlog Optimizer is the system tools that use intentional false positives to claim that users' devices have problems the optimizer can easily fix.
More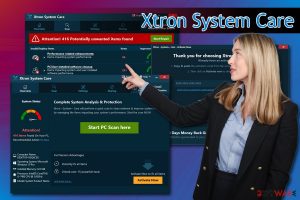 Xtron System Care is a hoax program that shows false-positives and asks to buy its full version.
More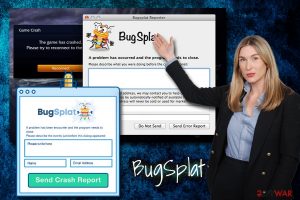 BugSplat is a third-party crash report tool that helps software developers to understand the nature of application stops.
More
Information updated: 2017-05-11