AdWare SpyWare Removal review, free download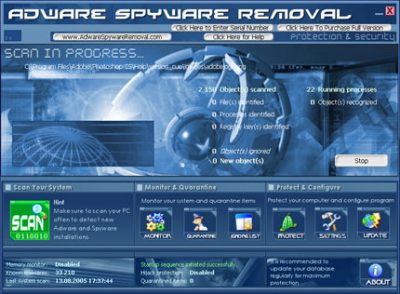 Free version of AdWare SpyWare Removal was used to scan several computers, including absolutely clean PCs and systems infected with different parasites. AdWare SpyWare Removal found installed malicious programs and didn't produce false positives.
AdWare SpyWare Removal examines the Windows registry, active processes, all files and directories. The program can perform full sysem scan, fast on-the-fly scan or check only user-defined locations. It uses regularly updated spyware definitions database that currently consists of more than 33,000 signatures. Unfortunately, the program doesn't provide detailed information on detected critical objects.
The application includes additional security tools. Real-time monitors detect running malicious processes, block installations of harmful ActiveX controls and prevent web browser hijacks. A pop-up blocker eliminates undesirable advertising pop-ups.
Program's interface is quite attractive. However, it is filled with complex background images and therefore is not clean enough.
Free version of AdWare SpyWare Removal refuses to remove any malware it found and asks to register and purchase the full product.
The official site is adwarespywareremoval.com. Orders are made via reputable services using secure connection.
About the author