Antiy Ghostbusters review, free download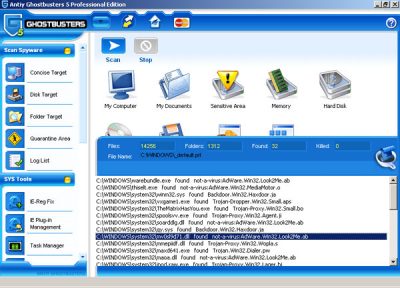 Antiy Ghostbusters is a product of Antiy Labs, a China-based software company developing anti-malware programs, intrusion detection systems, cryptography tools and other security-related applications.
The program is a comprehensive security suite comprised of a malware remover, a firewall, a real-time protection monitor and additional security tools. It is available in two editions – Standard and Professional. The major difference between them is a set of mentioned security tools, which is not available in the Standard Edition.
Both program editions have free versions that can be downloaded from the official web site www.antiy.net. They do not expire, but also refuse to remove any malware they find.
Installation is basic and quick. Antiy Ghostbusters is launched as any other regular program. However, AGuard, a combination of firewall and real-time monitor, must be started separately. ALive, an update utility, can be used either from within the program, or as a separate application. Another separate tool is IE-REG FIX, which allows restoring default system and web browser settings changed by parasites.
Once the program is running, you can start scanning your system. No initial configuration is required. Antiy Ghostbusters offers three different ways to choose a scan mode right for you. You can either select suspicious folders, choose a separate drive to scan, or use the Concise Target function to pick one of 9 scan locations: the entire systems, your documents, essential system components, a hard disk, an optical drive, a floppy, cookies or the Windows registry.
"My Computer" is the most thorough scan mode that involves scanning the entire file system, all running processes, the Windows registry, other important system components and web browser cookies. It usually takes up to half-an-hour to complete. Other scan modes require less, but also are less reliable. For example, "Memory" mode sets the program to scan only running processes, which takes only a few seconds, but doesn't produce sufficient results.
According to program makers, Antiy Ghostbusters "can detect and completely remove more than 170,000 kinds" of different parasites "with a notably high detection rate". The first claim is true. The spyware remover actually uses an extensive pest definitions database updated on a regular basis. However, we do not agree with the second statement, as program test results are not as good as expected.
We have used Antiy Ghostbusters to scan a badly infected machine. The program did not produce any false positives and correctly identified some parasites. However, the larger part of infections has not been detected at all. For instance, the application couldn't identify such widely spread malware as Brave Sentry, cmdService, Maxifiles, Network Monitor, Spy Falcon, etc. It also should be noted that Antiy Ghostbusters, sometimes called an anti-trojan program, has failed identifying the larger part of pre-installed downloader trojans, although other similar threats have been detected.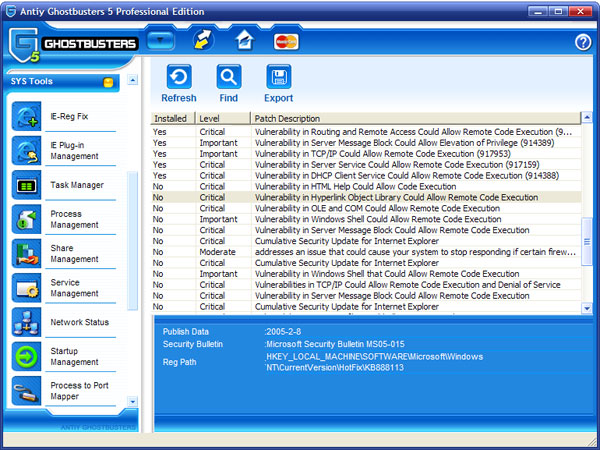 Still and all, the program's spyware detection and removal rates are sufficient. They are approximately equal to those of other less popular products.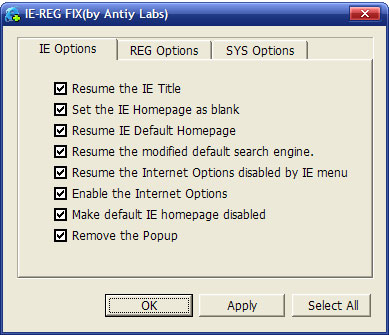 Antiy Ghostbusters implements real-time protection that prevents parasites from running. AGuard, a real-time monitor, is combined with a special firewall, which monitors network activity blocking scans and attacks and preventing running backdoors from communicating with hackers controlling them.
Antiy Ghostbusters provides useful additional tools that allow restoring default system and web browser settings, managing processes and Internet Explorer plug-ins, controlling services and startup programs. These tools can also be used for network monitoring, as they list current network connections, applications that connect to the Internet and display network shares status. One of the tools provides the list of latest vulnerabilities and shows whether necessary patches are installed to the system, or not. You won't find anything like Patch Info in other spyware removers available.
The application's interface is attractive and quite convenient.
Conclusion
Antiy Ghostbusters is a decent anti-spyware program. It's not as much powerful and effective as the most popular products are, but its additional tools and real-time protection are worthy to be praised. Nevertheless, a typical setup consisting of separate firewall, antivirus with real-time protection and free spyware remover is much better choice than quite expensive (Professional Edition – $39,95) Antiy Ghostbusters.
About the author