DriveHound review, free download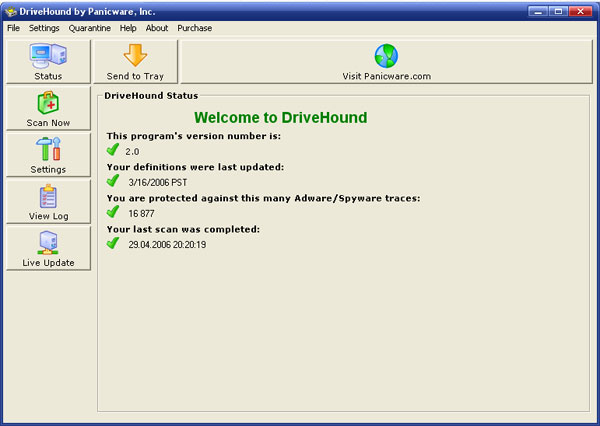 DriveHound is an anti-spyware program made by Panicware, a well-known privacy software company. The program is a simple spyware remover with integrated real-time protection functions. We have carefully tested DriveHound on several different computers including absolutely clean machines and PCs infected with different kinds of spyware and viral parasites. The application did not produce any false positives. It correctly identified most installed parasites and partially eliminated the infection. Nevertheless, our tests revealed that DriveHound is not as powerful as its major rivals are.
The application checks the Windows registry, running processes and web browser cookies. It also scans the system for known parasite files and folders. DriveHound relies only on its regularly updated spyware definitions database comparing parasite signatures with scanned objects. This means that the program does not actually check any suspicious files, but only searches for known malware. Although such scan technique results in fast system scans (up to 15 seconds), it is absolutely ineffective against yet unknown, emerging threats and parasites, which signatures aren't included in DriveHound's database. In simple phrase, the program is able to protect the system from common, relatively harmless pests, but not from dangerous, hard to get rid of infections.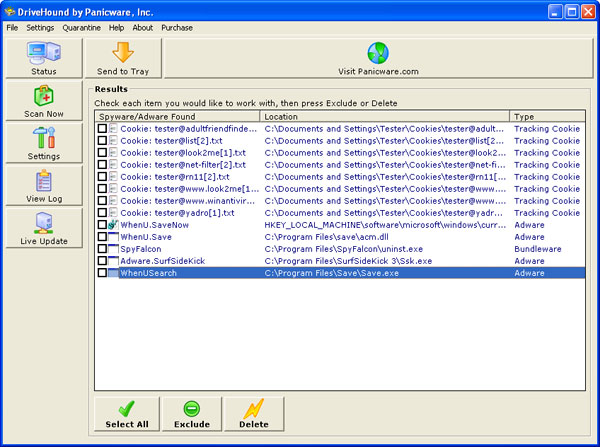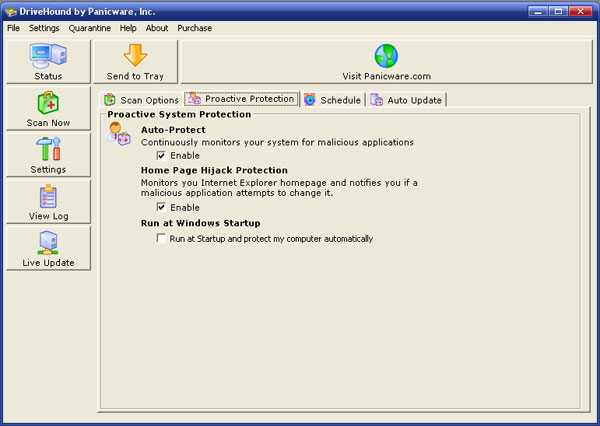 Scan reports are quite informative. The user is presented with parasite name, type and exact location. Unfortunately, the program does not provide any descriptions.
Unfortunately, DriveHound is not very effective in detecting complex spyware parasites. Although it actually finds most threats, it misses a larger part of their components. In some cases removing a few parasite files does not eliminate the infection, as the pest restores removed components.
DriveHound implements real-time protection features. The application continuously monitors the system for malicious processes and attempts to hijack the web browser. Our tests revealed that DriveHounds' real-time protection works fine. The program managed to detect and disarm active processes of preinstalled parasites.
The application does not provide any additional tools. It offers only common basic functions like Quarantine, Schedule and Exclusions.
The program's interface is simple and convenient. However, it is not very attractive. Furthermore, DriveHound's look is absolutely the same as that seen in several corrupt anti-spyware programs. This makes us think that Panicware, makers of DriveHound, did not develop the program from scratch.
The fully functional trial version expires after 30 days.
The official web site is www.panicware.com. Purchases are made using secure connection.
About the author