Introducing Malwarebytes antivirus
Malwarebytes is an expert-tested security software which is compatible with Windows[1], Mac, Android, and iOS operating systems. One of the most notable features of this antivirus is real-time protection. In other terms, this software not only eliminates present cyber threats but also protects against malware before infiltration. 
Furthermore, Malwarebytes is an effective security program as it also helps users avoid phishing websites and the newest scams. Therefore, people can enjoy an enhanced browsing experience without fear to be scammed or infected with potentially unwanted programs (PUPs)[2]. Further details are explained in full Malwarebytes review.
Note, that developers offer to try Malwarebytes for free with all premium features. Although, the free trial expires after 14 days and then users can purchase the full version for $39.99 per year. Additionally, if there is a need to use the anti-malware on more than one computer, people can choose Malwarebytes for home and install it on up to 10 devices. These services cost $59.99 per year. 
Malwarebytes is compatible with the following operating systems:
Windows 7;
Windows 8;
Windows 8.1;
Windows 10;
Windows Vista;
Windows XP;
MacOS 10.10 or higher;
Android 4.4+;
iOS 11 and later.
Download and install Malwarebytes
IT experts warn that you must download Malwarebytes only from the official website to avoid fraudulent software. You can access it here. Once you download the payload, double-click it and follow the on-screen instructions. Keep in mind that you should pay attention to Privacy Policy, EULA, and Terms of Use[3].
Furthermore, in the installation wizard, you will be asked to select the language. Once you do so, click next and wait for the installation procedure to complete. Finish Malwarebytes installation by clicking OK button. Now, you are set to start scanning your computer!
Scan your device with Malwarebytes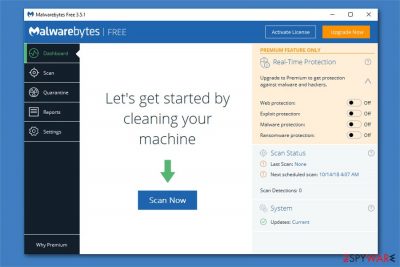 Start full system scan with Malwarebytes by clicking Scan Now button.
Once you install Malwarebytes, go to Dashboard and start scanning your computer by clicking Scan Now button. During the scan, you will see the antivirus going though differed phases, including the following:
Checking for updates;
Performing pre-scan operations;
Scanning memory;
Checking startup files;
Scanning registry[4];
Examining the file system;
Performing heuristics analysis.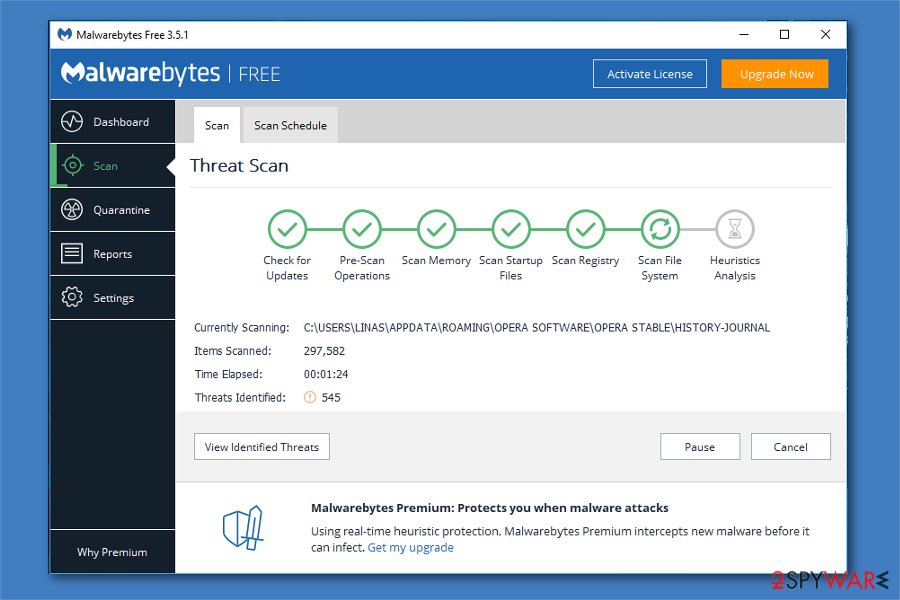 Malwarebytes goes through different phases to detect all potentially unwanted programs (PUPs).
When Malwarebytes completes the scan, it will display the discovered threats, and you can put them into quarantine by clicking the Quarantine Selected button. Users have the ability to check quarantined items in the Quarantine section on the left pane. Additionally, there are options to restore or delete those files.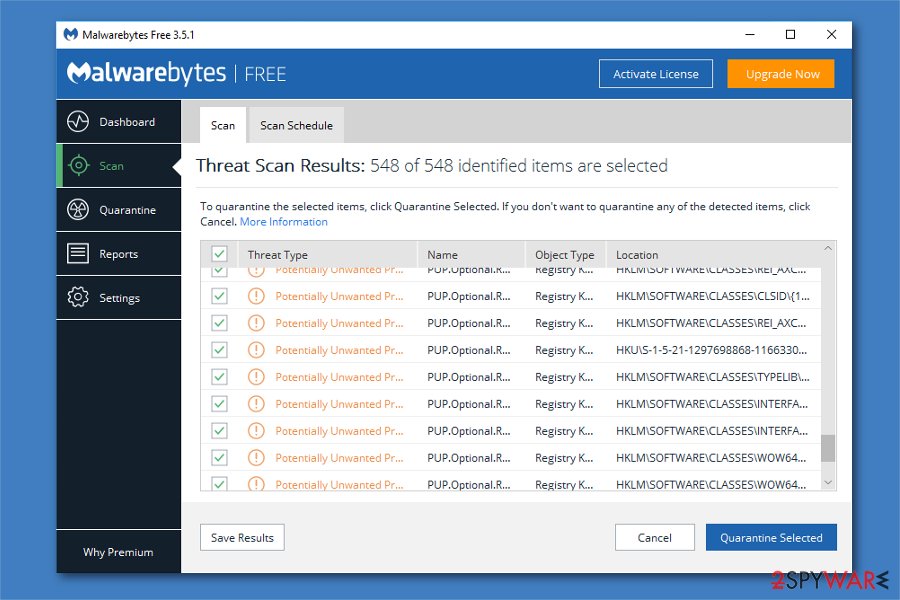 Users receive detailed scan results with identified cyber threats by Malwarebytes.
Another great feature of Malwarebytes is that you can schedule regular systems scans. In other terms, you select the date and time when the antivirus automatically performs the check-up to ensure that your PC is protected. For that, you should navigate to SCAN section and open the Scan Schedule tab.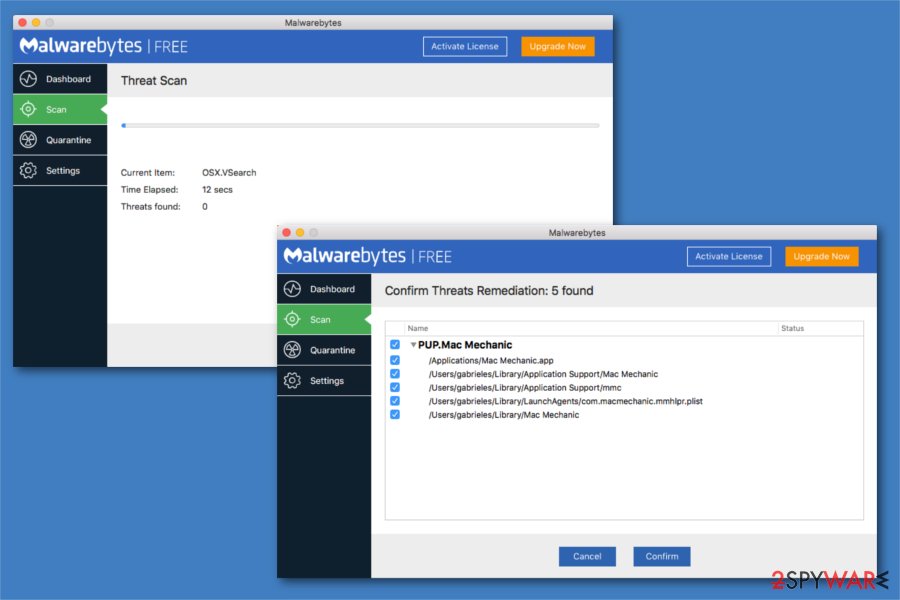 Malwarebytes displays detected cyber threats after a full system scan.
Furthermore, as the developers offer Malwarebytes for Mac, you can similarly perform a full system scan. The results show all of the identified threats that should be eliminated. Users can quarantine them and later delete the potentially unwanted programs (PUPs) from the Quarantine folder.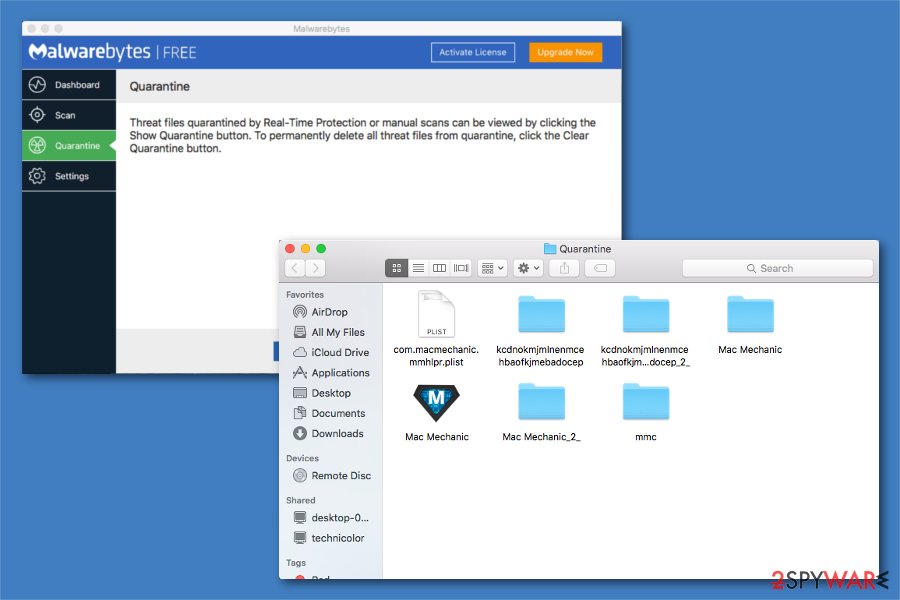 You can quarantine selected potentially unwanted programs (PUPs) with Malwarebytes.
Purchase Malwarebytes license key
When Malwarebytes free 14-day-trial expires, you can continue using the free version or uninstall Malwarebytes. Although, the antivirus will no longer contain real-time protection[5] and merely remove malware which is present on the computer. However, if you decide to upgrade your version to premium, you can click Upgrade Now button in the top-right corner of the window.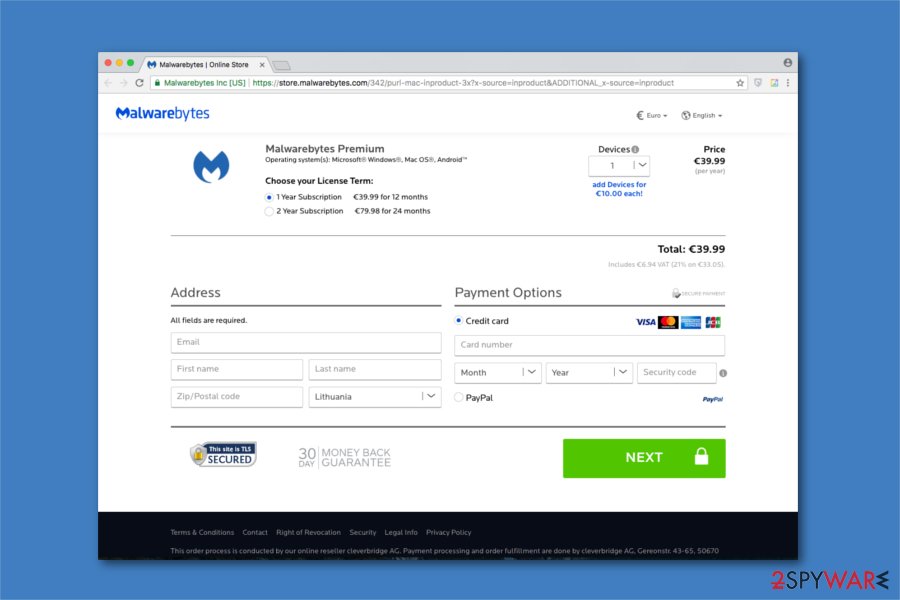 You can purchase Malwarebytes license key in the official website.
Users then are prompted to the secure payment page where they can purchase Malwarebytes license key for $39.99 per year or pay $59.99 for a two-year subscription. You will receive the activation key to your email address that you indicate during the procedure. You must enter it by clicking the Activate License button in the antivirus window.
References