SpyWare SmasheR review, free download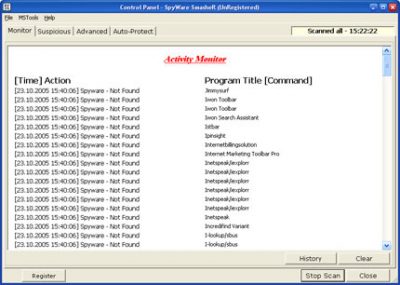 SpyWare SmasheR is a little known anti-spyware program designed to fight against spyware parasites, browser hijackers, malicious browser plugins and adware threats. It was carefully tested on several computers including already infected systems. The application passed our tests, but didn't show good results. We suggest using this tool mostly for diagnostics and malware initial detection purposes along with a powerful spyware remover installed.
SpyWare SmasheR checks the Windows registry, running processes, active services, web browser plugins and some files. Full system scan does not take more than 30 seconds, as the program does not thoroughly examine the system, but searches only for known parasites, which signatures are included in pest definitions database. This database is updated on a regular basis, but still contains too little signatures – about 700 in total. SpyWare SmasheR detection technique allows to easily find known widely spread pests, but often is absolutely ineffective against the most recent risks and newly appeared variants of well-known parasites.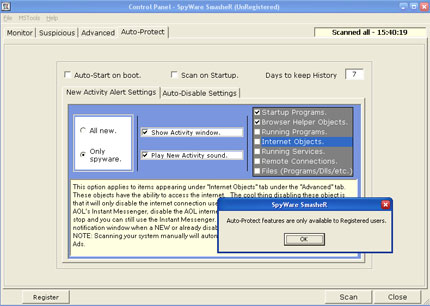 The application provides detailed information on each scanned object. This information can be useful not only for spyware detection and removal, but also for various diagnostics purposes.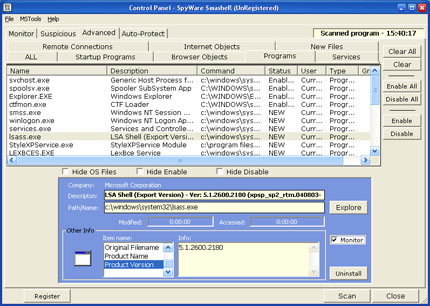 SpyWare SmasheR offers a real-time protection module capable to recognize and block malicious processes, services, web browser objects, files and unauthorized remote connections. It also can prevent dangerous pests from registering themselves in the system and automatically running on Windows startup. Unfortunately, most real-time protection features are disabled in free unregistered version of SpyWare SmasheR.
The program's interface is quite simple and rigid, but definitely not very convenient, user-friendly or, all the more, attractive.
The official web site is www.popupstop.com. Orders are made via reputable services using a secure connection.
About the author