Windows Defender review, free download
Windows Defender is a free anti-spyware program made to add native spyware protection to the Microsoft Windows operating system
Windows Defender is the cybersecurity solution for Windows users and it is a pretty decent antivirus that is also free. Defender includes sandboxing, cloud-based malware detection, and boosting overall protection, so infections can be detected faster.
We have tested the program on several different setups including badly infected machines and absolutely clean computers that were never infected with any viral parasites, spyware, and malware threats. Tests revealed that program is an effective, reliable, and easy-to-use product that does not produce false positives and provides sufficient protection against most types of spyware, adware, browser hijackers, and other malicious threats.
However, it often fails to detect and eliminate widely spread viral threats like trojans, backdoors, or worms. Moreover, Windows Defender is ineffective against emerging, new infections, although it uses heuristics.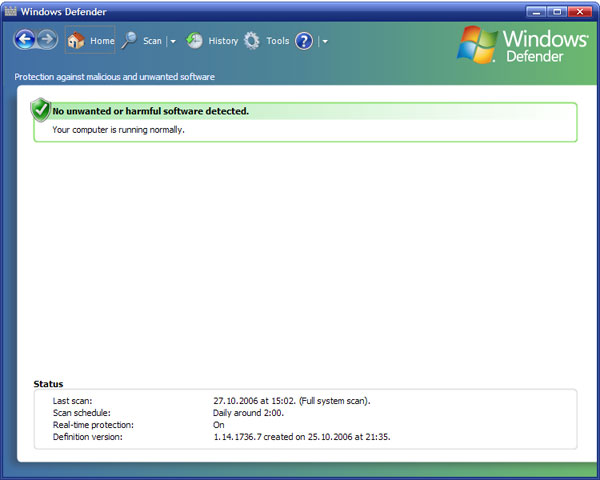 Windows Defender's installation is quick and easy, but only if you have a genuine copy of Windows, which doesn't have problems with the validation process and everything always goes smoothly. Otherwise, installing the app might be difficult and sometimes even impossible. However, in the more recent builds of Windows 10 – the software comes automatically.
The program is launched as any other regular program. But usually, you don't have to run it manually, as it automatically loads on every Windows startup. Integrated real-time protection starts also.
Once the application is running you can start scanning your system. Windows Defender allows choosing between three scan modes: Quick Scan, Full Scan, and Custom Scan. The first one enables an intelligent scan for parasites in common locations. Full Scan thoroughly examines the entire file system including not only system and application files, but also archives and suspicious objects not present in the spyware definitions database.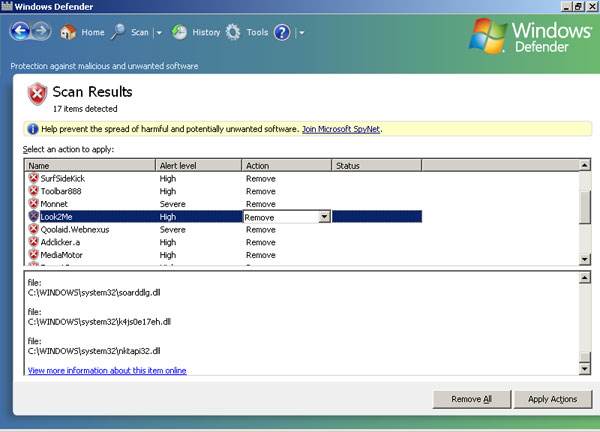 Custom Scan allows the user to select, which local hard drives to check. Each of the three scans needs a different time to complete. In our tests, Quick Scan did not take more than three minutes, while Full Scan required almost an hour. During each of the scans, Windows Defender checks all running processes, analyzes the Windows Registry, and examines files and folders. The program scans all essential system components leaving no chances for most spyware parasites to hide.
Scan reports are informative. The spyware remover displays the exact parasite location, associated files, related registry entries, and threat description. The program uses a large spyware definitions database updated on a regular basis.
The user can either update it manually or turn on automatic updates. In our tests, both functions worked as intended. However, a lot of users had or still experience problems updating the application.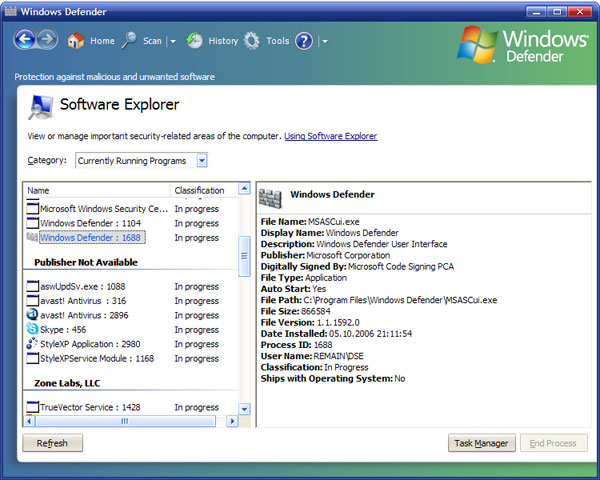 Apart from common tools – Quarantined items and Allowed items – Windows Defender offers one additional utility – Software Explorer. This integrated tool provides details on startup programs, currently running applications, system networking components, and software connected to the Internet. One of the strongest sides of the program is its powerful and customizable real-time protection. However, it's definitely not the best one available on the market today. 
Windows Defender has a simple and user-friendly interface. The program has got almost the same look as it's Beta 2 version had. However, the updated look is more convenient and thought-out.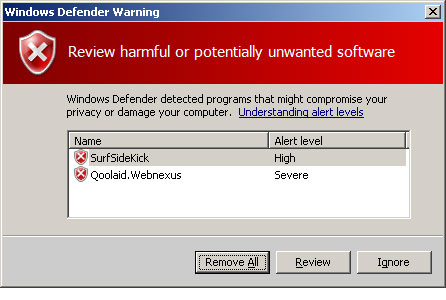 Conclusion
Windows Defender is a decent anti-spyware program. It is free, powerful enough, and yet very easy to use. However, it identifies and completely removes only regular spyware and adware parasites as well as some well-known, relatively old malware and viral threats.
Unfortunately, the program does not provide reliable protection against widely spread trojans, worms, and other malicious software. In other words, the program cleans most infections, but often cannot eliminate the cause, so the system gets re-infected. But if you have a good antivirus program installed, this app is just what you need.
About the author