XSpy Shield review, free download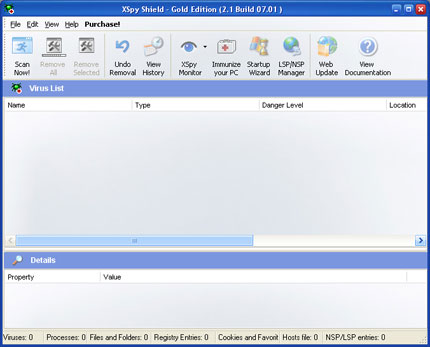 XSpy Shield is a powerful and efficient anti-spyware solution, developed by Elcor Software company. It was carefully tested on several PCs, including already infected systems. The application passed all our tests and showed very good results.
The program scans the Windows registry, active processes, cookies and entire file system. It also checks essential system and networking components. XSpy Shield can perform full system scan or check only user-defined locations. It uses extensive spyware definitions database that includes more than 12,000 signatures. The database is updated on a regular basis. The program provides detailed scan reports, shows the description, exact location and other helpful information about each detected critical object.
The application comes with the integrated real-time protection tool called XSpy Monitor. This effective utility works in background monitoring running processes, cookies and browser settings. Our tests showed that XSpy Monitor detects most parasites upon their installation. It prevents browser hijacks, blocks malicious ActiveX scripts and keeps malicious software out from altering the Windows registry.
XSpy Shield includes additional security tools. Immunize Wizard disables specific ActiveX items, Startup Wizard helps to modify system startup settings, LSP/NSP Manager allows to manage essential networking options and remove secretly installed third-pary Internet service components.
Program's interface is attractive and very easy to use.
Vendors offer free product version, which expires after 21 day. They call it a trial. However, we cannot agree with them. The product is able to scan files within archives and perform deep scan, which involves thorough examination of each file content. However, these functions are unavailable in free version. Moreover, free version refuses to remove any parasites it found and asks to register and purchase the full product.
Domains associated with XSpy Shield are antispy4you.com and elcor.net. Orders are made via reputable services using secure connection.
About the author