ZoneAlarm Anti Spyware review, free download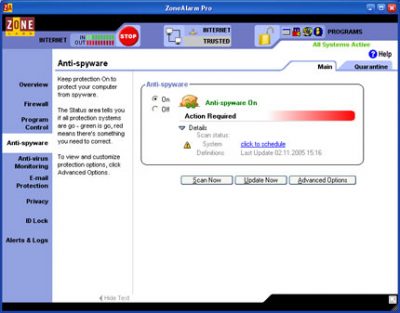 ZoneAlarm Anti-Spyware is a brand new addition to the well-appreciated series of popular Zone Labs products – firewalls, antivirus and security-related software. This spyware remover is also integrated into most reliable and comprehensive suites available on the market today – ZoneAlarm Pro and ZoneAlarm Security Suite. With the purchase of this tool the user not only gets an advanced anti-spyware, but also a powerful firewall and additional system protection tools. We have tested the program on several computers including already infected systems as well as absolutely clean machines. The application passed all our tests and produced very good results.
The application thoroughly checks the Windows registry, running processes, cookies and entire file system. The user can choose between three scan modes. Each of them offers correct detection of practically all known parasites. The only difference is a time that scan takes and its depth. In theory Deep-inspection scan should produce more exhaustive results than Full system scan or Intelligent quick scan. However, we think that most users would be fully satisfied with the latter modes, as ZoneAlarm Anti-Spyware never leaves parasites undetected. Scan reports are quite informative and helpful. The program uses extensive spyware definitions database updated on a regular basis.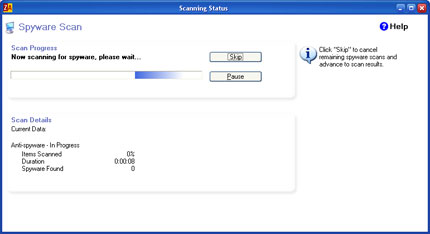 ZoneAlarm Anti-Spyware implements a solid real-time protection based on Triple Defense Firewall, which is also integrated into the security suite. In conjuction with Zone Labs another new service called SmartDefense the firewall can not only detect and report parasite installation attempts and malicious activity, but also automatically block any potentially harmful actions that some programs or even yet uninvestigated threats take.
The application includes some extra security tools. One of them is MailSafe, the e-mail protection utility, which monitors incoming and outgoing e-mails in order to prevent malicious attachments from running and halt outbond messages to keep the user from accidentally infecting others.
The program's interface is quite simplistic and straight, but yet convenient and user-friendly.
A fully functional trial version can be freely downloaded from the product's web site. It expires after 15 days.
The official web site is www.zonelabs.com. Orders are made using a secure connection.
About the author