Scammers offer incredible deals on Amazon to swindle money from unsuspecting buyers
Love to shop on Amazon? Then you should beware of scammers that lure customers by providing too good to be true deals. January always brings the best deals for shoppers[1]; however, this year a new scam type emerged. Recently, a site called Comparitech has investigated a fraudster case[2] about scammers who were using independent seller accounts on Amazon to put non-existent products for sale for unbelievably good price. For example, a fraudster account named ScElegance UK put an LG OLEG TV on sale for £1,317 while it retails for approximately £2,300 on Amazon[3]. Sounds like a good deal? Not at all. After adding the item to the shopping cart, the victim would receive a message from Amazon stating that the item cannot be sent to the selected address and that the problem might be solved by changing the address or buying the item from another seller. Since the deal is incredibly good and it seems that it is a once-in-a-lifetime chance to buy it for such a low price, the victim is forced to look for a way to contact the seller. On the product listing, ScElegance UK provides its contact details – sales@scelegance(.)co.uk. Please remember that Amazon advises users never to pay for an item outside of the Amazon site[4] because such items are not eligible for protection.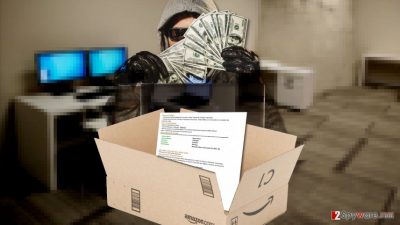 However, if the victim contacts fraudsters via provided email and asks for more details about the item, crooks send nicely composed and legitimate-looking phishing emails[5] that look like they are sent from Amazon site. Scammers confirm that the item is new and can be reserved. They justify the low price with an argument that they have a stock liquidation. Scammers command to verify the full name and shipping address and send a separate letter with payment instructions from a fake email address – auto-confirm[@]amazon-payments-support.co.uk while the legitimate and real one is auto-confirm@amazon.co.uk. The victim is supposed to transfer the cash to someone named Darva Arron. Of course, after making the payment, the victim receives no item and can not request a refund because scammers simply make off.
It is advisable to investigate the seller before making a purchase from it carefully. It is extremely important to read feedback on various forums, also look at the reputation of the seller on Amazon, and be suspicious of sellers with "Just launched" label. However, users already reported cases when scammers hacked legitimate accounts and used them to swindle money from unaware customers. It is advisable to follow your common sense and remember a good old saying – if it sounds too good to be true, it probably is.
About the author
References