The best ransomware removal tools of 2017
2016 definitely deserves a title as the year of ransomware. Within these twelve months, thousands of crypto-ransomware and lock screen parasites have been launched and successfully managed to extort millions from the unsuspecting victims [1]. Unfortunately, the current tendencies do not seem to project any positive upturn in the near future either. The number of ransomware infections is only expected to increase in the upcoming year, followed by various hybrid malware variants which utilize ransomware-like functionalities [2]. Luckily, security software vendors are not planning on giving up the fight. In fact, an upsurge of dangerous cyber infections only impels them to work harder and create more powerful anti-ransomware products which can be used for the real-time protection or the system restoration after an attack. It is important to note that the advances in cyber protection not only benefit the ransomware victims alone but also have an impact on the malware industry in general. The more powerful virus-fighting tools get, the more complex cyber infections become. Frankly, this war is never-ending; therefore, computer users must keep on top of the cyber security, constantly renewing and updating the acquired anti-virus software.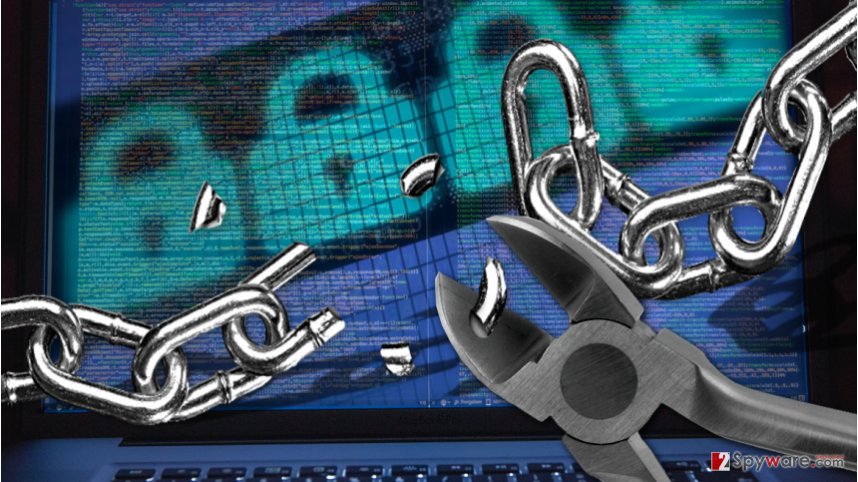 Currently, there is a wide range of anti-ransomware or ransomware removal programs on the market. It is not surprising that such an extensive number of different applications may overwhelm some users. For this reason, we have prepared a list of programs which might be worth your attention. As a disclaimer, we want to emphasize that ransomware are ever-changing, so, there is never a guarantee that ransomware removal applications will be 100% effective. Thus, we do not recommend relying on a single anti-ransomware solution alone to fight off the virus. You should take additional measures to protect your device from the initial attack [3]. Also, you should not expect ransomware removers to decrypt the affected documents. These tools will merely indicate the malicious files and clean up your device to prevent further damage. In the review below, we will guide you through probably the best ransomware removal tools of 2017 and, hopefully, help you select the one that suits you the best.
1. Malwarebytes 3.0
If you are on a hunt for a lightweight and fast ransomware removal solution. Malwarebytes Anti-Malware might be exactly what you are looking for. Recently, Malwarebytes has undergone a major upgrade which has drawn this anti-malware solution closer to the professional antivirus software. Now the new Malwarebytes 3.0 features a bunch of additional security features and improvements which, according to the creators, make the program four times stronger and faster than ever before. The 14-day free trial should be enough for you to evaluate this program's capabilities of blocking malicious websites and disclosing infectious downloads. After the try-out, you may obtain a one-year subscription to Malwarebytes 3.0 Premium for $39.99. Click here to learn more about Malwarebytes 3.0.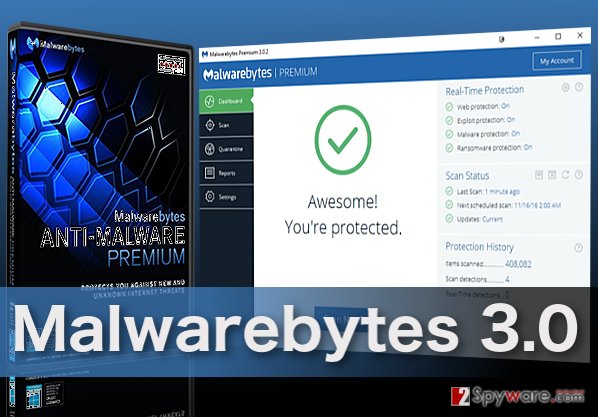 2. Plumbytes Anti-Malware
Plumbytes Anti-Malware is a nifty anti-malware solution which sophisticated arsenal of powerful features makes it a true godsend for the ransomware-infected users. Despite its mighty setup, the program remains fast and easy to use, so even the less proficient computer users should not face difficulties while operating it. Some ransomware victims may feel disappointed that Plumbytes does not offer data recovery [4] option. On the other hand, you should realize that it is not the job this software was designed to do. It will successfully detect Trojans, rootkits, block potentially dangerous drive-by downloads, prevent you from visiting phishing sites and employ sophisticated multi-thread to help you get rid of the ransomware if infected. To sum up, with a half-a-year Premium license fee of $49.99, Plumbytes Anti-Malware stands beside the anti-malware utilities proposing probably the best price/functionality ratio on the market. If you want to learn more about Plumbytes Anti-Malware, please follow this link.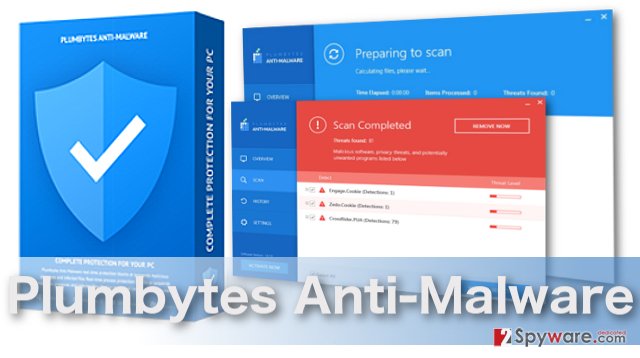 3. Webroot SecureAnywhere AntiVirus
Webroot SecureAnywhere Antivirus is another reliable antivirus solution which has grown from a Mac OS X-based scanner to a versatile product suitable for the protection of OS X, Windows, Android and iOS operating systems. Its cloud-based [5] servers allow the program to be updated and renewed in real time, ensuring that the virus database is always in sync with the latest malware releases. Webroot always checks back with these servers when running the system scan and takes adequate actions if some malicious content is found on the device. You may enjoy Webroot SecureAnywhere AntiVirus protection for a sensible $25.99 per year. Feeling intrigued? Read more about Webroot and its products here.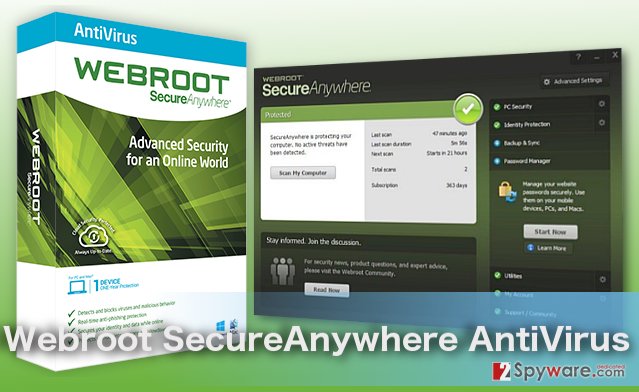 4. Zemana Anti-Malware
Although Zemana AntiMalware is a relatively new malware detection tool, it already earned the trust of thousands of computer users worldwide. The program is extremely fast and may provide a comprehensive security report within 5 minutes after the initial scan. Like most anti-malware solutions, Zemana suggests a trial run for free, but the price of the premium version does not bite either. The 24/7 technical support, real-time protection and, of course, ransomware defense will cost you just $6.95. That is a real bargain having in mind that Zemana AntiMalware is one of the fastest-growing and most perspective security solutions today. More information about Zemana AntiMalware…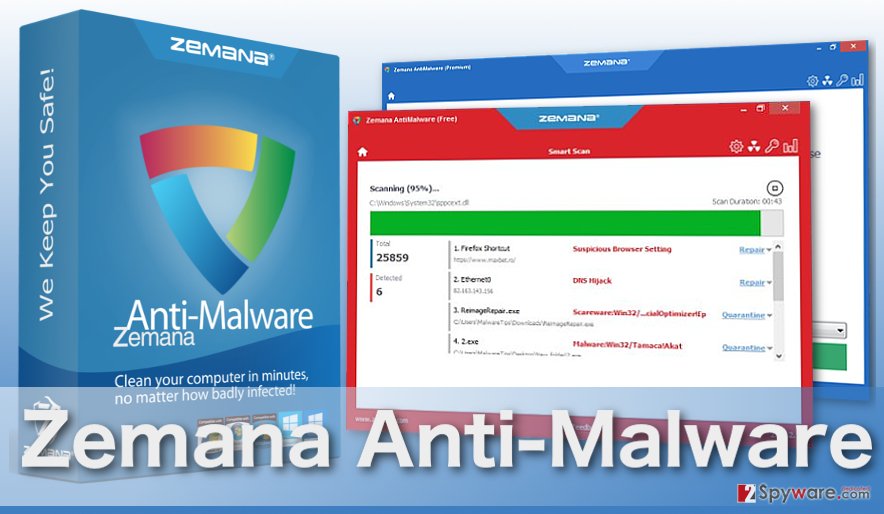 5. OSHI Defender
OSHI may not be the sharpest of the programs we have discussed above. Nevertheless, it is constantly undergoing improvements and with each of these upgrades brings more and more useful features to the table. If you do not feel the need for complex and heavy anti-malware tools that usually take up your system memory and slow down the computer, you should definitely give OSHI Defender a try. Besides, this tool is not limited to ransomware removal alone but provides quite a reliable real-time protection as well. Its particular focus is privacy maintenance, so it is highly recommended for the users who value the discretion of their identities online. The six months of privacy protection and malware defense can be yours for $39.99. More detailed OSHI Defender specifications are provided here.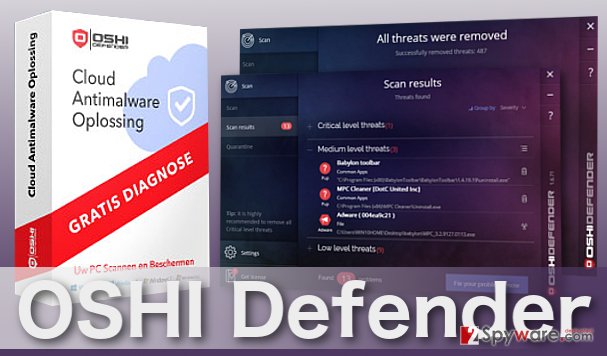 BONUS: help your system recover after ransomware attack with Reimage
The programs we have discussed in this software overview are all powerful and trustworthy tools which normally do a decent job eliminating ransomware and other dangerous software from the infected devices. Though such programs delete the malicious files, they do not always help sort out the consequences remaining after the attack. Thus, specialized tools may be needed to fix the computer and roll it back to its original state. For this purpose PC Repair suites such as Reimage may come in handy. Though Reimage will not restore the encrypted files, it will repair the modified registry, rebuild corrupt software and replace damaged Windows files. One whole year of Reimage support for one device costs $69.95. Click this link if you wish to learn more about Reimage before investing in it.
About the author
References
Read in other languages