The biggest dangers you can face on Cyber Monday 2017
Crooks take advantage of online shoppers to profit during Cyber Monday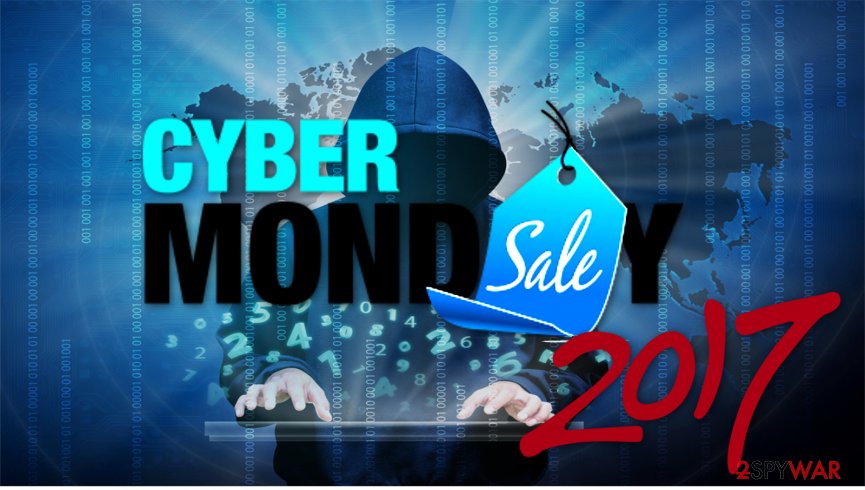 Security researchers note that holiday season is this "special" time when the rate of cyber attacks tends to increase rapidly. Crooks take advantage of the fact that almost 92 percent of consumers in U.S prefer to shop online throughout holidays.[1] So, if you are one of users who is preparing to use computer while shopping on Cyber Monday 2017, you need to remember that you are a target of cyber criminals.
According to Enigma Software, malicious attacks on shoppers can increase to up to 40 percent[2]. The most of them rely on hot gadgets that are advertised through fake emails, corrupted sites of hacked social media posts. However, you can also be presented with the fake payment site that mimics your bank or infected email attachment telling that your Fed Ex delivery is on your way.[3] Therefore, it is quite evident that consumers should be exceptionally cautious this year.
Phishing sites: cybercriminals impersonate prominent companies 
The holiday season is a perfect time for identity thieves to perform their malicious activity. The APWG group warns PC users that there are over 119 thousand individual websites that mimic legitimate and well-known brands, such as Walmart, Target, Amazon, and many others.[4]
Typically, phishing sites use a deceptive name and an identical or similar appearance to trick inexperienced computer users to think that it is the official shopping page. Hackers count on the fact that consumers will be too fascinated by great deals to notice the slight differences.
As a result, many people submit their credentials, such as credit/debit card details, passwords, and other personal information. Thus, experts encourage them to stay away from the following fake websites:
Amazon.pw;
Amazoncom.me;
Amazonsecure-shop.com;
Walmart-shop.com;
Walmaart.com;
Walmartkt.com;
Target-officialsite.com;
Spam e-mails can ruin your holiday mood
Consumers should also be aware of the spam e-mails[5] that might contain a banking Trojan or redirect them to a phishing site which is set to lure people into giving away their personal information.
Once again, hackers impersonate famous companies and attach a file or link that seems innocent or even important to the victim. However, after opening or downloading this attachment to the system, you might end up with a malicious program, like a keylogger, ransomware or trojan. The virus can be used to monitor your browsing routine and steal online banking log-in names and passwords.
Safety tips for Cyber Monday 2017
Consumers are advised to follow these simple rules to protect themselves during Cyber Monday and the following holiday season:
Be careful with social media posts that seem suspicious. Remember that these Canada Goose parkas that sell for $50 are not real.[6]
Don't click links or download email attachments without confirming that they came intentionally. Such names as "Amazon", "eBay", "Fed Ex" and "Ups" have the biggest power to trick users. 
Double-check website's name before adding your credit card information. The small lock icon in the upper left-hand side of the window is a sign that you are in a safe place.
Install anti-spyware and anti-malware software and keep it up-to-date.
About the author
References