The use of ransomware is now a felony in California
Last year, California's Governor Jerry Brown signed into law a bill[1] that claims that the usage of ransomware is a criminal activity, and such activity must be punished. On January 1st, the law went into effect[2], and California finally outlawed the use of ransomware-type programs. The new law clears out that attacks using ransomware viruses is nothing less than extortion, and criminals involved in such cyber crimes should be punished rightly. Since now, every person who will be caught to be involved in ransomware business will be convicted of a felony and also put behind bars up to four years. The punishment will depend on the crime severity level, considering that ransomware programs are often programmed to carry out other illegal instructions on compromised computers, for example, steal passwords, credit card details, and other personal data, also infect the device with additional viruses, and so on.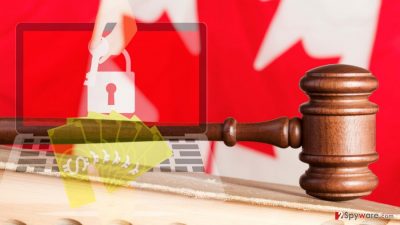 However, typical ransomware viruses are very similar to each other. Divided into two main categories – data-encrypting or screen-locking viruses[3], all of these programs aim to convince the victim to pay a ransom, which is clearly a form of extortion[4]. Such viruses promise to delete the decryption key or simply destroy victim's files if one fails to pay the ransom on time. Such threats are meant to cause frustration, frighten, and make the victim understand that the situation is desperate. Since 2015[5], security experts have seen a dramatic increase in the use of ransom-demanding viruses, and this trend continued to grow in 2016. Although 2017 is here, all attempts to stop these malicious attacks seem hopeless as criminals continue to use various techniques to hide their identity and spread ransomware viruses rapidly. Speaking of numbers, the extent of ransom payments exceeded $209 million in the first quarter of 2016 (in the US only!), whereas throughout 2015 total sum of all ransoms paid is around $25 million. It goes without saying that these numbers are expected to increase in 2017, so it is definitely the right time to start treating these cyber attacks with the seriousness they deserve.
About the author
References