Whatsapp starts sharing user data, including phone numbers, with Facebook
After making a 4-year break, WhatsApp has updated its Terms and Privacy Policy for the first time. According to an official announcement posted on 25th of August, 2016, WhatsApp wants to "explore ways" for users to communicate with businesses without encountering annoying third-party ads and spam. It seems that it wants to ease the communication process between users and businesses through the order, appointment information, delivery and shipping notifications, etc. These messages might contain targeted offers. This company collaborates with Facebook since 2014 and put efforts together to fight spam across applications, and suggest only relevant products, offers, or services to users. As you might have already noticed, this messaging applic does not serve third-party banner advertisements.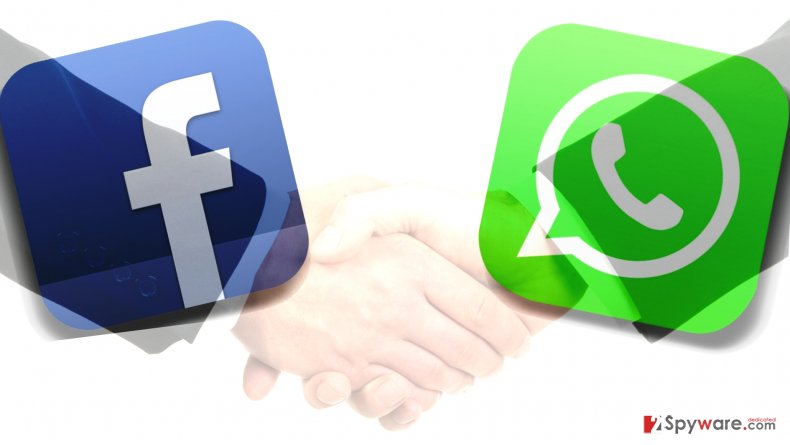 WhatsApp now communicates with Facebook more than ever, and since now, it connects user's phone number with Facebook's systems. This measure has been taken to show relevant friend suggestions and serve more interesting ads for the user. However, WhatsApp clearly states that it will not, by any means, share, give, or sell users' phone numbers to advertisers. It is also worth mentioning that WhatsApp has rolled out end-to-end encryption to protect users' privacy. All conversations are now encrypted with the indicated encoding method, ensuring that members of conversation can read its content. This also means that neither WhatsApp nor Facebook can access user's private conversations.
WhatsApp cares about user's preferences and allows them to opt-out account data sharing with Facebook. Users can make this choice within 30 days after agreeing to new terms and conditions, or before agreeing to them. Instructions provided below explain how you can do it:
Method 1.
When the screen asking to agree to updated terms and conditions document shows up, do not rush to click Agree. Instead, tap on Read more about key updates to our Terms and Privacy Policy first;
Scroll down to see a statement claiming that you agree to share your account data with FB. Tap the box next to it to remove the check mark;
Tap Agree button then.
Method 2.
If you have already agreed to share your information, you can change your mind within 30 days.
Go to Settings > Account > Share my account info;
Deselect this option.
About the author