Windows Vista reaches its "End of Life" on April
It's official. Microsoft ends support for the most hated and criticized operating system. From April 11, 2017, Windows Vista users will no longer get support and security updates.[1] Microsoft had already ended a mainstream support five years ago on April 10, 2012.[2] Though, within two weeks the lifecycle of this OS comes to an end entirely. According to MarketShare data, this will affect only 0,78% people who run computers in Windows Vista.[3] Launched in January 2007, this operating system received negative feedback from the users. What is more, the former CEO Steve Ballmer also admitted that this OS was his biggest mistake.[4] Despite negative opinion and criticism, Windows Vista brought some significant changes. For instance, users were provided an improved graphical interface engine (Aero) and browser tabs in Internet Explorer. Now, the company and cyber security specialists suggest people upgrade Windows in order to use computers safely after 11th of April.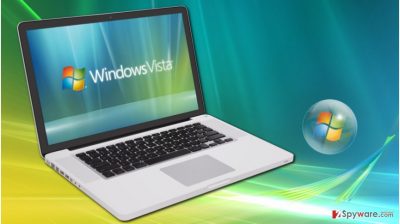 It seems that one of the reasons why Microsoft decided to end support for Vista is low market share which was only 0.84% at the beginning of January 2017. Meanwhile, the earlier version of the operating system – Windows XP – reached 9.17% of the market share.[5] An interesting fact is that Windows XP still has more users than Vista. According to the latest MarketShare data, 8.45% of the desktop users uses Windows XP. Having in mind that Microsoft has stopped supporting this OS version on April 8, 2014, people still do not bother to upgrade to the recent versions and get all necessary updates to keep their computers and privacy safe and sound. Czech security software developers Avast has just released a quarterly PC Trend Report[6] where they also reveal that more than 6.5 million computer users still use Windows XP. Meanwhile, only two million of people run their devices in Windows Vista. These huge numbers are worrying because users who do not upgrade and use latest Windows versions might be exposed to malware and other cyber crimes.
When Microsoft stops supporting particular products, it means that users no longer get automatic updates, security fixes or technical assistance. Thus, users might easily become victims of a tech support scam, or cyber-criminals might use security issues to infiltrate the system quite easily. Vulnerabilities, outdated operating system, and software allow viruses, spyware and malware hijack the computer and cause your problems. For instance, encrypt your files and demand to pay the ransom or steal personal information, such as banking or credit card details. Thus, if you are one of two million Windows Vista users, you should start thinking about upgrading your OS. According to Avast, Windows 7 is the most popular and widely used version of the OS (48.35% of users). However, upgrading to this version would be the temporary solution. Microsoft plans to end the support for Windows 7 in January 2020. Apparently, it seems that the best choice to stay safe for Vista users is to upgrade to Windows 10.
About the author
References