Beware: cybercriminals will come back from the holidays anytime soon
Malware developers need to take a break from work, too, and December is known to be their favorite month to step back from the illegal projects. According to CheckPoint's research[1], in December 2016 malware attacks decreased by 8 percent on a global scale in comparison with November. However, the award of the most noticeable recession goes to Locky virus, because statistics show that the extent of Locky malspam[2] has apparently diminished. Comparing with previous numbers, Locky's activity went down by 81% starting from the last week of 2016. Such massive drop has kicked Locky from the top ten widespread viruses' list, while in the past Locky ransomware used to be a runner-up (second place winner). However, considering how much money ransomware projects bring to their organizers, they shouldn't be away for too long and jump back into 2017 with even greater force. Besides, experts from Talos[3] say that Necurs botnet, which is responsible for Locky's distribution, goes offline repeatedly and during these offline periods Locky's activity goes down drastically. Researchers say that one of these periods is ongoing.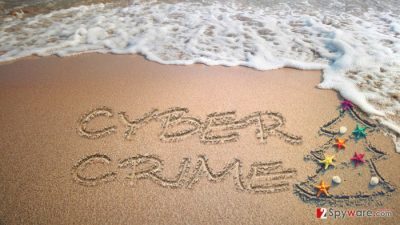 However, another crypto-ransomware threat is known as Cerber virus, and it didn't disappear from the horizon even for a day. The virus reportedly was distributed even more actively during the holiday season[4]. We must remind users to take ransomware-prevention measures to protect valuable data from being encrypted. Creating data backups and installing anti-malware software are the tasks to begin with.
Speaking about other most prevalent ransomware examples, we have to say that there was a drop in CryptoWall ransomware activity as well. The virus is currently in the seventh position in the top ten most prevalent malware list, where the Conficker worm takes the first place. However, although this worm owns the 1st position, there is a drop in its extent as well. The worm used to keep 15% of all malware attacks in November, while in December numbers dropped to 10%. Although numbers have dropped a little, there is no need to relax and forget to take measures to protect computers and personal data. The majority of other viruses are still actively distributed. However, some cybercriminals probably actually felt the Christmas spirit, because there were cases when they offered a Christmas discount for ransomware victims[5], asking to pay a smaller ransom. No matter what, we recommend computer users not to listen to criminals' conditions and refuse to pay ransoms. If you are lucky and you haven't been infected yet, remember that it is not too late to make a fresh start and take some steps to be safe on the Internet throughout 2017, especially because criminals will definitely get back to work shortly. You might want to check the best anti-malware and the best free antivirus of 2017 articles to set up a comprehensive protection for your computer system. Installing anti-malware and antivirus programs together is highly recommended as this can help to fight off spyware and also critical viruses.
About the author
References