Cyber threats you should look out for this year: adware, browser hijackers and ransomware viruses
The first quarter of 2016 already brought a variety of new computer threats to the users all around the world, posing a danger to the stability of their devices. In fact, cyber security experts note that over this relatively short period, viruses have been more active than ever. It has been observed that the most salient ones so far are the adware, browser hijackers, and ransomware viruses. While first two categories can be very intrusive and cause minor malfunctions in the system, they do not bring much damage to the infected computer and can be gotten rid off quite easily. Whereas ransomware tend to be incomparably more destructive and not only negatively impact your system's performance but also steal your files. Antivirus software creators and computer professionals have struggled to create an antidote to these viruses, yet there have been some cases of major breakthroughs in this area as well.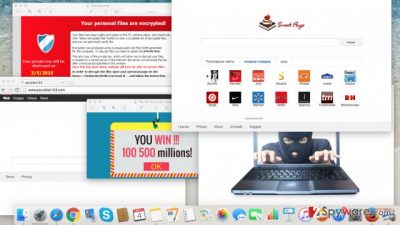 Talking about the most prolific adware programs this year, DNS Unlocker is undoubtedly worth a spot among the most widespread ad-based viruses of today. This deceptive program has already been injecting sponsored ads and suspicious links into thousands of infected computers worldwide. Browser hijackers such as yoursites123 or piesearch.com also do not fall behind. These clingy fake search engines do not leave the annoyed users' computers despite the attempts to delete them. Nevertheless, the removal process of browser hijackers or adware may seem like a walk in the park after dealing with ransomware. These malicious programs are growing in numbers each day and threaten to lock your files indefinitely if you do not pay the ransom. TeslaCrypt, CryptoWall, and CryptoLocker should be highlighted as the "leaders" in the ransomware ranking, having extorted hundreds of thousands if not millions of dollars from their victims around the globe. Even though ransomware directly disclose their profit-focused reason for infiltrating your computer, all the mentioned viruses seek to generate easy revenue by taking advantage of the unsuspecting users. Therefore, in relation to the influx of new and dangerous viruses, this year you should focus on equipping your computer with the best antivirus software and keeping an eye on the stability of your system.
The cyber security analysts emphasize that the computer's vulnerability to viruses is highly dependent on the system's stability. Therefore, to have a secure computer, it is important to make sure it does not contain any unnecessary programs or files. Websites which specialize on the in-depth analysis of dangerous files like ugetfix.com can be very helpful in indicating, detecting and removing such components from the computer. Finally, obtaining a reputable virus-fighting utility is also an obligatory investment into the security of your future data, finance, as well as the privacy of your personal information.
About the author
Read in other languages