The end of Teslacrypt ransomware: authors release Master Key
Surprising news for victims of TeslaCrypt ransomware – authors of this disastrous virus have decided to shut down this project and release the Master Decryption Key. That is really shocking, considering the fact that TeslaCrypt virus was one of the most complicated ransomware-type threats of all time, and it has been generating incredibly large profits for the developers of it. In fact, in the list of top ransomware viruses, TeslaCrypt took the third position. The first and the second positions still belong to CryptoWall and Locky viruses.
In the past, computer security experts managed to crack TeslaCrypt virus a few times, but it managed to patch its flaws a few times and create updated versions of it. Here is a list of all TeslaCrypt variants that were released:
However, now that the TeslaCrypt key location is known, victims of this ransomware can recover their files for free. The master decryption key can be found on the website that used to be TeslaCrypt's payment site. It presents a short message from cyber criminals: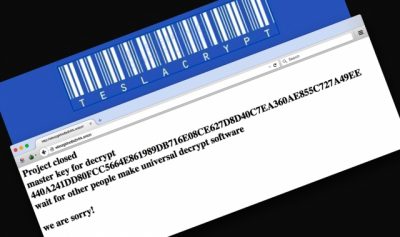 The master decryption key is:
440A241DD80FCC5664E861989DB716E08CE627D8D40C7EA360AE855C727A49EE
As you can see, TeslaCrypt authors apologize for the damage they have caused for computer users. The question is, what makes them do that? Why would cybercriminals shut down one of the most successful ransomware projects in the world? There is no answer to this, and nothing is clear yet. However, 2-Spyware researchers claim that TeslaCrypt authors are not going to stop their illegal activities and that the shutdown of TeslaCrypt is just the beginning, not the end. It is very unlikely that crooks are going to give up such profitable business just like that. It is believed that TeslaCrypt authors are concentrating on improvement and distribution of CryptXXX ransomware, which spreads at an alarming rate. You can read more about CryptXXX virus here.
Just like the authors of TeslaCrypt malware stated, it didn't take long for computer experts to create an TeslaCrypt decoder that would decrypt files affected by TeslaCrypt ransomware automatically. You can download this Teslacrypt decryption tool and recover your files for free. Remember that before using this tool you must implement TeslaCrypt removal. If you still haven't uninstalled TeslaCrypt yet, use a powerful anti-malware software to remove all of its files from your computer system.
About the author
Read in other languages