EastEnder's Shona McGarty falls a victim to the Fappening 2018
Shona McGarty's explicit pictures leaked after her iCloud account gets hacked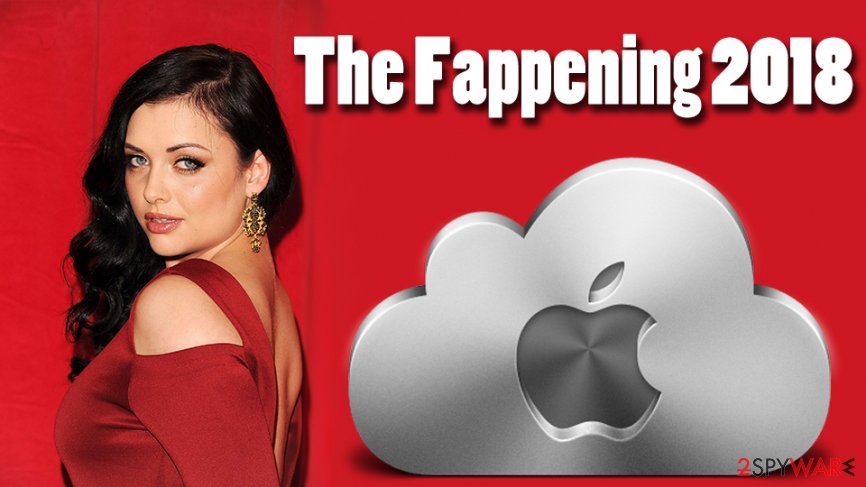 The Fappening 2018 saga continues threatening Hollywood stars and world's celebrities, and, unfortunately, it seems that this x-rated photo leak is not going to end anytime soon. Earlier this month, two intimate photos of a 26-year-old star Shona McGarty (best known for her EastEnders role Whitney Dean) were leaked after her iCould account got hacked. These pictures were additionally posted on several adult websites.
According to the report,[1] the first image showed McGarty naked in the bathtub, and the other one revealed the actress in the state of undress in her bed. Of course, as all of us can imagine, she is not very happy about this loss. However, the actress has not publicly commented on the incident, and it is unclear whether she will be contacting the authorities just like it was done by Emma Stone.[2]
Hacking iCloud becomes the easiest way to snatch celebrities pictures
Not much is known about the attack and how did it happen, but it is clear that the pictures were stolen from McGarty's iCloud account.
While celebs are mostly tricked by phishing emails[3] that come their way, it is clear that the popularity of Fappening attacks is getting serious. All hackers have to do is create a bogus website which looks identical to the original one and asks the victim to enter credentials, be it for "your account is frozen" or "reconfirm your information," or any other fake reason. Hence, it is important to stop iCloud hacks[4] before they can take place.
To avoid attacks on your personal account (be it iCloud or Facebook), use a two-way authentication and strong passwords. Additionally, you can switch off the auto-backup feature by going to Settings > [your name] > iCloud > Manage Storage > Backup which is typically switched on by default.
The Fappening saga continues threatening victims since 2014
The Fappening phenomenon started in 2014, when a collection of over 500 X-rated photos of various celebrities was stolen by anonymous hackers. Many questions have been raised since then, including if pictures were authentic (many stars entirely disagreed that it was them in the pictures). Nevertheless, the scandal became so popular that even a movie by the same name was produced in 2015.
Among the targeted victims are high-profile stars like Kate Upton, Jennifer Lawrence, Kirsten Dunst, Kaley Cuoco and many others. In the meanwhile, the Fappening 2018 includes Charissa Thompson,[5] Jorgie Porter, Natalie Cassidy, Georgia May Foote, etc.
The Fappening has already been named the biggest celebrity data leak in history. While celebs are stressing about their exposed personal parts, security experts and even FBI[6] are working on improving the safety of personal data and punishing those responsible for the hack.
About the author
References