Fake adult video sites are pushing adware-related apps
Adult sites with fake media players are spreading virus-filled programs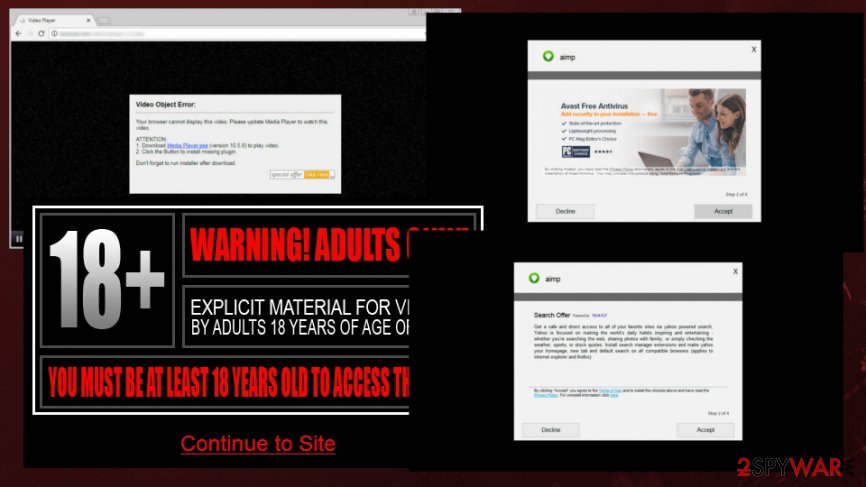 Sometimes while surfing the internet, you can get redirected to sponsored sites filled with adult content or advertisements. This might seem only frustrating and annoying from the first sight. However, after dealing with such sites for some time, you can find yourself infected with ad-supported tools[1] or programs with fake features and without any value.
People who are interested in adult-related content are typically under the greater danger as they keep searching for the Fappening stories[2] and similar content without thinking that they can be tricked by notorious headlines and blurred images. The most common scam used to trick such people is typically called "this is not working, try to install that."
Methods used to infect the system
When you happen to visit the illegal site with the intention to watch the intended content, you can run into the fake error message with information about not working equipment. Additionally, the scam suggests installing "recommended" software to play video or view the image. However, the Media player and similar software recommended on such sites is usually the fake tool trying to infect the system with malware or an unwanted browser extension at least.
Recently, computer users reported about "Browsing Safely" extension which has invaded their systems with the help of a similar technique. Once it entered the system, it changed their default search provider to Yahoo and started continuous redirects to infamous advertising networks.
Dangers behind unwanted programs
The method of using pop-up ads[3] and error windows to trick people into malicious or useless software is not new. Pop-up ads, banners or suspicious extensions on your browser are frustrating, but this just one side when discussing PUPs.[4] Some of these extensions can contain bitcoin-mining features[5] to mine cryptocurrency by using your computer's CPU resources.
Additionally, such apps can initiate data collection to share this data with third-party companies. PUPs and other adware programs can access:
IP addresses;
Geo-location;
Search queries;
Browser type and version;
Information about internet provider;
OS and version;
Most viewed sites.
About the author
References