ArmorWall is the Internet firewall and spyware remover. It can be purchased on spywarekiller.net site, which belongs to Web Site Traffic Builder, Inc. However, we discovered another site – armor2net.com, which sells the same looking firewall with integrated spyware remover called Armor2net. It appears that ArmorWall is based on Armor2net.
We have downloaded trial version of ArmorWall and gave it a try on clean system. The application did not find any spyware, it doesn't use false positives. However, on computer infected with adware, spyware and browser hijackers it also didn't discover any threat.
Free version of ArmorWall doesn't include update function and comes with outdated spyware definition file, released in October, 2003.
ArmorWall cannot protect computer from spyware, adware and other malicious programs. We DO NOT recommend it.
ArmorWall download:
not recommended
ArmorWall was carefully tested by 2-spyware.com research center. The review is the result of our test. If you know additional information about ArmorWall please
send us the note
Advice:
If your computer seems sluggish, or you are suffering from unwanted advertisements and redirects to unknown websites, we highly recommend you to scan it with reputable anti-spyware program. Do some FREE scan tests and check the system for unwanted applications that might be responsible for these problems.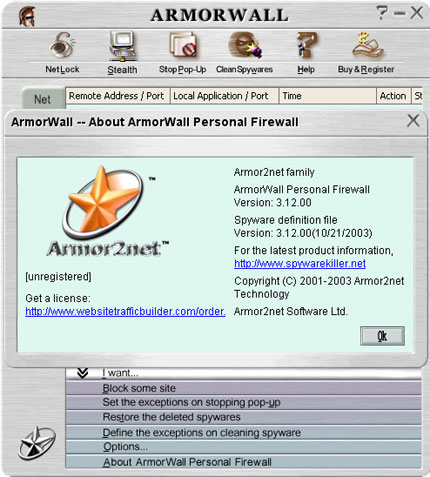 About the author