SpyHunter vs Malwarebytes AntiMalware
If you are looking for an anti-malware tool, you may end up with a question: "Which one, SpyHunter or Malwarebytes Anti-Malware, is better?" They both are certified by West Coast Labs' Checkmark Certification System, they both are considered the go-to tools for malware removal and so on. This comparison will try to help you figure out what are the pros and what are the cons of SpyHunter and Malwarebytes, and which one could work for you the better.
Latest versions: SpyHunter 4; Malwarebytes AntiMalware 2.
Free versions: SpyHunter Free; Malwarebytes AntiMalware Trial.
Paid options: SpyHunter 4 Full version; Malwarebytes AntiMalware Premium.
Installation: Malwarebytes and SpyHunter can be installed on the system within seconds. You just need to hit the download button, and you will download the installer on your computer. After that, you should go thru Setup Wizard and finish the installation. Both of these programs are compatible with Windows XP/Vista/7/8. At the moment of writing, the developers are preparing their programs for Windows 10.
Scanners: SpyHunter, as well as Malwarebytes, starts its first system scan as soon as it is installed on it. While it may seem that Malwarebytes Premium has a better user interface, it's obvious that SpyHunter is filled with more features. One of the most important ones is Spyware Helpdesk, which allows you to get custom fixes to your particular problems. You can schedule your scans according to your needs with both of these programs.
Some time ago, Malwarebytes was known for its Anti-Rootkit technology that allows avoiding serious threats, like trojans, ransomware, and other viruses. Now, the same technology was added to SpyHunter. Some users have reported about system slowdowns while running a full system scan with Malwarebytes Antimalware. It hasn't been noticed while testing SpyHunter.
Malware removal: As soon as Malwarebytes scan is finished, the results are displayed. Here, you can see the list of identified viruses. The same is done after SpyHunter's scan, but its scan results look more detailed and include more information about detected malware. Viruses can be eliminated with only one click with both of these programs.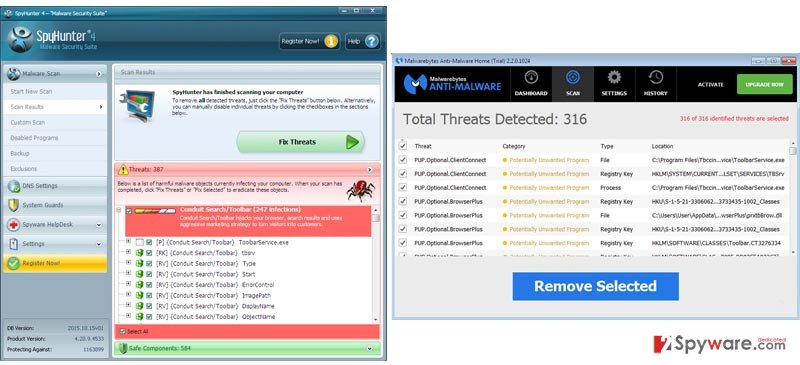 What can be done if anti-malware fails to remove malware? If SpyHunter fails to fix an infected computer, you can always use its Spyware Helpdesk feature. This exceptional feature is designed to help people get a custom fix for each of their PC-related problems. In the meanwhile, Malwarebytes Anti-malware offers to write you in its forum and submit an online ticket. You may need to wait for several days to get the answer from its experts.
Final notes: No matter that the developers of Malwarebytes Antimalware are actively promoting their product as a free tool, it's obvious that it's just a marketing trick. Only Malwarebytes Premium has malicious URL blocking, real-time protection and other features that must be on the computer if you want to keep it in its best shape. Because of the Spyware HelpDesk feature, SpyHunter looks more reliable when it comes to scanning the system and helping people to fix their computers. Malwarebytes Customer support is less reliable because you can be left with no help for days.
More comparisons on SpyHunter and other security software are provided in the SpyHunter review.