The best anti-malware software of 2017
Choosing the best anti-malware software for your computer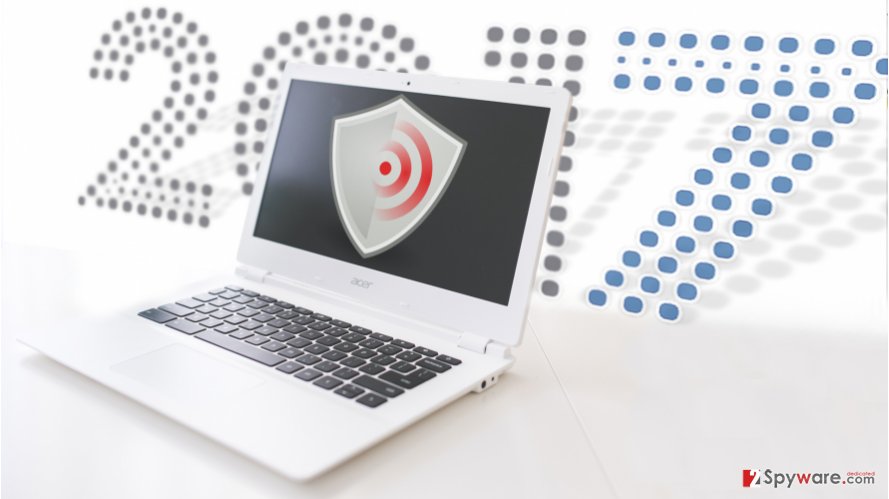 In 2016, the cyber-security community has been confronted with numerous challenges. For instance, in their semi-annual threat overview ,Kaspersky malware researchers have reported close to 172 million malicious online attacks during the 2nd quarter of 2016 alone [1]. A total of 191 countries have been more or less affected by online crime while the home users, companies, and organizations suffered the consequences. Unfortunately, it would be naive to expect any positive changes in 2017 either.
On the opposite, the experts envisage a more rapid development of cyber threats and the areas they will be able to affect [2]. Hijacks of medical institution systems that seemed to be a prevalent trend this year are just the beginning [3]. The hackers will definitely find new ways to benefit from the current situation where almost all areas of our social system are, one way or another, connected to the Web.
It is only natural that organizations and private businesses will have to work harder and invest more time and resources into the security of their databases and client data. Although on a smaller scale, the home users are expected to do the same. You should bear in mind that it is solely up to you to make your personal files safe and your computer system resistant to malware infections.

We understand that finding the best way to protect your device might be an overwhelming task, especially with this extensive selection of security programs that currently exists [4]. So, we have prepared this overview of anti-malware programs to help you make the right decision. All of the applications have been tested by our experts and are safe to download and use. You will find a link to more detailed anti-malware descriptions and download pages at the end of each entry.
1. Malwarebytes 3.0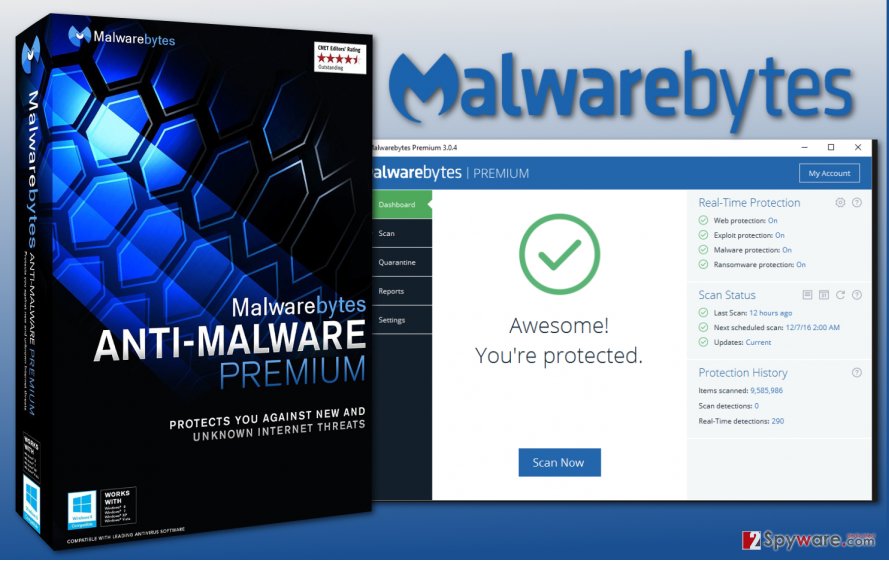 Malwarebytes 3.0 is an anti-malware solution some of you may have already heard about. Malwarebytes is especially valued for its powerful free scanner, but the Premium Malwarebytes 3.0 version offers much more than that. Program developers claim that the latest version of the program sets new standards for the anti-malware protection, offering up to four times faster scanning capabilities and the next-gen system protection. The program's main aim is to tackle various malware as well as more advanced threats that typically invade computers.
What is more, the Premium version is rich in various additional functions that prevent the users from visiting unsafe and potentially malicious websites, remove rootkits and fix damaged files. All in all, it is a worthy anti-malware solution which you can obtain for $39.99. The Premium license will be valid for a year after its activation. You may read more about Malwarebytes 3.0 in this article.
2. Plumbytes Anti-Malware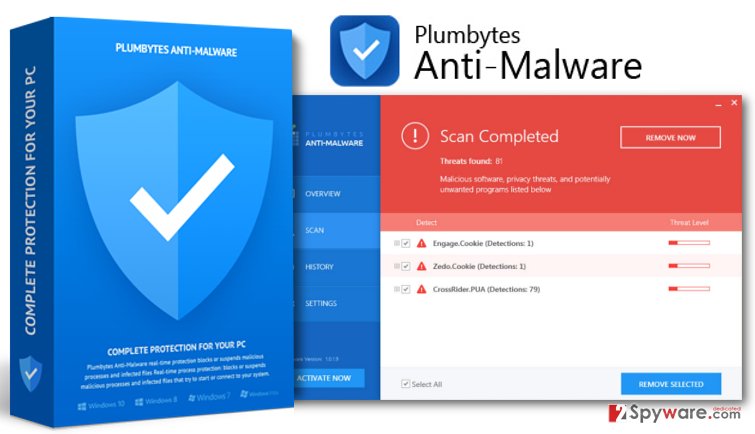 Plumbytes is another malware removal tool that is relatively new but has already gained acknowledgment within the cyber security community. And not without reason. The program covers the most essential parts of computer security: blocks malware attacks and removes parasites that are already on the system; prevents installation of unsafe programs and restores system stability after malware elimination.
These handy features are wrapped in a minimalistic and comprehensive user interface (UI) design which allow operating the program really easy. It is fair to say that Plumbytes Anti-Malware is suitable for the users who are less experienced in the field of IT. Besides, if any troubles arise while using this program, Plumbytes Technical Support center technicians are ready to assist you 24/7.
A sophisticated anti-malware protection and round-the-clock technical support come for $49,99 a year. If you are interested to learn more about this program, click here for a detailed Plumbytes Anti-Malware 2016 overview.
3. Bitdefender Total Security 2017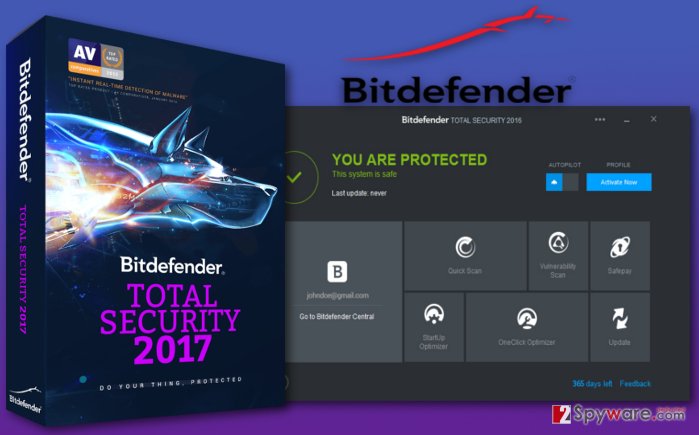 Bitdefender is undoubtedly one of the leading anti-malware solutions on the market. The program is compatible with Windows, Mac OS, and Android operating systems and may support up to 5 devices at a time. The program's developers hold a good balance between a sophisticated virus extermination tool and a simple-to-use anti-malware solution, suitable for the regular home users.
Another good thing about this program is that it does not put a lot of additional strain on the system. This helps save battery life when using it on portable devices as well as preserve system performance speed and run other processes without interferences.
Talking about some drawbacks of this program, we should mention that it is quite pricey and costs $89,99 a year. Nevertheless, on the official Bitdefender's website you can often find various bargain deals and discounts, so keeping an eye on this site may help you obtain a sophisticated malware protection for cheaper. More of the useful Bitdefender features are discussed here.
4. Zemana AntiMalware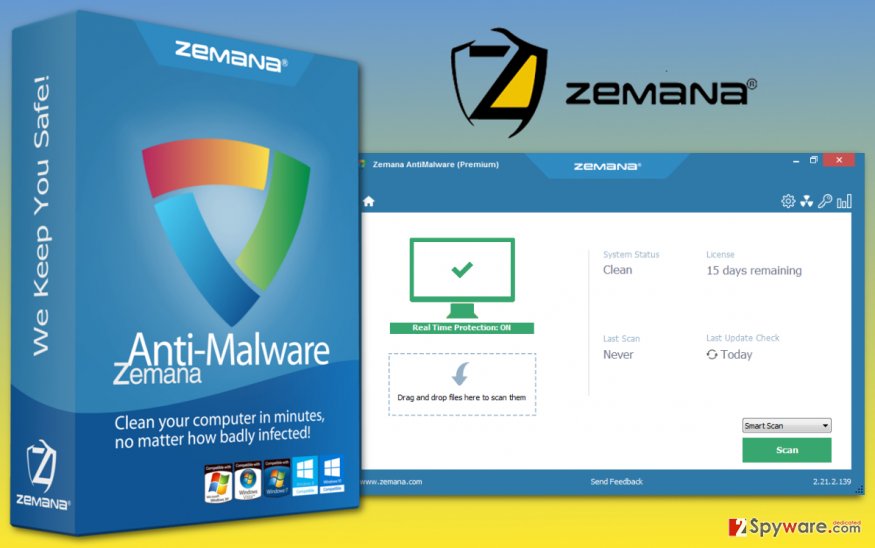 Zemana is an anti-malware tool designed specifically for Windows operating systems. Although not all of its specifications can compare with some of the previously discussed anti-malware giants, Zemana still provides a sufficient-enough defense against various computer threats.
Although the program is lightweight compared to most anti-malware software, it is still capable of providing real-time protection [5], clear up the browser from potentially unwanted add-ons, extensions or toolbars. Zemana also helps the system to recover after rootkit elimination which is a feature not all malware elimination tools can be proud of.
For those searching for some innovative malware defense approaches, we recommend trying out Zemana AntiMalware. Besides, a yearly subscription to the Premium version of this program costs only $6.96 which definitely an affordable price to pay for the computer protection. On our site, you can find a more detailed review of Zemana AntiMalware in case you are interested.
5. Emsisoft Anti-Malware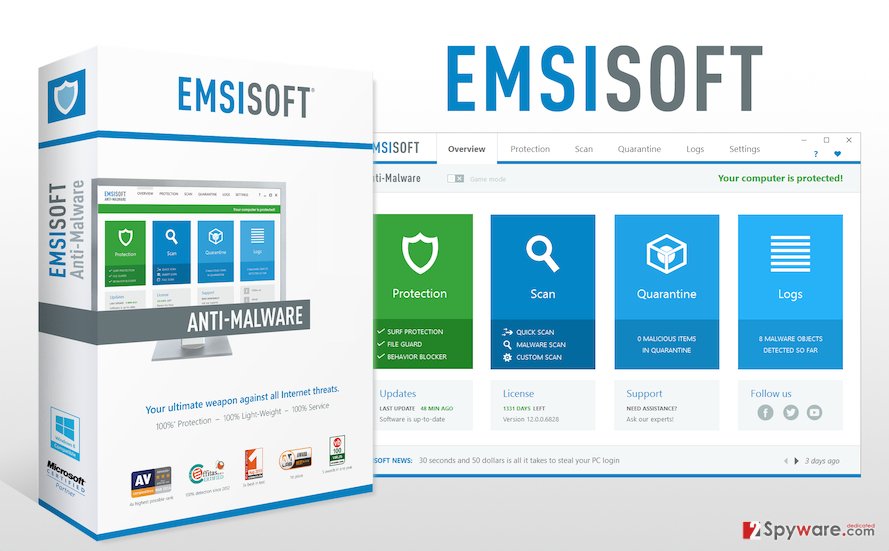 You may know Emsisoft as a company which actively fights against ransomware. But Emsisoft developer team does not focus on these viruses alone and are working on various malware defense products. One of such tools is Emsisoft Anti-Malware for the Windows OS.
The program is integrated with a dual-engine scanner which allows the system to be investigated thoroughly in just under a minute. Besides, this anti-malware tool also ensures protection while surfing the web and automatically checks the downloaded files for malicious content.
On the official Emsisoft website, the pricing of this versatile protection suite starts from $39.95 for a one-year subscription. There are more Emsisoft Anti-Malware features we have not mentioned in this brief review, but you can learn more about them by clicking this link.
Bonus: Reimage — a multipurpose tool for computer protection and repair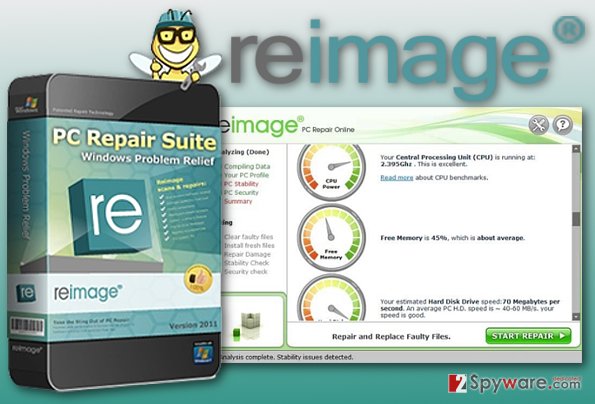 Most anti-malware programs have their strong points on which their creators focus on. Thus, to ensure the best system security, users are often advised to obtain several of such programs. It is only natural that the expenses of such computer protection might get rather high. Besides, you may quickly run out of memory to store all these separate applications. Luckily, there is a solution — an all-in-all program that combines the top anti-malware functionalities.
We are talking about Reimage. You should not relate this top-quality tool with the negative reviews it received in the past. The company is now completely reborn and even collaborates with such well-known antivirus vendors as Avira AntiVir. But it is not only the powerful malware scanner that the Reimage can be proud of.

It also receives praise for its system repair capabilities. It restores corrupted or deleted system files, sorts out Windows registry entries and generally improves computer performance. More about the pricing and other features of this program in this Reimage review.
About the author
References
Read in other languages