The best free antivirus 2017
Protect your computer with the best antivirus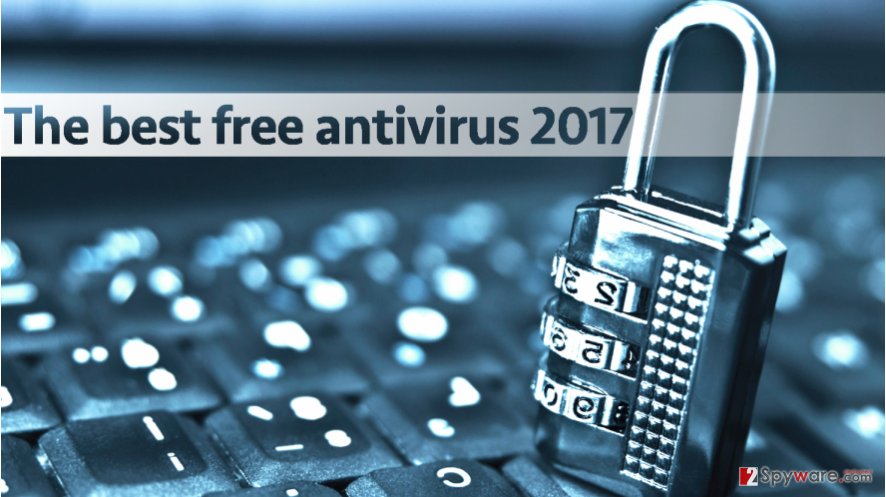 Looking for options to protect your PC from the most dangerous viruses? Security experts have already revealed the list of the best free antivirus software of 2017. There are quite many cyber security companies that offer protection for free. However, it is a serious job to try dozens of free tools to find the best one. To save your time, we present you the summarized review of best free antivirus tools.
It goes without saying that, with the increase of ransomware[1] attacks, having a reliable antivirus protection tool is extremely important. Of course, paid software typically appears to be stronger and more sophisticated, but you can find powerful tools that don't cost a penny and ensure similar security level like paid programs do.
Remember that it is advisable to use antivirus + anti-malware or anti-spyware[2] programs together for maximum protection because typical antivirus tools are created to protect the system from critical malicious programs whereas anti-spyware or anti-malware tools are meant to remove adware, browser hijackers and other suspicious potentially unwanted programs (PUPs) from the computer.
Let's go straight to the point and discuss the best free antivirus tools of 2017 so that you can take actions and install a reliable tool to your computer ASAP.
1. Avira Free Antivirus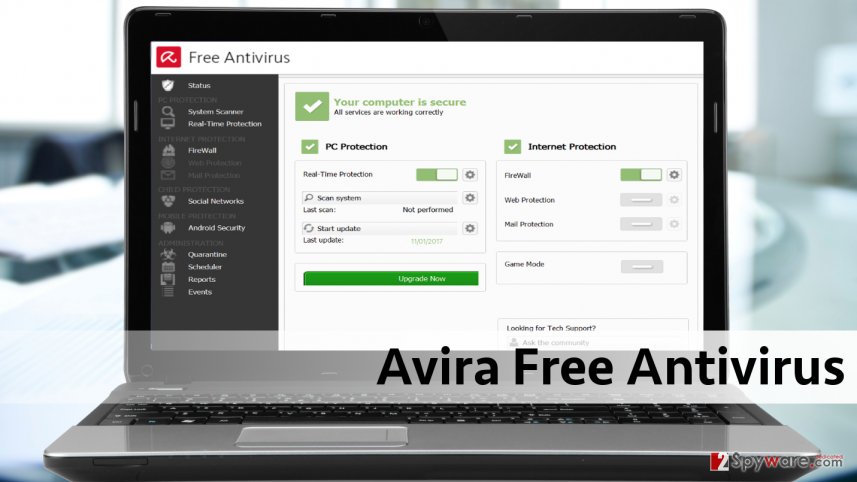 Avira Free Antivirus analyzes the entire system with a single push of a button. This program has a user-friendly interface[3] that allows even less tech-savvy users easily configure and use it. Avira Free Antivirus sets up a shield that defends the computer from all types of malware, including viruses, Trojans, worms, spyware.
The software scores nearly 100% in malicious file detection tests, which clearly shows that people who update Avira's databases are working quickly and precisely. The program relies on a cloud-based scanning system, which means that fingerprints of suspicious detections are sent to an online server and checked in real-time, and then the response is sent to the program on the user's computer.
The software doesn't slow down the system and removes malware without disturbing the computer user. The software is built to protect both Windows and Mac users. To find out more advantageous features of this antivirus, visit the official page of its developer.
2. Bitdefender Antivirus Free Edition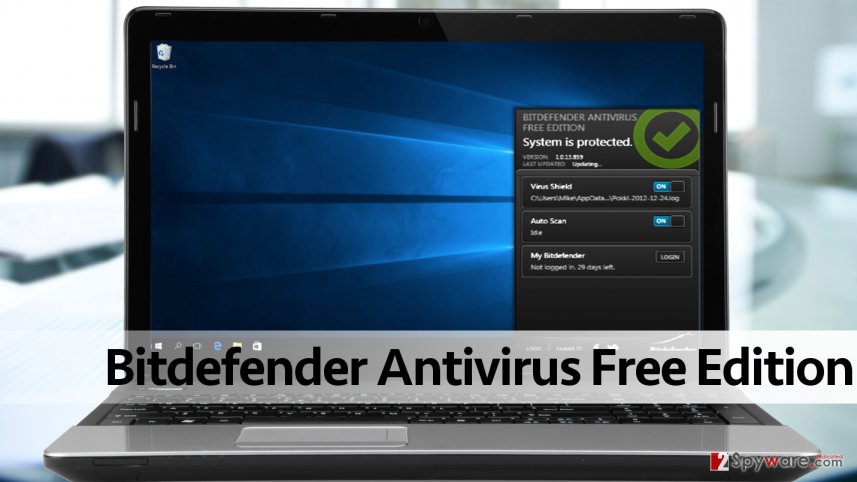 The free edition of Bitdefender Antivirus provides a rich set of features for those unwilling to pay for a security software. The software has a low impact on the system and guarantees effective system scanning and virus removal, active threat control, also excellent anti-phishing[4] and anti-fraud features.
The software monitors running applications and blocks them in case it detects any suspicious behavior, also prevents access to deceptive sites that pretend to be safe ones and steal private user's data. Bitdefender Antivirus Free is compatible with Windows 7 SP1, 8, 8.1, and 10, but the company provides free protection solutions for Mac and Android users as well.
It must be said that the free Bitdefender's version lacks many beneficial features available in the commercial version of Bitdefender; however, the core antivirus engine is just as strong as in the paid version. Another advantageous feature of this antivirus is that it does not show dozens of false positives to scare the user.
We believe that this program is a precise and efficient security program that all computer users can rely on. If you are interested in this antivirus, visit the official Bitdefender Free website and learn more about it.
3. Avast Free Antivirus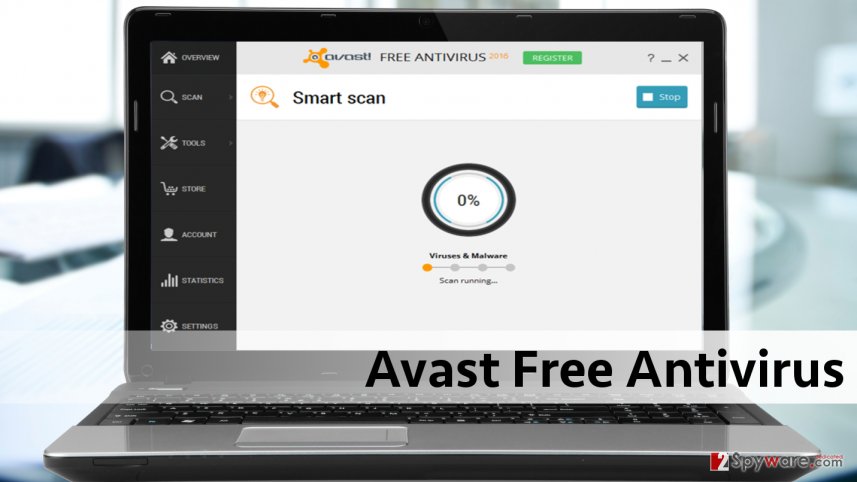 The free version of Avast Antivirus is an award-winning product that delivers real-time protection[5] for the device that it gets installed on. This antivirus works precisely, scanning program codes and detecting harmful ones. Avast's VirusLab creates a 'vaccine' against the code and sends it to every other Avast-protected computer.
The program is capable of blocking phishing websites and detecting malware such as ransomware, viruses, adware, browser hijackers, and also outdated software. What is more, Avast Free checks whether other devices connected to user's network are safe – printers, phones, TVs, tablets, and the like.
With this program, you will easily detect and update programs that might have security vulnerabilities, and this will help you to prevent hacking attacks. You can also run performance scans and secure your passwords, which are also hands-down useful features. Avast invites Windows, Mac, and Android users to try it; if you want to try this program, visit the official Avast website to learn more.
4. AVG AntiVirus Free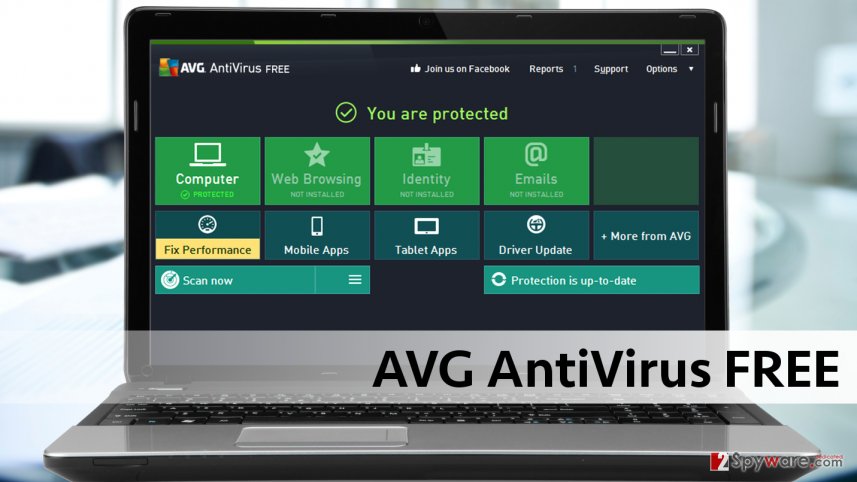 AVG AntiVirus Free is another great option for those looking for a free antivirus protection. This one scans the system for both malware and performance issues and provides real-time protection, which blocks malicious downloads and prevents malicious programs from infiltrating your PC system.
A user-friendly interface makes it an easy-to-use product, which undoubtedly does the majority of work automatically, allowing the user to sit and rest until the computer gets cleaned. The program regularly updates itself, which means that you won't have to worry about the latest updates – the program downloads the latest virus definitions from its servers automatically.
This tool is compatible with Windows XP SP3, 7, 8, and 10, also Mac OS 10.8 and above, and even Android 2.2 and above. The program scores high in malicious URL blocking, making it an excellent choice for users who are not willing to pay for a computer protection software. Read more about this antivirus software here.
5. Panda Free Antivirus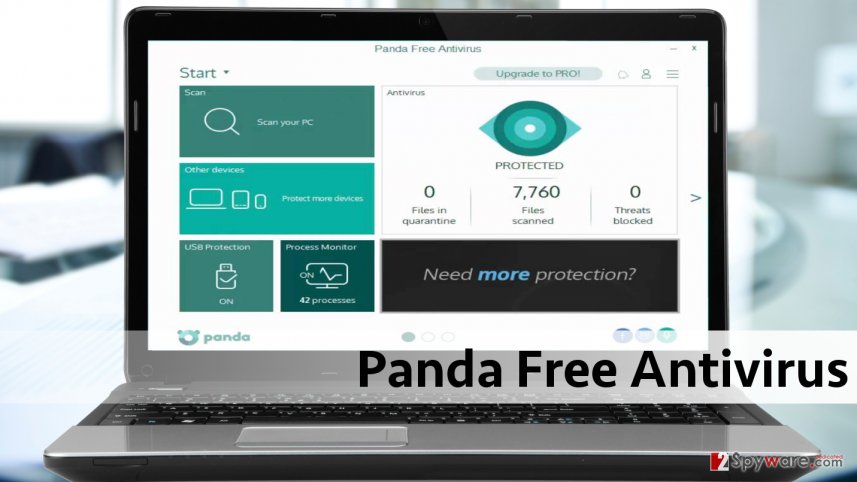 Panda Free Antivirus is yet another option for those looking for a charge-free computer protection tool. This light yet powerful tool is compatible with Windows 10, 8/8.1, 7, Vista, and XP. The software has an easy-to-use user interface, which makes the product more favorable for not so experienced PC users.
Panda Free secures your USB drives from numerous infections and provides a Rescue Kit feature, which helps to disinfect the PC in critical situations. A very useful feature of Panda is that it delivers real-time protection, which means it can secure your PC and block unauthorized attempts to install hazardous programs on the system.
Tip: be careful when installing this program and opt-out unwanted bundled applications if you do not want to change your browser's homepage suddenly. Another drawback is that Panda scans the system rather slowly in comparison to other free antivirus programs. Learn more about a free version of Panda here.
Try a one-in-all product: Reimage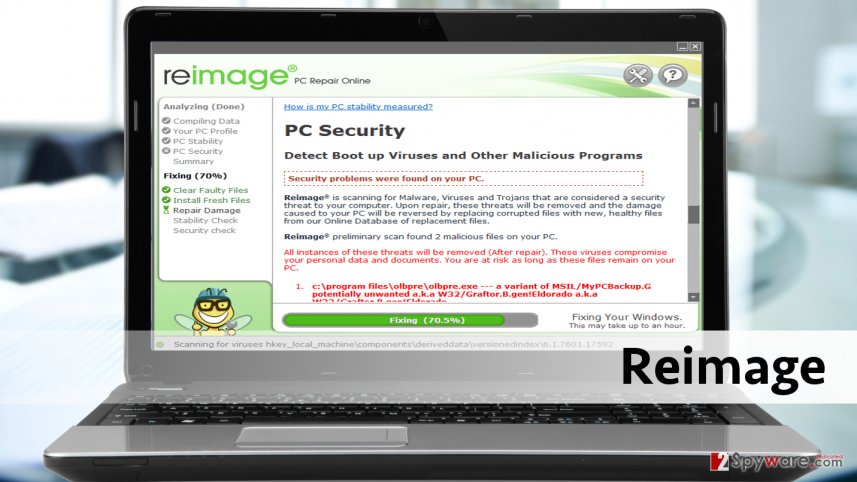 Antivirus programs are essential in today's world, as they can block malicious programs that try to infiltrate computer system unnoticed. However, there is a tool that provides a rich set of features for only €37.95 per year. This program is called Reimage, and it can completely transform the performance of your computer.
The program scans the system to analyze problems related to hardware[6], security, and stability and fixes the afterward. What's unique about Reimage is that it has Avira AntiVir scan engine that helps to eliminate malware and spyware from the system, besides, it works as a system optimizer and also has a large database of Windows files, which comes in handy when the user needs to fix the computer compromised by a harmful virus.
Reimage will speed up your PC, improve its performance and stability, and remove critical programs from it, so, considering its price, you will get an all-in-one tool that works perfectly alongside the vast of antivirus programs. To learn more about Reimage, check this review.
About the author
References
Read in other languages