The best malware removal software of 2020
Comprehensive security software should be used to prevent malware attacks in 2020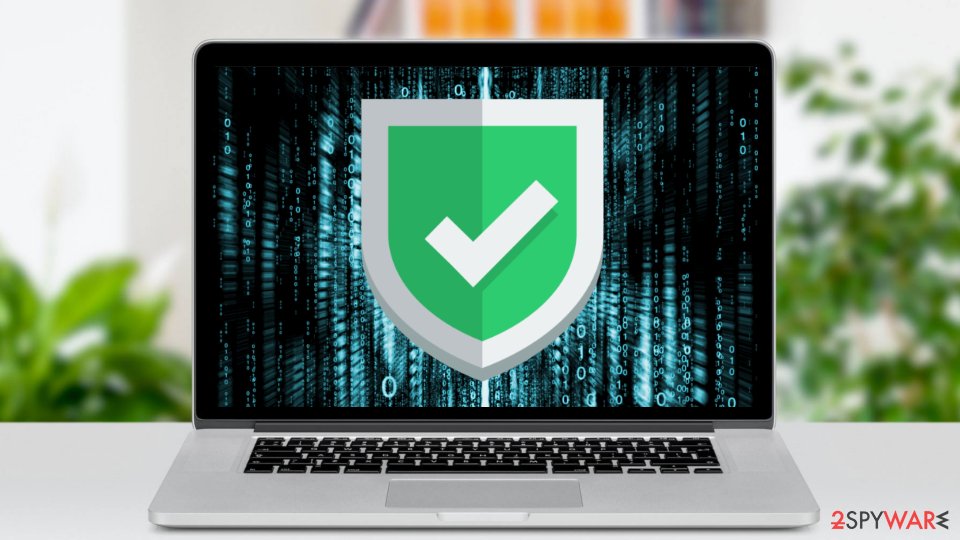 With each passing year, malicious actors keep tweaking their scripts to increase malware obfuscation and persistence techniques, employing multi-stage infection and other complex features. Quite often, the malware consists of more than one payload and engages in sophisticated functionality once installed.
According to a cybersecurity report,[1] 2018 was especially devastating to multiple high profile organizations, as such threat actors like Lazarus and MageCart[2] were extremely active in laundering millions of dollars throughout the year. Additionally, the appearance of GandCrab in early 2018 made it one of the most prominent cyber threats of the year.
2019 proved to be a lucrative year for cybercriminals: Djvu ransomware was infecting hundreds daily, and "big game hunting" strains began harvesting sensitive company information during their attacks. Mac malware development and distribution were also reported to increase to never-before-seen scales and now outpaced Windows malware.[3]
Being careful and avoiding visiting potentially dangerous websites is not enough to prevent cyber threats. Security experts recommend investing in professional security software to protect your computer, important files and sensitive data from cybercriminals. That being said, free security software can do its job, but its protection is not all-around, and many viruses might slip through a minimal amount of defense such tools offer.
There's no doubt that choosing "the one" is difficult. The market is full of different malware removal software that offers the best protection. However, to help you choose the best malware removal software of 2020, the 2-spyware team provides the list of top 5 anti-malware tools to protect your PC from adware, spyware, ransomware, trojans, cryptominers and other malicious programs.
1. Malwarebytes 4.0 offers real-time protection for computers and mobile devices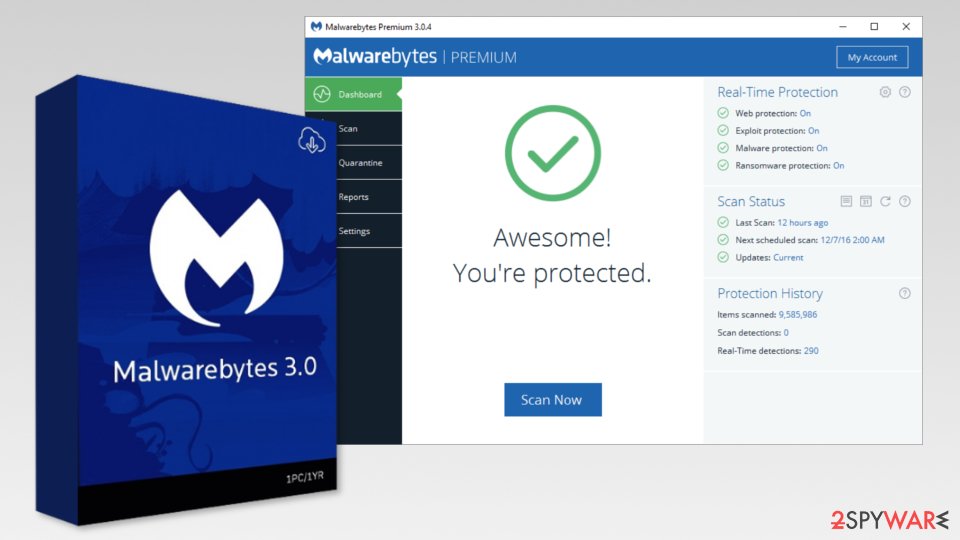 Malwarebytes[4] is one of the industry leaders that provides the real-time protection and malware removal solutions. The program which is considered to be one of the best malware removal software solutions is compatible with Windows and Mac operating systems, as well as Android and iOS mobile devices.
The main difference between Malwarebytes and traditional antivirus software is that it uses signature-based technology that allows blocking malware before it starts implementing malicious tasks on the system. Program's virus detection rate is also impressive:
More than 15 million threats detected or blocked every day! (source: official Malwarebytes website)
Besides, security experts were impressed by the program's scanning technology and virus removal effectiveness. After identifying malware payloads before they initiate an attack on the system, Malwarebytes takes one moment to remove the threat. Of course, it does not take care of the consequences.
To help users avoid entering malicious or phishing websites, anti-malware offers web protection feature that helps you avoid entering malicious or phishing websites. It also minimizes exploitation of vulnerabilities and protects from advanced cyber attacks.
However, the most important feature of the security software is ensuring real-time protection. The latest program's version, Malwarebytes 3.6.1, has fixed the most of its bugs and has visibly improved its stability on Windows 10 OS.
To test Malwarebytes and make sure that it is the best malware removal program, you can always download its free version at first. Take advantage of its 14-day free trial before spending your money on buying its license.
| | |
| --- | --- |
| Version | 4.0 |
| Operating systems | Windows 10/8.1/8/7/Vista/XP/Mac/Android |
| Limitations | 14-day trial |
| Price |  $39.99 |
| Full size | 79.46 MB |
2. Webroot SecureAnywhere AntiVirus has the fastest system scanner in the market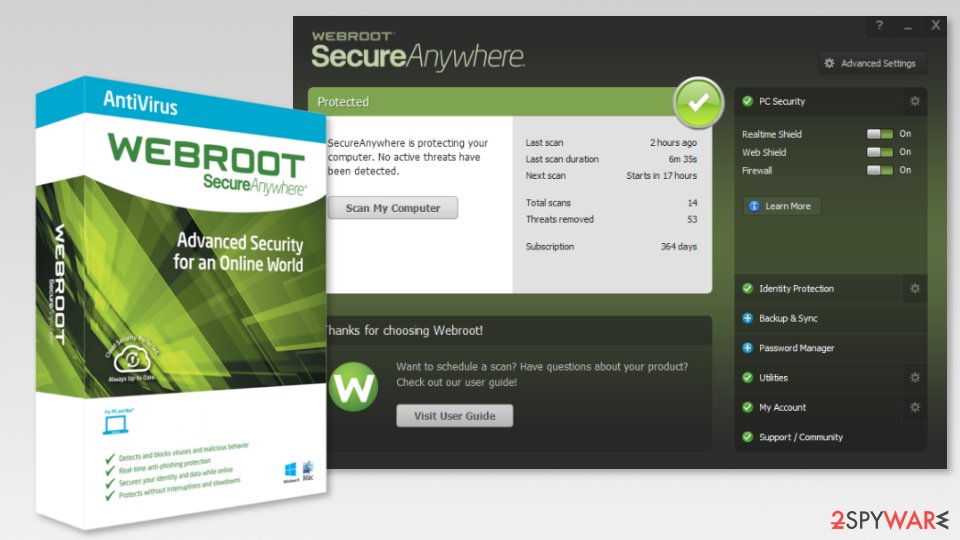 Webroot SecureAnywhere AntiVirus is already known for being the smallest security software. While the majority of anti-malware tools require 516 MB of space, Webroot only needs 15 MB.[5]
It installs in a flash, doesn't require signature updates, scans much more quickly, and takes a ridiculously small amount of space on disk. On top of that… an impressive protection job. (source: Neil J. Rubenking, PC Magazine Lead Analyst)
Besides, it is also the fastest security software on the market: when compared to other anti-malware tools, it takes about 20 seconds to scan the computer for cyber threats. It's 60 times faster when compared to the average scan time, so you have better chances to remove a virus before it causes damage to your computer.
However, the speed is not the only reason why we added Webroot to the best malware removal software of 2020 list. The program not only protects Windows and Mac OS X from recent cyber threats, but also ensures identity theft protection, secures browsing the web, and even blocks attempts to spy on you via webcam.
Webroot SecureAnywhere AntiVirus also shown great results in malware removal from the infected computers. It has a high detection rate and can clean devices from advanced cyber threats easily. Another bonus is that the program is not expensive and you can obtain a yearly license for $29.99.
| | |
| --- | --- |
| Operating systems | Windows 10/8.1/8/7/Vista/XP/Mac OS X |
| Limitations | 14-day trial |
| Price | $39.99 |
| Full size | 15 MB |
| Time to check the system | 20 sec |
3. McAfee LiveSafe provides cross-platform protection and prevents identity theft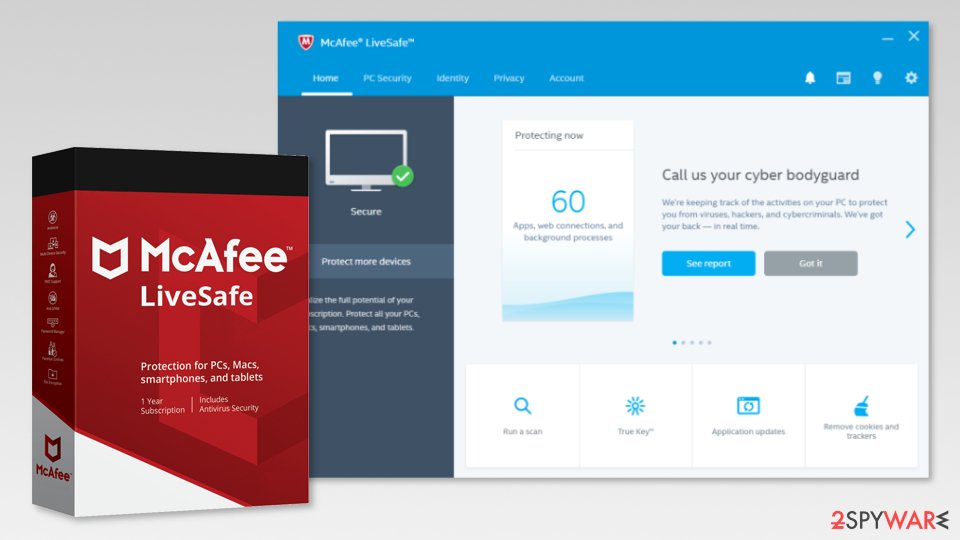 McAfee LiveSafe is presented as the ultimate antivirus solution that can be installed on the unlimited number of devices. It is compatible with Windows, Mac, Android and iOS operating systems so that everyone will find the right version.
The main reason why we should add McAfee to the best malware removal software list is the real-time protection that it provides. Besides, the program can also offer free support providing its services by phone, by chat, or online.
McAfee also includes a two-way firewall and the feature called WebAdvisor. The conjunction of these two guarantees safe browsing on the web because the program warns you about risky websites and potentially dangerous downloads in advance. 
The next-generation scanner allows not only stopping cyber threats but eliminating them after the attack too. If it fails in doing that, the program's developers offer a refund:
In the event your PC gets a virus, a McAfee expert will remotely access your computer to remove it or we will offer a full refund. (source: official McAfee website)
Users are also offered to take advantage of McAfee LiveSafe's Secure Cloud Storage that allows storing up to 1 GB of sensitive information. Their security authentication which requires your voice and face to get access to the data.
Additionally, malware removal software offers to use Password Manager to create strong and unbreakable passwords to protect your social media, email, bank and other accounts from cyber criminals.
| | |
| --- | --- |
| Operating systems | Windows 10/8.1/8/7/Mac OS X/Android/iOS |
| Limitations | 30-day free trial for 10 devices of McAfee Total Protection |
| Price | $79.99 yearly |
| File size | 500 MB |
| Special offers | Promises a return the money of the virus is not removed from the system |
4. Kaspersky Internet Security 2020 offers computer, identity, money and kids protection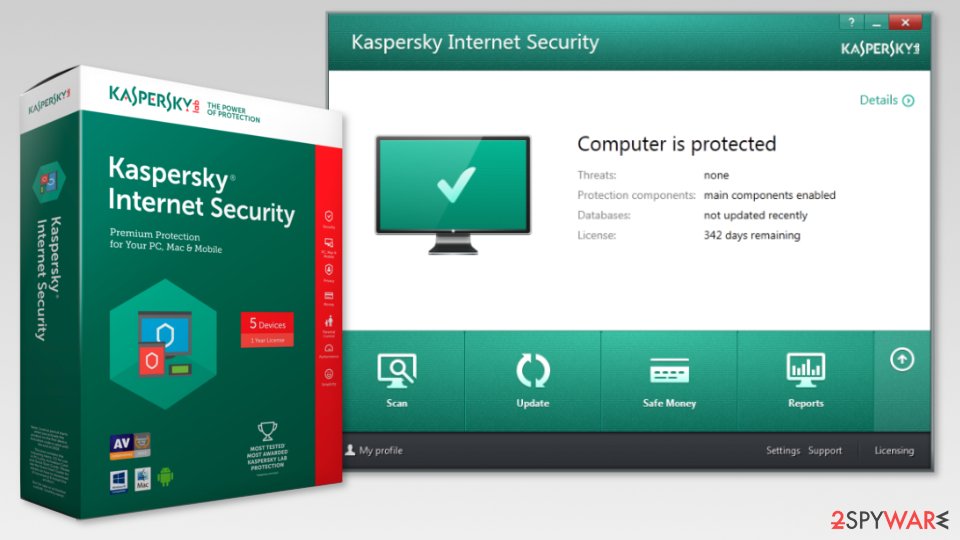 Kaspersky Internet Security provides virus protection for Windows, Mac, Android, iOS and Windows phone. The program has three subscription plans that offer different functionality and security solutions.
Kaspersky has always been considered as one of the best malware removal tools and deserves to be included to the best malware removal software group. Different research labs have approved that it has a high malware detection rate, an excellent anti-phishing feature, protects its users' privacy and identity.[6]
One of the most significant capabilities of the program is blocking unknown third-party access to a microphone on PCs. Additionally, it makes browsing the web more secure by detecting dangerous sites and stopping suspicious data tracking activities with its anti-phishing feature.
Among the additional pros of the program, you can find Safe Money which protects you while you are accessing your bank and shopping sites where you are required to add your financial data. Additionally, it takes care of your kids and allows customizing what sites your children can access.
| | |
| --- | --- |
| Operating systems | Windows 10/8.1/8/7/Mac OS X/iOS/Android |
| Limitations | 30-day trial |
| Price | $49.99 yearly |
| File size | 875 MB  |
| Special features | Rescue Disk feature helping you to remove virus when Windows won't boot |
5. Symantec Norton Security Premium allows you to get computer protection and PC backup solution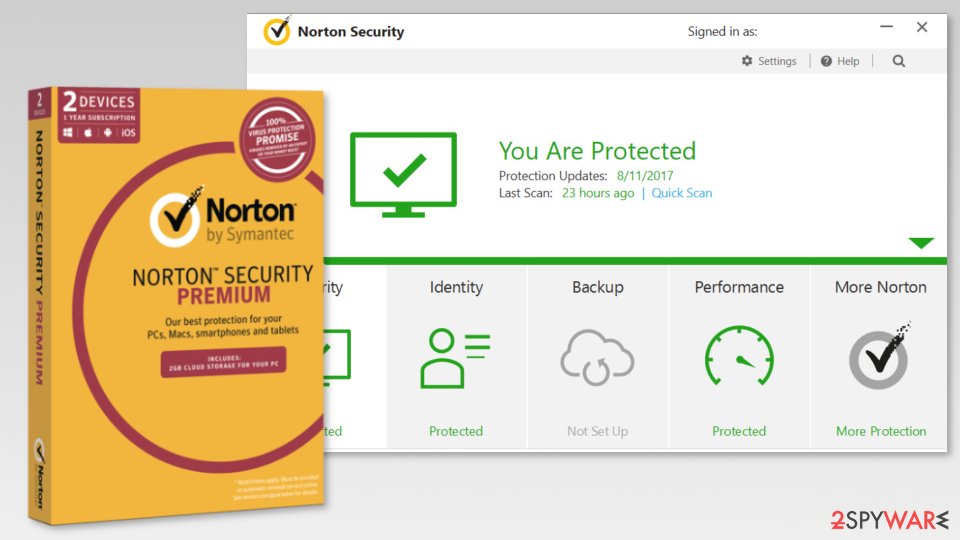 Symantec Norton Security Premium provides real-time protection for Windows, Android, Mac, and iOS devices. This security software is capable of identifying, blocking and removing a wide range of cyber threats, including potentially unwanted programs, ransomware, spyware, and other malware. Thanks to that, the program has collected an impressive amount of awards:
The AV-Test group, renowned as the security industry standard for unbiased third-party protection and performance tests, awarded Norton with the Best Protection award for Norton Security and the Innovation award for Norton Mobile Security. (source: the official Norton site)
One of the best malware removal software variants can also offer protection for your financial data when you are visiting Internet bank or online shop. Additionally, Norton offers family safety features to protect your kids from cyber criminals or harmful information. Unfortunately, Parental control isn't available on Mac version.
Norton Security Premium has a large intelligence network and frequently updated malware database that allows detecting threats easier. Also, it can quickly spot and delete malicious programs and viruses from the affected computer, laptop or smartphone. Besides Norton experts are always here to help you to deal with cyber infections – the support is provided 24 hours a day.
Lastly, anti-malware offers a special way to store your sensitive data – 25 GB of information can be safely kept in Norton's secure cloud storage. However, if it's not enough, the company is willing to provide you with even more space in exchange for some special fee.
| | |
| --- | --- |
| Operating systems | Windows 10/8.1/8/7/XP/Mac OS X/iOS/Android |
| Price | $54.99 for 10 devices |
| Special offers | 60-day money back guarantee |
| Special features | 25GB of online storage; built-in password manager |
BONUS: Choose Reimage for ultimate computer's protection and malware removal
If you are looking for an exceptional solution for Windows issues, we recommend paying attention to Reimage Repair.[7] The program deserves to be on the list of the best PC remediation software due to its unique way of operation and advanced capabilities. It can also fix your computer malware-caused issues, such as errors, crashes, BSODs, and other problems.
Almost 10 years ago, Reimage started its activity as a tool capable of fixing computer errors and hardware-related issues, such as low memory or problems related to the hard disk speed. This unprecedented technology involves checking the system for errors and then reinstalling bad components. The most surprising fact is that the program works in a system background and does not require rebooting the computer.
Its database consists of 25,000,000 system files and is constantly updated. If you happen to get infected with the virus that modifies your registry of similar components, Reimage will change these altered files with the new ones.
Reimage is a fantastic repair utility that can fix some of the ugliest Windows problems out there. (source: PCWorld)
Several years ago, Reimage stared its partnership with AviraAntivir. As a result, there was another great feature added to the program – antivirus technology. With its help, the program offers the removal of viruses, adware, spyware, crimeware, Trojans, rootkits, worms, and other types of malware. This multi-functional tool ensures the best malware and virus damage removal capabilities.
| | |
| --- | --- |
| Versions | Reimage Repair, Reimage for Mac, Reimage Cleaner (for Android, free) |
| Operating systems | Windows 10/8.1/8/7/XP/Vista |
| File size | 591 KB |
| Price | $43.93 (Windows version) $39.41 (Mac version) |
|  The most important feature |  A full Windows OS repair service |
About the author
References
Read in other languages