The United States, UK, Germany, Denmark and Australia among the primary Android ransomware targets
While personal computer owners are struggling with newly-emerged malicious cyber threats such as ODIN virus, Android users are being targeted by ransomware, designed specifically for phones and tablets that run on this particular operating system. According to Statista.com, in the year 2016, the market share of such devices boosted to nearly 87 %, compared to 12,9 % that is currently held by the iOS. Looking at these numbers, it becomes more than obvious why this particular operating system has become the main focus of malware developers. Despite the global distribution of Android-run devices, some countries are, apparently, more susceptible to the mobile attacks.
According to the recent statistics published by a well-known antivirus company Bitdefender, ransomware infections are posing most threat to the US, UK, Germany, Denmark and Australian users. Within the first half of this year, almost 50 % of all ransomware attack cases originate from Denmark, a quarter of them — from Germany. In the meanwhile, Australia registered 21.54 %, while the United States and the UK both share around 16 % of the attacks. Sadly, most of these cases remain unsolved, and the cyber criminals behind them continue to run free. So what are these programs are all about and how do they differ from the computer threats?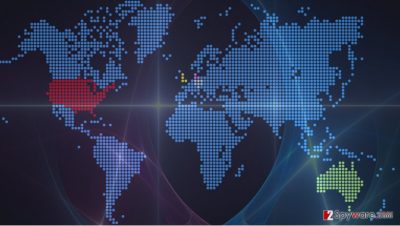 One of the first ransomware ever released for Android was Simplocker. This malware was released as a fake mobile security application called Android Defender and the users who downloaded it were immediately locked out of the data stored on their phones and the SD card. Nonetheless, as time went by, malware like Cyber Police ransomware emerged, that did not need direct installation and can infected devices via simple ad embedded on some insecure web page. The rest of the encryption process was the same. Modern ransomware developers, on the other hand, do not bother locking the files on the device anymore. They simply change the passcode of the infected device and display a lock screen, explaining the file recovery steps. Sadly, the same Bitdefender study reveals that half of the ransomware victims are willing to pay or have already paid the extortionist instead of simply deleting the malware. Having in mind that a regular user is willing to pay up to $500 for the recovery of their files, the hackers' motivation to continue with their malicious activities becomes less surprising.
The virus analysts claim that the recent increase in the mobile ransomware infections is just the beginning of a new era of cyber infections. Thus, the users must learn to properly protect their devices: obtain a reliable anti-malware software, avoid downloading suspicious applications, read app permissions before installing programs on the device and keep data backups.
About the author
Read in other languages