Foxit PDF Reader was found including 18 serious vulnerabilities
Free Foxit PDF Reader includes numerous vulnerabilities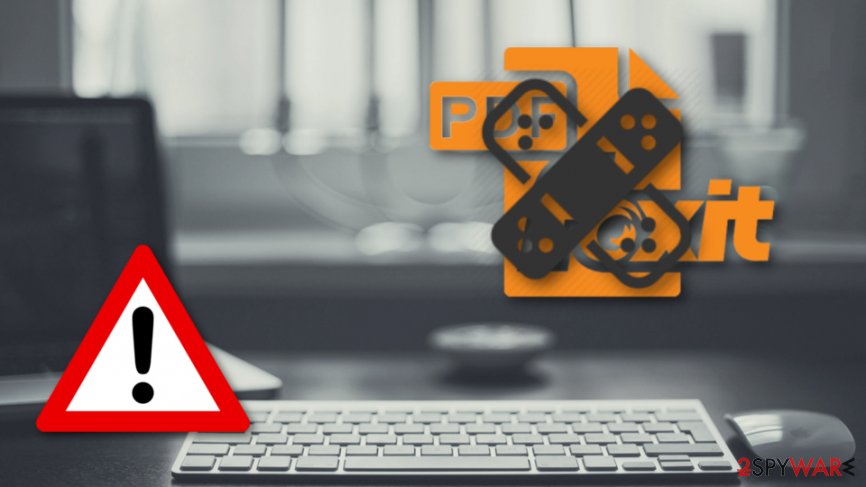 Recently, Cisco Talos[1] took a closer look at the famous browser plugin called Foxit PDF Reader and found 18 critical vulnerabilities. Widely known as an alternative to the Adobe Acrobat Reader,[2] Foxit has been commonly known as a free tool designed to help users edit PDF documents. However, now it seems that the app was full of vulnerabilities which could have been used to execute the remote code and initiate further crimes.
End user reports, internal research and reports from different teams helped to find out that only Windows version should be considered to be unsafe. In total, researchers found 118 issues related to the reader. Having in mind that Foxit had around 525 million downloads, the patches were vital. Fortunately, they have already been released.
The main problem – TALOS-2018-0607/CVE-2018-3940 vulnerability
It seems that the most serious vulnerability related to Foxit PDF Reader is TALOS-2018-0607/CVE-2018-3940[3] which could be misused to run the remote code. According to the researcher Kovalev, this type of problem might lead to a code execution which might relate in a secret installation of malware on a particular device on which the hacker creates and runs the damaging PDF file:
These are critical vulnerabilities that could lead to code execution – meaning a hacker could create a malicious PDF that, when opened, could install malware on the device. Since Foxit PDF also offers a browser plugin, users could unknowingly activate the vulnerability by viewing the document in a web browser.
Foxit has already patched vulnerabilities found in the app
Foxit has already released needed patches[4] and has also presented a new upgraded version of the reader itself. All regular users and businesses are urged to update their free PDF Reader if they are using Foxit products for editing PDF files.
It is very important to perform this task ASAP because the longer the corrupted version of the program remains on the computer system, the bigger the damage might be. Kovalev also explained why it is so important to take care of all browser plug-ins[5]:
Browser plugins have led to hackers exploiting weaknesses in the past, so it is important users understand the risk of enabling plugins.
Avoid PC damage by controlling the situation
Maybe you are thinking that users are not capable of doing anything that could decrease the risk of various infections that are caused by plug-ins but we can ensure you that your and the computer's safety is in your own hands. You need to make sure that the used browsers do not contain any questionable plug-ins and the necessary ones come from a trusted publisher.
You can get dubious-looking plug-ins, as well as browser extensions, installed together with potentially unwanted programs and so on. So, if you ever detect a PUP in the system, make sure you check your web browsers and eliminate all dubious content that you might find there.
Moreover, make sure that all your systems and programs are kept updated regularly all the time. Otherwise, you can become a victim of a cybercrook as such Internet criminals often search for vulnerabilities in particular programs that can be misused for their own bad purposes.
About the author
References