4 Tips to protect Android from malware
Android devices can also get infected with malware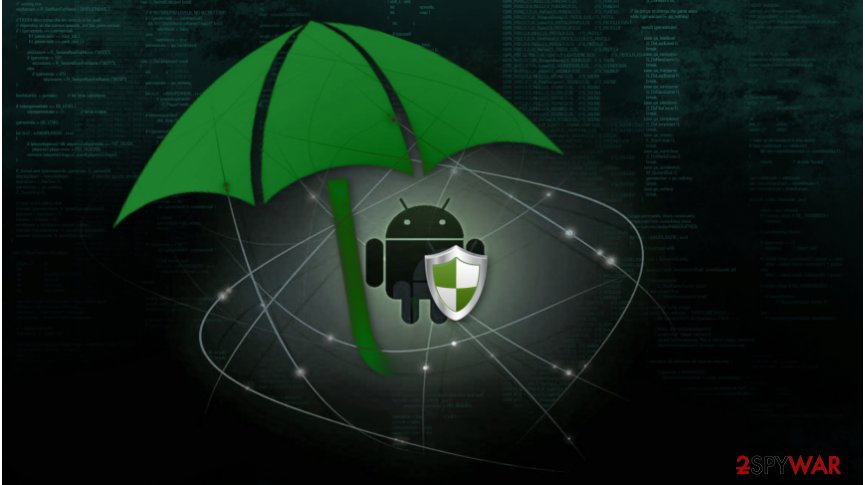 While it seems that hackers develop malicious programs which target only computers, we have to disappoint you — Android virus is a real threat to your device[1]. It has numerous different versions which come in various forms, such as banking Trojans, spyware, ransomware, etc.
Once installed the malware can stealthily work in the background to collect your personal information, record audio, and video files or steal your social media details. Usually, it sneaks into your smartphone by disguising under innocent app like flashlight or system optimization tool.
Additionally, you can notice annoying pop-ups which might be delivered for phishing purposes[2]. Cybercriminals create messages which claim that you have won a lottery or other prizes and ask to submit your credentials or private details. Note that such alerts are fake and indicate that your Android device is infected.
The consequences of Android virus can vary from financial losses in case of ransomware or significant decreases in your smartphone's performance. Typically, the gadget starts to crash, freeze or the battery lasts shorter. Remember that malicious programs often work in the background without your notice. Thus, you should carefully follow the signs of malware infection.
Virus possess an appearance of a genuine app
Recently, Google experts have detected and removed fake workout apps from Google Play which imitated legitimate programs while secretly functioning as Tizi spyware[3]. Even though it mainly targeted Nigeria and Kenya, the rate of Android virus infections has significantly increased over the last months in other countries as well.
It is clear that people might not identify untrustworthy applications which they can get directly from Google Store. Shortly after they install unreliable programs, they receive a request to give administrative rights (API)[4]. In other terms, these rights permit the app to do the following actions:
Prompt the device's owner to set a new password;
Perform screen lock function or lock the phone/tablet completely;
Wipe the data stored on the gadget;
Determine which storage area should be encrypted;
Disable/enable camera or microphone.
It is clear that the Device Administration (API) allows the application to manage your phone without asking for your approval. For example, why would a flashlight app ask for those rights? Therefore, it is highly recommended to permit Admin rights only for applications from authorized developers. You can easily detect a malicious program if you carefully monitor your actions. 
Four tips to avoid malware infections on Android devices 
In spite of the fact that there is no reliable security software for smartphones to protect your system, you should take precautionary measures yourself. Here are several tips which we find the most effective if you want to avoid Android virus:
Use only Google Play Store or other legitimate app stores to download programs. Even though Tizi virus managed to spread via infected apps on Google Play, the experts removed them and patched the system vulnerabilities to avoid further infiltrations. Therefore, downloading applications from authorized stores is far safer than using third-party forums or websites.
Check what other people think about the app you attempt to install. You are always advised to read application reviews by other people who have already tried it. In case it has none, go to cyber community forums and search for the information there. If you find anything suspicious, we recommend avoiding to install the app.
Examine the app permissions. As mentioned above, malicious programs often ask for Admin rights. Therefore, strictly read its agreements and check if nothing looks suspicious. If you notice something out of the ordinary, never agree to give any rights to the program. Note that innocent applications such as an alarm clock or a calorie counter shouldn't need to have an ability to change your phone's password.
Update your OS and apps. The updates are released not only to fix bugs but also eliminate local vulnerabilities which often are exploited to infiltrate ransomware, spyware and other high-risk infections[5]. Likewise, it is necessary to keep your system up-to-date.
About the author
References