4 ways to protect your Facebook account from hackers
Facebook viruses are on the rise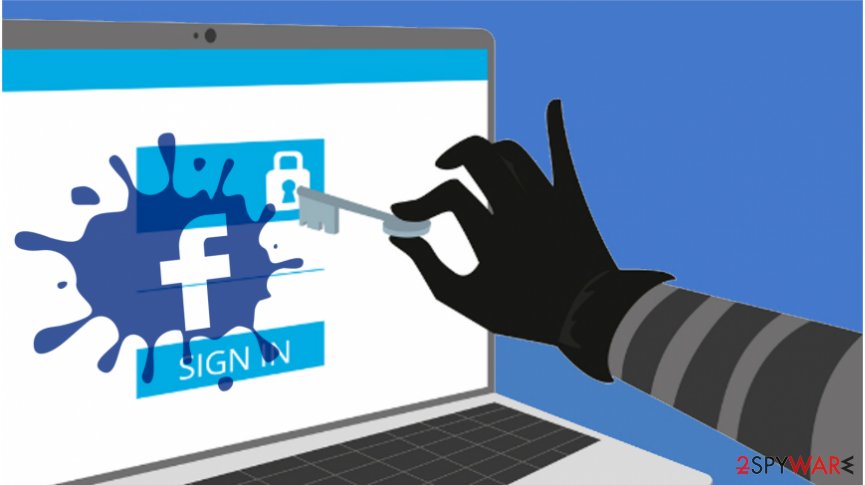 Since a new Monero-mining malware called Digmine spreads via Facebook messenger[1], users should be aware of the ways how to protect their accounts. Note that there are similar Facebook virus versions which take advantage of unprotected systems and reckless online behavior to make illegal profits.
Therefore, it is crucial to learn how to protect Facebook account from hackers and their malicious programs. Criminals might either use your account to spread infected links or promote specific brands/products[2]. If you want to avoid hacker attacks, keep on reading.
Four tips to protect your Facebook account from hackers
Do not use password auto-safe function on public devices
While cybercafes are great for those who do not have personal devices, it can be dangerous as well.[3] Usually, people rush during the browsing sessions and agree to save the password for a specific website.
However, this one of the easiest ways to hack into Facebook account. Therefore, if you tend to click on and agree to anything thoughtlessly, we suggest you slow down. Do not rush and carefully monitor your online behavior to protect your privacy. Likewise, you should never save passwords on public devices.
Log out of devices you do not possess
Since Facebook does not automatically log out you after a certain period of time, it is important to do it yourself after the browsing session. Closing the tab will not help to log out. Thus, you must do it manually.
If you leave your Facebook logged in on a public device, there is a high possibility that the person who comes after you will harm you. He or she can either post unwanted content on your account or misuse it for his or her own benefit[4]. Therefore, always log out of your Facebook account after you finish browsing.
Secure your account with two-way verification
Facebook provides this authentication mechanism to help people detect unauthorized accesses to their accounts. If you set your device to two-way check, you will receive a digital code each time you want to log in[5].
Additionally, if the malevolent person will try to get access to your account, you will receive an email stating the location, device details and time of the attempt to log in. Therefore, you will be able to protect your Facebook from hackers with two-way verification.
Use antivirus tools
Note that malicious programs can display fake log-in windows to trick you into submitting your password. It might be hard to identify whether the pop-up is genuine or an attempt to deceive you. Thus, experts advise using antivirus software at all times to protect your computer and Facebook account.
About the author
References