5 scam types you should beware of in 2017
What scams should we expect in 2017
When it comes to scheming and virtual felonies, computer aces empower all resources of imagination to entrap users in their predetermined scenarios. 2016 was full of exquisite scam cases. For example, users encountered ransomware disguised as a tech support scam[1]. The latter is only a tip of the iceberg as there is a broad category of deception techniques. The only goal is to wheedle out money or information which provides access to bank accounts. We present a short review of the five types of cyber frauds expected to rise in 2017.
1. Tech support scams
It would not be a mistake to claim that this type has been one if not the most widely-used scheme[2]. Cyber criminals continue the trend of alarming users about severely infected computers. Some of them manage to temporarily paralyze the operation of the device to persuade users of the credibility of the scam. Such Tech support scam viruses are entitled as "Your computer was automatically blocked" or "Admin User is disabled." The designs of the recent ones might leave an impression. Less tech-savvy users might fail to distinguish a hoax from the real notification. On the other hand, it is not difficult to look through the disguise as all of them contain a phone number or links to remote access applications. Note that genuine system notifications do not require to download any apps or dial any number. By doing so, scammers might charge a ridiculously high rate for the call or their services.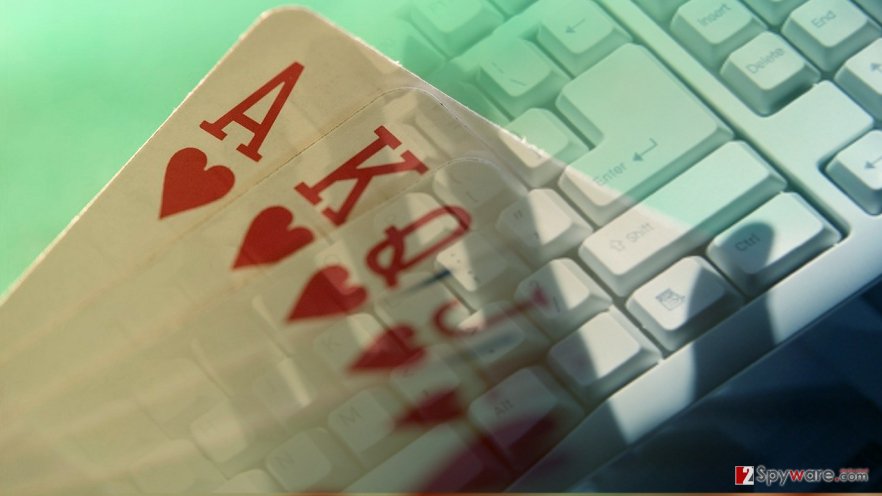 2. Social network scams
In the last half of 2016, the virtual community fussed over the Facebook video virus which left no indifferent users. The scam became a huge success partly because it was based on the ordinary feature of human nature – curiosity. Cyber crooks unleashed a computer worm with a video containing victim's profile name and picture. Such video was presented in the chat window initiated by a contact friend. Likewise, Facebook virus was quickly spread to the most distant places of the Earth. Soon afterward, infamous Locky and similar ransomware threats decided to target Facebook community as well.[3] Other popular domains such as Twitter did not escape hackers' attention either.[4]
3. Investment scams
If you run a business online or in the real world, you might have heard of investment scams. The principle of this felony lies in encouraging user to make a fake investment. Developers of such technique might use the overlapping-website technique to collect your money. In short, they inject specific spying tools on the redirected web pages to acquire information granting the access to bank account. One of the illustrating cases was the investigation conducted by the US Securities and Exchange Commission against Providence Financial Investments. In short, the authors published mini-bonds which attracted potential investors with a high-interest rate. The problem was that the entire business was outside the official compensation scheme. Consequently, it highly increased the probability of losing all their money. Analysts calculated that the entire deception cost more than 8 million pounds (approximately 10 million USD).
4. Business Email Compromise (BEC) scams
Scammers, keen on more sophisticated methods of fraud, opt for BEC scam type.[5] Specifically, they select an official institution and research the credentials of their workers. They might also opt for whaling technique to hack one of the targeted companies email account. Likewise, impersonation is much credible. Later on, they urge a victim company to provide important information or visit the corrupted website. In such way, hackers may get access to financial resources. Certainly, inattentive workers might fall for the bait if they do not carefully review the contents of such message. Luckily, rarely crooks devise a proper email. Often, you might spot spelling mistakes or types in such infected emails. Altered logos also trigger suspicions.
5. Debt collection scams
Since the tax collection time is approaching, virus researchers expect a boost of such scams. Like in the case of BEC, scammers disguise as debt collectors and blackmail victims to remit the payment. The features of this deception barely differ from Internal Revenue Scams (IRS).[6] Multiple cases of this type were recorded in 2016. Users should be vigilant and not to rush to comply with the requirements of the hackers. Usually, they exert pressure on them by urging to act quickly. In contrast to these scams, real debt collectors issue an official warning via electronic or ordinary email. They do not require disclosing details of your bank account login information.
To sum up, whether your server is protected by several security software programs or you run regular backups, personal cautiousness remains a key factor in escaping the manipulation techniques of scammers.
About the author
References
Read in other languages
Kokių internetinių sukčių apgaulės schemų saugotis 2017 metais?