Android cryptocurrency mining apps are banned from Google Play Store
Google updated its Play Store policies to ban cryptocurrency mining apps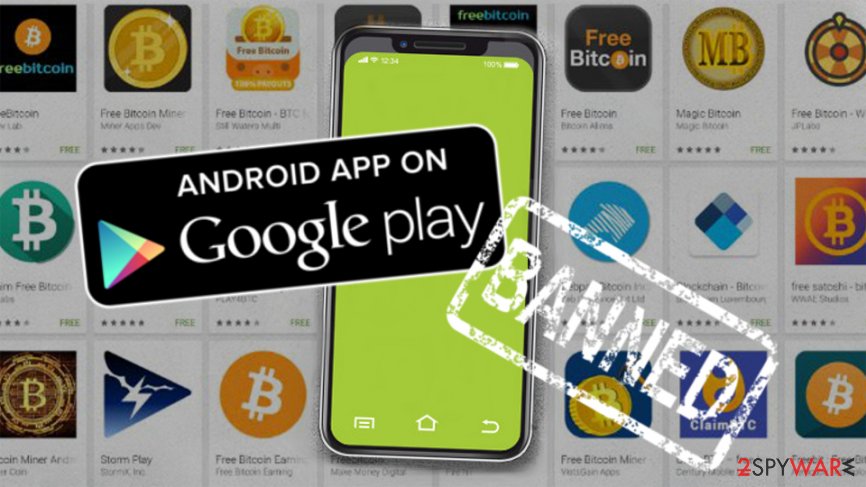 Recently, Play Store developers are informed about the new updates in the policies — tech giant decided to prohibit cryptocurrency mining apps on their platform. All applications which are designed to mine digital currency on the device are banned except those who focus on cloud-based mining features[1]. 
An updated Play Store develop policy states the following:
We don't allow apps that mine cryptocurrency on devices. We permit apps that remotely manage the mining of cryptocurrency <..>
Even though there are legitimate crypto-miners, such as MinerGate, the company aims to protect its users from deceptive applications which can lead to potentially dangerous consequences[2]. It is evident that some descriptions might be misleading and fail to clearly identify cryptocurrency mining activities which are performed in the background. 
Cryptocurrency mining extensions on Chrome Web Store are no longer available either
Following April, Google has also banned all Chrome extensions which were developed to mine digital currency, such as Bitcoin, Monero, Litecoin, Ethereum, ZCash, etc. These Chrome Web Store modifications were implied when the company found out that more than 90 percent of the extensions failed to inform their users about crypto-mining activities. 
Unfortunately, approximately 90 percent of all extensions with mining scripts that developers have attempted to upload to Chrome Web Store have failed to comply with these policies, and have been either rejected or removed from the store <…>
James Wagner, product manager at Google Extensions platform, noted that the majority of extensions contained cryptocurrency mining scrips stealthily embedded into the source code and neither informed the users about it nor asked their permission for such actions[3]. 
Google restrictions apply to digital currency advertisers as well
Updates related to crypto-mining apps for Android also apply to cryptocurrency advertising as well. In other terms, Google has banned advertisements across its search and display ad services which are related to digital currencies[4]. The Play Store developer policies state the following:
<…> including but not limited to initial coin offerings, cryptocurrency exchanges, cryptocurrency wallets, and cryptocurrency trading advice <..>
These restrictions should significantly decrease crypto-jacking attacks which also fall into the category of Android virus[5]. Security researchers identify that these malicious actions have reached the increase peek of approximately 45 percent during the last year. Thus, these numbers should at least stay if not fall after the new restrictions by Google. 
About the author
References