Your Tinder match may not be a human at all
For single people, who are desperate about finding the love of their life, Tinder application might seem like a pearl in the myriad of mobile programs. Based on your Facebook personal information, the list of friends, interests, the software finds a possible match, who is closest to your geographical location. All this might seem fine and dandy. However, it did not take long for this software to attract cyber criminals' attention. As a result, this contact gave birth to Tinder app bots[1].
For users, who are not interested in cyber security, a bot might not have any particular meaning. It is software, in other words, a robot, infected with a malicious programming code[2]. Racketeers program it to imitate a human when hacking into accounts, websites or for other multiple other scenarios. Due to Tinder application gaining popularity among mobile users, a "brilliant" idea enlightened hackers' minds: why not use Tinder app bots? Likewise, virus researchers have noticed a growing number of these bots. The key mission is to convince the other party to click on the application or infected link. Once you do that, you might accidentally accelerate the hijack by a trojan, or worse – ransomware[3].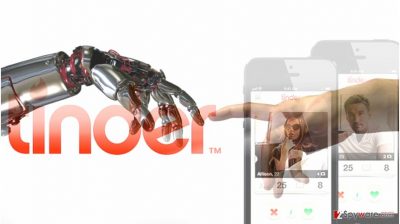 Observing the trend, it is not difficult to suspect that you are actually chatting with a robot rather than alive human being. The robot's responses do not correspond to your messages. You might pour your heart out, while the software replies: "check this video." What is more, the responses flash in your mobile screen instantly after you type a message. No matter how fast some users are in typing text messages, they still lag behind machines[4]. More sophisticated bots aim at wheedling your personal information or login data to a bank account. What is more, some Tinder app bots might disguise under attractive Facebook profile pictures. The photoshopped profile picture, which could compete with a celebrity's photo in Vogue, should spark your suspicion as well. You might also be looking for grammar mistakes and typos as humans often leave them, but bots tend to answer in perfect English[5]. Despite how old and boring the advice to stay vigilant might sound, rely on your rationality rather hopes and emotions.
About the author
References
Read in other languages