Best free malware removal tools of 2017
Choose the best free malware removal program of 2017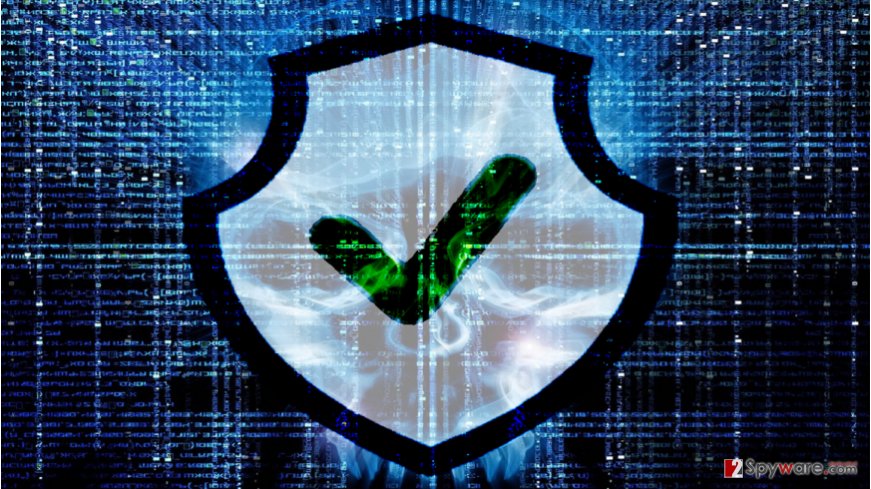 In today's world, the extent of cybercrime[1] is nothing short of epic. Malware for sure is the primary tool that cybercriminals use to take control of victims' computers illegally, and every computer user should take certain actions in order to stop such malicious attacks on time.
Although cybercrime awareness[2] is also important, let's be realistic – it takes a lot of time to read all news about latest malware distribution trends and trickeries that scammers use, and what is more, many people find such topics boring and meant for tech-savvy people only. Therefore, the best solution is to install a reliable anti-malware[3] program, which can shoulder the burden of keeping your computer safe as you browse the Internet.
However, it is not a secret that the vast of top-notch malware removers are paid programs and only some of them offer short trial versions. What if you do not have, or you are not willing to pay for a security software? That is totally fine, although paid programs are known to be more efficient in the fight against malware.

However, there are many beneficial and useful free malware removers that can help to fix your computer if you have accidentally installed some type of malware into it. Below, we provide a list of top malware removers that can clean your computer from malware for free.
TIP: Please be careful when installing free software. Download programs only from trustworthy Internet sources and choose Custom/Advanced settings when installing them to deselect all suggested extra programs, browser toolbars and other applications that you might not want to install.
1. Avira Free Antivirus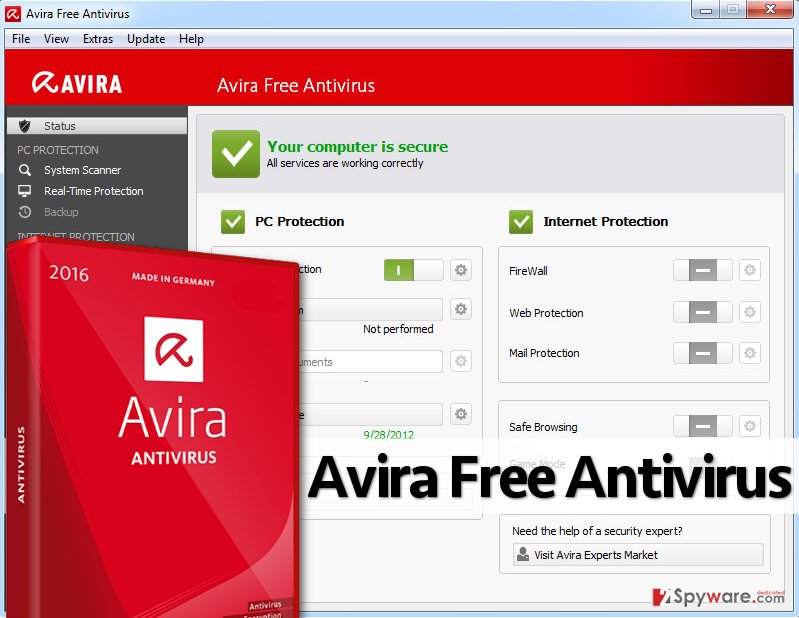 Avira Free Antivirus is known for its excellent malware detection skills. It has scores a whopping 99.9% in malicious file detection, which means that it is unlikely to miss any malicious files while scanning your computer system. The free version provides protection against malware such as viruses, ransomware, Trojans, and spyware.
The program is based on Protection Cloud, which is a system that anonymously analyzes suspicious detections in the cloud. Although the free version scans the system slower than the Pro version, the charge-free one provides a wide set of useful features. With its highly customizable scan engine, a range of free add-on features, it deserves to be called a top-notch free malware removal tool that is definitely worth your attention.
So, if you are looking for a program that can defend your PC from malware, we highly recommend choosing Avira Free Antivirus. For more information about this software, visit official Avira's website.
2. Malwarebytes Free 3.0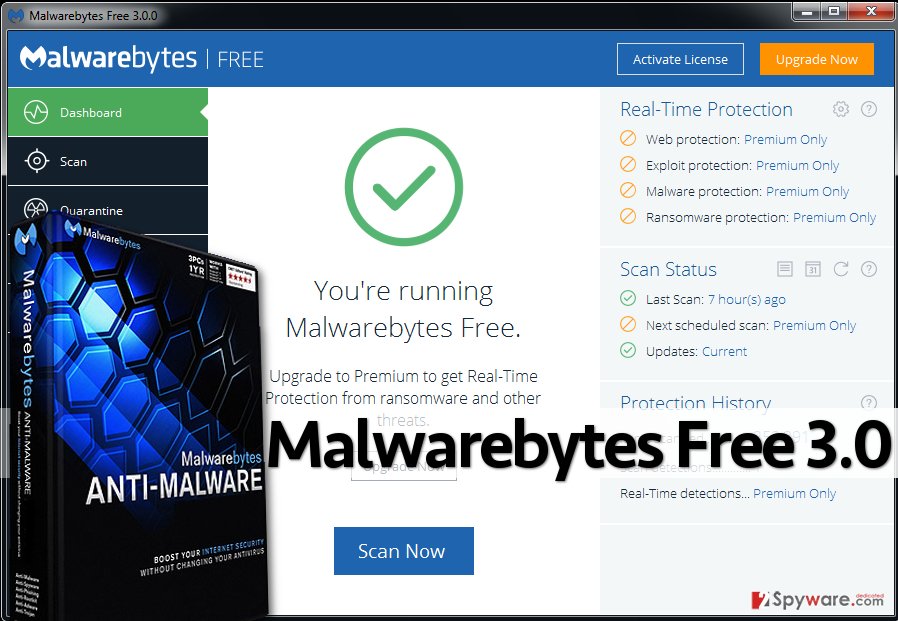 Malwarebytes is an easily recognizable name for those who are at least familiar with the topic of cyber security. This company has been working on products for home and business users for years. Its recent product, Malwarebytes 3.0, is a brand new malware removal program that offers a free version for people who do not want to pay for a security software.
The program suggests a 14-day trial version of the Malwarebytes Premium and reverts to a free version afterward. The free version works as anti-malware/anti-spyware, which means that it detects and removes various types of malware.
Besides, Malwarebytes 3.0 Free has anti-rootkit feature, which helps to eliminate rootkits[4] and repair files they corrupt. Find more information about Malwarebytes software here. 
3. Emsisoft Emergency Kit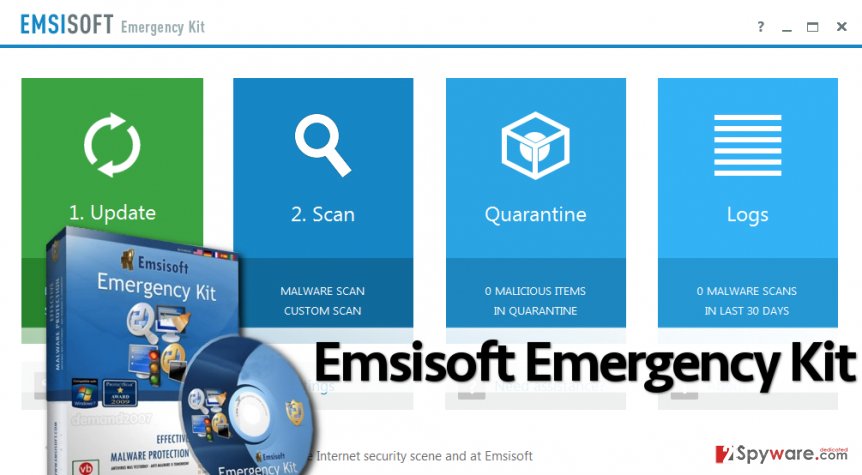 Although Emsisoft offers a free 30-days trial of Emsisoft Anti-Malware software, a month of protection is simply not enough. If you want to have a free malware removal tool, then you should consider installing Emsisoft Emergency Kit. This kit can be defined as programs that can be used without installation to scan and remove computer infections.
An advantageous feature of this program is that it is easily portable – you can transfer it to USB flash drives and use on a different computer. This kit consists of Emsisoft Emergency Kit Scanner, which provides a graphical user interface, and Emsisoft Commandline Scanner, which is controlled via Command Prompt.
This kit can detect and clean viruses, rootkits, worms, trojans, dialers[5], keyloggers and many other spyware/malware examples. The scan options can be easily adjusted – the user can set the program to detect PUPs as well as viruses, scan compressed archives and more. A drawback of this program is that it doesn't provide real-time protection and functions a bit slower than alternative tools. 
4. Panda Free Antivirus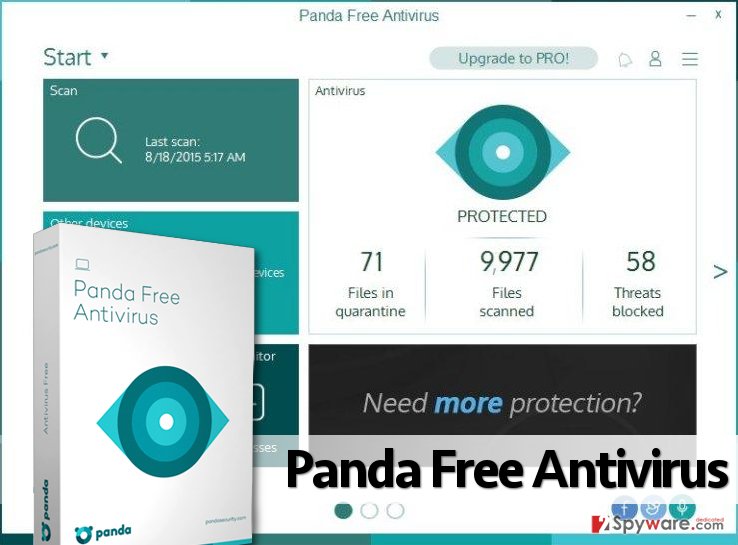 Panda Free Antivirus is hands down one of the best free security programs available today. This lightweight[6] program is easy to use and powerful. The free version of Panda Antivirus provides maximum protection against the latest malware examples, updates itself automatically, and doesn't overwhelm the user with complex configuration settings.
However, Panda Free Antivirus cannot boast of its scan speed because it does take a while until the program checks the entire system for threats. However, considering that this program offers real-time protection against spyware and malware, secures USB drives against infections, and offers a Rescue Kit to clean your PC in critical situations, it is a product to consider if you are looking for a free anti-malware tool.
Besides, Panda Security provides free trial versions of its paid programs in case you're interested to compare free and paid products.
5. Spybot Search and Destroy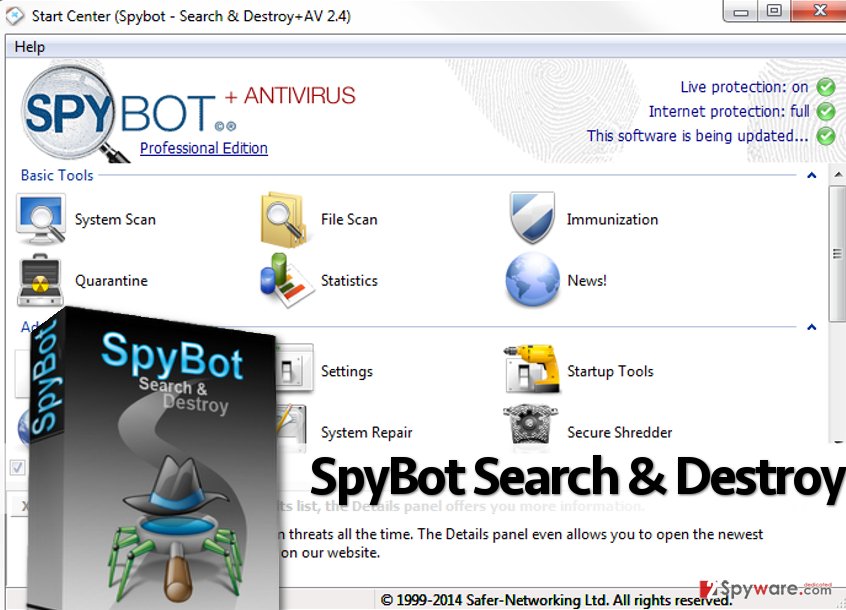 Spybot Free version is a great option for those who are looking for a free malware removal tool and also for those who are looking for an extra and free layer for protection. Its scanner can detect rootkits, spyware,[7] and malware threats, and although the program is relatively slow, it is definitely a useful tool that can work alongside most antivirus programs.
The program also provides a panel for more advanced PC users, which allows to scan particular autostart locations, check individual files or folders no matter whether they're located on local drives or network shares. On top of that, Spybot Search & Destroy scans files based on a whitelist, which helps to determine if they're safe or not.
Finally, this free product also suggests free support, so you can always get help from Spybot's support team via email. Read more about this product in Spybot review.
6. Microsoft Security Essentials/Windows Defender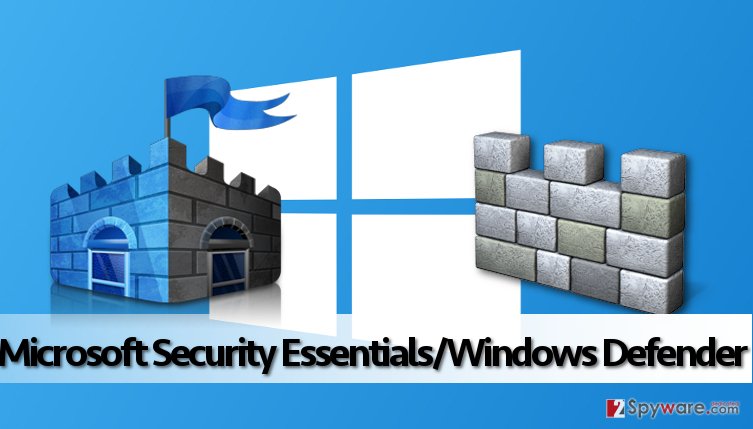 Microsoft provides free security software for every Windows user. In the past, Microsoft Security Essentials software was used to defend Windows Vista and Windows 7 computers against viruses and spyware, and in Windows 8, it has been replaced with Windows Defender, which delivers a built-in protection against viruses, malware, spyware.
Windows Defender offers real-time, cloud-based protection, also boot-time protection, and all these features help to create a safer environment for every Windows user. Sadly, using Windows Defender alongside other anti-malware programs can be counter-productive and might cause system slowdowns and similar problems.
However, these security tools do not score high in malware detection tests, so although they might defend you against well-known threats, you shouldn't expect too much from it.
Don't like to waste money? Install an all-in-one program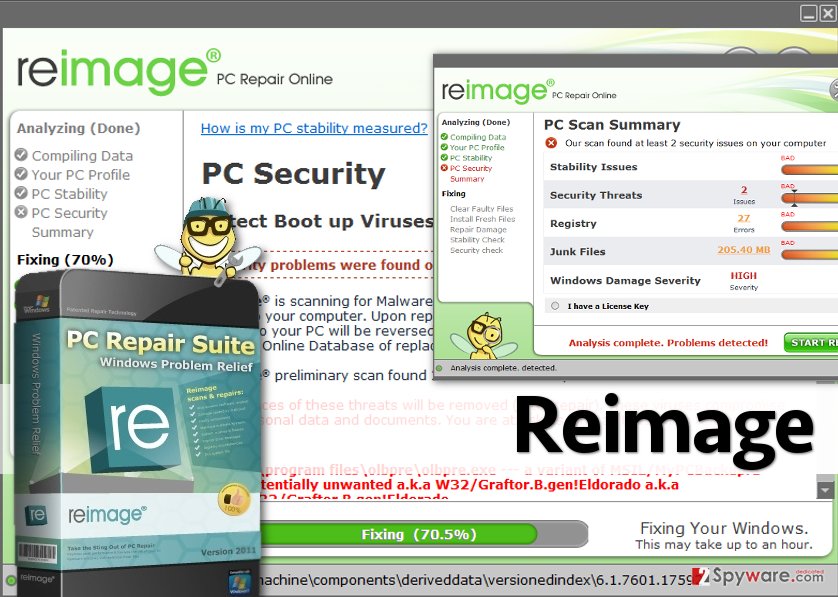 With so many antivirus, anti-malware, computer optimization, and registry cleaning programs available today, it can be hard to choose the right one. However, there are programs that can do a lot of work at once, and Reimage is exactly such product.
Although in the past there were several negative reviews about Reimage's marketing on the Internet, the company has changed and now it is a top-notch product that is rapidly building trust and reputation with its users.

We find Reimage extremely beneficial because it combines features of a malware remover, computer optimization and also recovery tool. The program has an integrated Avira AntiVir scan technology, which guarantees extremely high malware detection rate, besides, Reimage can fix Windows errors, boost computer's speed, and also replace corrupted or deleted Windows system files to ensure a proper PC's functionality.
Although this product is a paid one, we suggest you read more information about it in this review.
About the author
References
Read in other languages