Black Friday-themed scams are spreading on social networks
Black Friday has been celebrated for 84 years in the United States. Since 1932 the fourth Friday of November marks the beginning of Christmas shopping. For many years retailers have been preparing to meet thousands of customers in shopping malls, boutiques and now they expect customers to spend thousands of dollars in online shops. Online shopping released customers from jostling with others, spending hours near dressing rooms, fear of thieves grabbing the wallet from the pocket or experiencing minor body injuries after the conflict with a passionate shopaholic. Online shopping makes Black Friday more pleasant: you can sit on your sofa with PJs and within few clicks buy cheaper gadgets, smartphones, another pair of shoes or other goods. However, the satisfaction of shopping may be diminished by the cyber criminals who have been preparing fraudulent campaigns to trick people and steal their money, banking information or infiltrate malware for months. Advanced online shoppers probably have heard about all possible threats of online shopping; however, the appearance and popularity of social media brought scams to the next level. We want to warn all of you who are new to online shopping and prepare for massive November 25th haul, that higher chances to be scammed, lose your money or encounter malware are higher now than any other time of the year.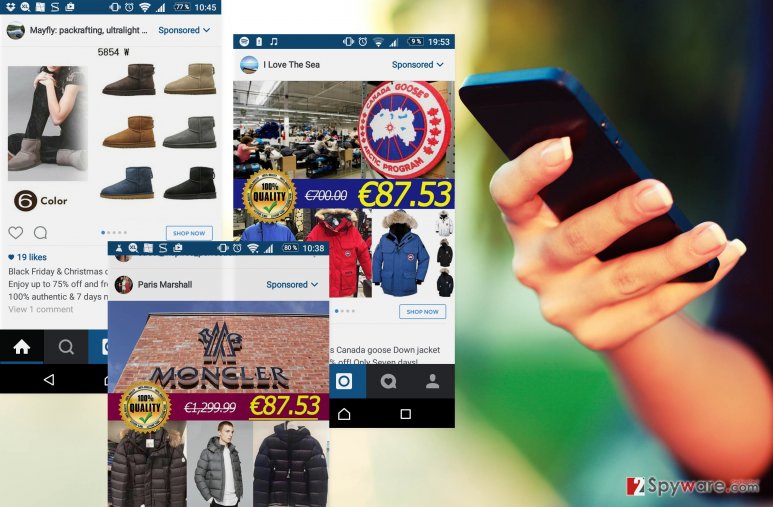 The art of scam on the social networks
Facebook and Instagram have changed online world entirely. When customers joined these networks, retailers followed them, as well as crooks, scammers, and cyber criminals secretly. Even though both social networks have different purposes and have different audiences, scammers know how to use social media for their good.
This time of the year social media users may discover lots of Black Friday or Cyber Monday offers to buy everything from high-end makeup products and designer bags from iPhones and other devices. Probably all Facebook users have seen numerous offers to win RayBan sunglasses or strange pages giving free iPhones for free. Participants only have to like the page, share the post or click on a particular link. But don't get tricked by a special Black Friday "like & share" contest. Participate in contests only if the brand or company has verified account – this rule is valid for Facebook, Instagram, and Twitter. Verified accounts have a blue tick that informs customers that it's the official account.
Cyber security specialists also notice an increased amount of malware attacks and attempts to steal social media users' credentials by offering apps allowing to see who has viewed your profile or offering to change the background colors scheme or suggesting playing games and completing funny quizzes. These third-party applications always ask to accept some terms and conditions, so you have to be careful with what you agree. Some apps may gather your personal information such as mobile phone number, IP address, friend list, etc. We strongly recommend staying away from viral videos, suspicious apps, "too good to be true" contests, games, viral videos and other shady links on social media. After one click you may be infected with some version of Facebook virus or give your personal information to the cyber criminals.
Tips for safe online shopping
Since the appearance of online shopping, cyber security specialists notice an increase in online crimes and scams. In the beginning, many customers were afraid to lose their money during online shopping. But time has passed by and marketing specialists in 2005 created a special day to encourage and persuade customers to shop online – it's a Cyber Monday. This day follows after Black Friday and is one of the riskiest days to buy online. However, the high risk to become a victim of cyber crimes stays till the end of Christmas time, so follow these three main tips:
Avoid clicking "click and receive" buttons and click-bait ads. All eye-catchy, interactive or even aggressive offers or discount coupons usually are fraudulent. Keep in mind that by clicking on misleading content you may install malware on your PC.
Avoid fraudulent newsletters. If you receive a newsletter from never heard retailer, you should not click on any of its provided links or attachments. Instead of a discount, you may install hazardous file-encrypting virus such as Cerber, Locky or ODIN. Double check the information about the discount on the official website but DO NOT click on the link provided in the newsletter. It may lead to the fake site.
Make security your priority. Do not shop online using public wi-fi because it is unsafe and anyone with higher IT skills can get access to your computer. Before buying something from particular e-shop, make sure that the website's URL starts with "https" and check if there's a green padlock to the left of your browser. If the letter "s" and padlock are missing, there's a huge possibility that you are in the insecure and fraudulent website.
Online shopping may be simple, pleasant and may let you save some money, especially during Black Friday, Cyber Monday and Christmas sales. However, we highly advise you to be safe, smart and take all necessary precaution to reduce the risk to became a victim of cyber criminals. Don't forget that the only free cheese is in a mousetrap!
About the author