BleepingComputer is sued by Enigma Software for false claims
We live in modern days, so there is no surprise that people are aware of spyware. Also, they know what software do they need to prevent programs that fall under this term. However, finding a reliable anti-spyware might be a challenging task as there are tens of different programs offered on the Internet today. One thing, which makes this process extremely tough, is aggressive business practices that have been actively used for pushing specific anti-spyware programs. If you have been looking for an anti-spyware and ended up with Malwarebytes, it might be that you fell a victim to BleepingComputer and misleading information that is provided on this site. If you are interested to know how far can one affiliate of Malwarebytes go to increase its commissions, keep reading.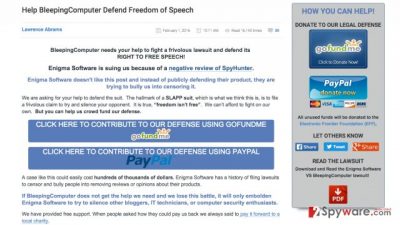 BleepingComputer (or BC) was launched in 2004 as a technical support site. Since then, it has been offering several anti-spyware programs, including Malwarebytes, Emsisoft, SuperAntiSpyware and Hitman Pro. While the most of its visitors think that this site is run by volunteers who are working on BleepingComputer without a charge, the reality is quite different. Each download from this page generates commissions to its owners.
When Enigma Software presented SpyHunter, people from BC became a bit worried. The program was from the same category as Malwarebytes anti-malware, so, after discovering that SpyHunter's popularity is growing, they started using various techniques for making users think that it is a 'rogue' product. Seeking to keep their commissions at the same height, they have been:
banning users who write positive reviews about SpyHunter on BleepingComputer;
pushing their 'comparison' of SpyHunter, Malwarebytes, and Iobit without testing the software, and naming SpyHunter a 'rogue' product;
posting misleading comments about the danger of SpyHunter on security-related forums. You can find these comments everywhere, including Yahoo Answers, Quora, Reddit, Facebook and other sites.
It seems that the glass was overfilled as Enigma software decided to sue Bleeping Computer for the illegal activity. In addition to that, members of BM were informed that Bleeping will try to defend its 'freedom of speech' here. The most hilarious thing is that they ask people to fund their defense. Before you transfer your money, please wait until the court reveals how much does Grinler and other members of this site earn. Maybe this court case will also help us know more about the relations between Marcin Kleczynski (Malwarebytes) and BC, and is he aware of what BleepingComputer is claiming about SpyHunter.
About the author
Read in other languages