Cambridge Analytica leaked data of 87m users, Facebook reveals
Facebook acknowledges its mistakes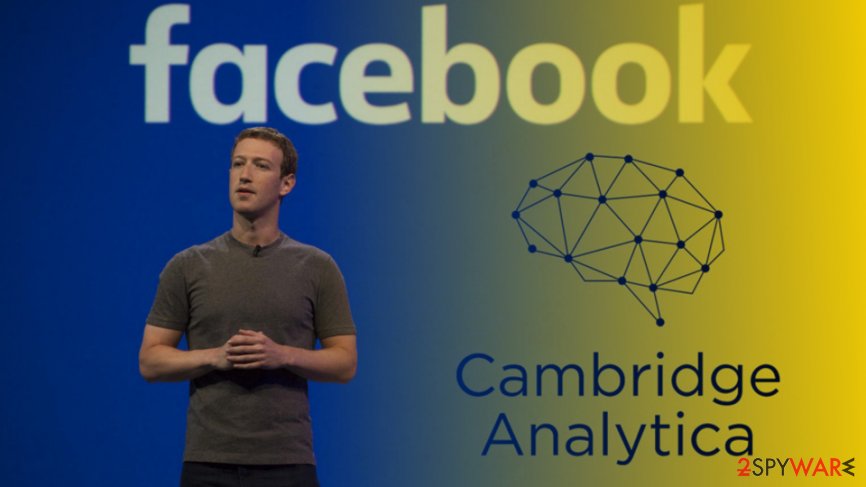 On April 4th, Facebook revered that Cambridge Analytica harvested data of 87m users – 37m more than initially announced.[1] This information was published[2] by company's chief technology officer – Mike Schroepfer. In addition to the announcement, social media giant made changes to their Privacy Policy to protect Facebook users' private information better.
Mark Zuckerberg, the CEO of Facebook, made a public statement on Wednesday, addressing the updated numbers of data leak. He sincerely apologized for the incident, mentioning Facebook did not take this issue seriously enough at the time, and it was a huge mistake made by the company.
When asked, if somebody actually got fired due to Cambridge Analytica scandal, Zuckerberg replied with the following:
I started this place, I run it, I'm responsible for what happens here. I'm going to do the best job I can going forward. I'm not looking to throw anyone under the bus for mistakes I've made.
The CEO also affirmed that the previously announced numbers were not accurate because they were made public by other parties. He noted that Facebook wanted to finalize the number by investigating the data correctly. Now, he says, he is confident that no more users were affected by the incident.
The public announcement came just a week before Zuckerberg is due to face members of Congress[3] over the scandal. He will be answering questions arising from House Energy and Commerce Committee on Wednesday, April 11th.
Social media giant made changes to its Policies
In order to protect its users' privacy, Facebook made some significant changes to its Terms of Service and Privacy Policy.[4]
The company promised to tighten the review process for apps that require access to such information as likes, photos, locations, etc. Additionally, such data as religious views, education, work history, entertainment preferences and other information will no longer be accessible to application developers at all.
Facebook group members (or rather, its administrator) will now have the ability to deny access to certain apps, making sure that only ones that benefit the group are let in. Also, in the case of the scheduled event, app developers will no longer be able to access the full list of guests attending it.
The social media giant will also no longer allow tools which let users find other people by using their phone number or email address. Schroepfer added that these agents have been abused by crooks in the past and should no longer be allowed.
All these and some other changes were made in order to comply with Europe's general data protection regulation.[5] However, Zuckerberg plans to apply these worldwide, not just Europe. 
Cambridge Analytica did dot comply with Facebook's request to delete collected data
The personal information was collected via the app called thisisyourdigitallife. It was created by Aleksandr Kogan from Cambridge University with the help of his own company called Global Science Research and Cambridge Analytica. The plan was relatively simple: pay users to participate in what seemed to be a personality test. Therefore, these participants agreed to share their personal data.
What was not revealed at the time was that Kogan also gained access to participants' friend's lists, allowing the data breach of millions of users who had no idea that their data was collected.
Initially, Facebook found out that Kogan had inappropriately shared the harvested data with Cambridge Analytica in 2015. The company immediately terminated Kogan's access to Facebook API's and asked Cambridge Analytica to destroy collected data.
All this information would probably be kept a secret if not the scandalmonger who announced that Cambridge Analytica did not delete the data after all.
It is speculated that the app and its usage might have manipulated political views of millions of users and even influenced such major events like Brexit or Trump's election.
About the author
References