"The Fappening 2.0" celebrity photo leak spreads malware
An infamous celebrity photo leak known as "The Fappening" and "CelebGate"[1] was first spotted in 2014. However, it seems that today celebrities are under the danger of the second leak which is dubbed "The Fappening 2.0." The person responsible for the initial photo leak is Edward J. Majerczyk[2] who was sentenced to nine months in prison for his crime. The criminal said that he hacked Gmail accounts and Apple iClouds of more than 300 users and at least 30 celebrities. Edward wasn't the only one involved in this; Ryan Collins was the second hacker playing his role in this scandal. The third hacker, who is believed to be the one who actually leaked the photos online, hasn't been caught. Therefore, he might be the one to blame for "The Fappening 2.0."
The second photo leak started with photos of actors Emma Watson[3] and Amanda Seyfried that were shared on the dark web firstly. Later on, images were dispersed by computer users on various other Internet pages and forums, including Reddit. Eventually, more celebrity photos were exposed – the list includes female actors and models mainly, for instance, Katie Cassidy, Rose McGowan, Lili Simmons, Dylan Penn and more. Some of the leaked photos do not involve nudity, but, unfortunately, some leaked footages show celebrities involved in sexual activities. Cyber criminals even promised to release more intriguing photos of celebrities like Kylie Jenner, Marisa Tomei and, once again, Jennifer Lawrence.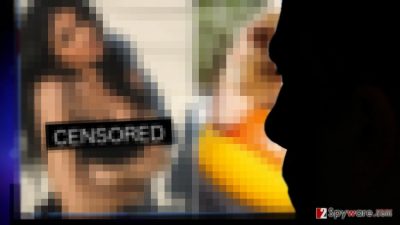 Even if you have no intentions to please yourself while browsing through leaked photographs, you should not try to find them online just to have a brief peek at them. Cyber criminals know that such content intrigues people and makes them forget about their common sense of security. You should beware of scams and malware created specifically for those interested in "The Fappening 2.0." You should keep clear of websites that advise you to get special software or browser extensions[4] in order to view the leaked photos, otherwise, you can end up installing malware like ransomware, Trojans or password-stealing browser add-ons. Besides, try to stay away from shady-looking shortened URLs posted in online forums and social networks because your curiosity can drag dangerous files or programs to the system!
Scammers have already employed their network of Twitter spam bots that automatically post malicious links on this social network to its users. Allegedly, these links should point you to "The Fappening 2.0" photos. However, researches have revealed that most of these links trick users into installing the "Viral News" software which rapidly hacks victim's Twitter profile and uses it to generate spam posts. Another scam tricks users into installing Viralnews(dot)com which has an ability to access users' Twitter login information, update their profile, and even post Tweets! There is no doubt that, after installing such app on your computer, you can become a victim of leakage yourself. Scammers can also try to blackmail you and ask you to pay a ransom for keeping stolen photos private. Besides, considering that scammers were able to break into Gmail and iCloud accounts so easily, we would like to advise you not to reuse same passwords for different websites and, ideally, use two-step authentication[5] to validate your identity when logging into your personal accounts. This way, hackers, and scammers won't succeed in trying to infringe your privacy.
UPDATE: When it seemed that the craze of Fappening 2.0 already subsided, hackers broke the silence on April 12, 2017 by leaking more photos online. This time, they extended the list of affected celebrities with names such as Miley Cyrus, Suki Waterhouse, Rosario Dawson[6], and reportedly Allison Brie and Sophie Turner. If you are interested in this topic, remember that scammers are aware of it. If you try to find websites that publish such content online, remember that cyber frauds might be trying to attack you using social engineering tricks – they seek to lure you in by promising to reveal interesting visual content, while actually, they might be trying to send you a little malicious surprise instead. Better think about your privacy, because celebrities are human beings just like you and the fact that their accounts were hacked means your privacy can be compromised as well. Besides, remember that by viewing leaked photos you violate the privacy of those celebrities, too. They didn't want these pictures to be leaked, so we invite you to not support cyber criminals by showing interest in the leaked content.
About the author
References
Read in other languages