Cyber crooks intend to publish Ashley Madison users' data
In 2015, the name of Ashley Madison website had flickered in online media when the news broke out about major data leak[1]. This website, created by Avid Life Media, may be a haven for people, who got bored of their married life routine and are looking for a fiery love affair. The website tempts users with such punchline as "Life's short. Have an affair"[2]. However, the entire idea of this online fueled some hackers' discontent. As a result, the site got hacked in 2015. All users' personal details, such as full name, email and home addresses, and credit card information, were exposed in dark web. What is more, the incident even led some users to commit a suicide[2]. The entire leak encompassed 9,5 GB. What is more, the racketeers demanded $19 from each victim for eliminating the data. Within time, the incident lost its appeal. However, not for long. The hackers of Ashley Madison are back again – they urge victims to pay up unless they want their data published on a new website – "Cheaters' Gallery"[3].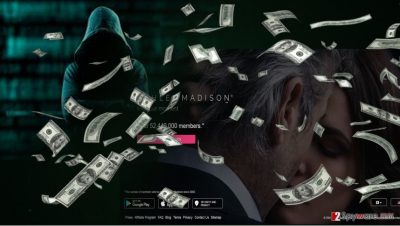 The crooks exposed their intentions to make a profit from users data after they send emails to victims blackmailing them to "opt out." The data of users "who cheat and destroy families" is to be exposed on a new site called "Cheaters Gallery" on May 1, 2017. In the previous case, the hackers' group introducing themselves as Impact Team claimed the cyber assault. However, netizens and IT experts speculate whether the same gang is pulling the strings this time again[4]. In order to extend the magnitude of the damage, the crooks also alarm victims of contacting their friends and family on Facebook and LinkedIn. The solution of "opting out" costs no more no less – only 500 USD in bitcoins[5]. Taking into account that over 30 million users got their data stolen, the hackers would make an astounding profit. Victims are advised not to pay the money as there is little information how much authentic data hackers possess. On the other hand, the notorious hack in 2015 did not ward off new users from signing up to this notorious domain. On the contrary, the number has rocketed to 52 440 000. On the final note, it depends entirely on users' whether they are ready to "play a ransom game" with hackers.
About the author
References