Following the traces of European Business Number scam
Receiving a letter from Daniela Kunst from European Business Number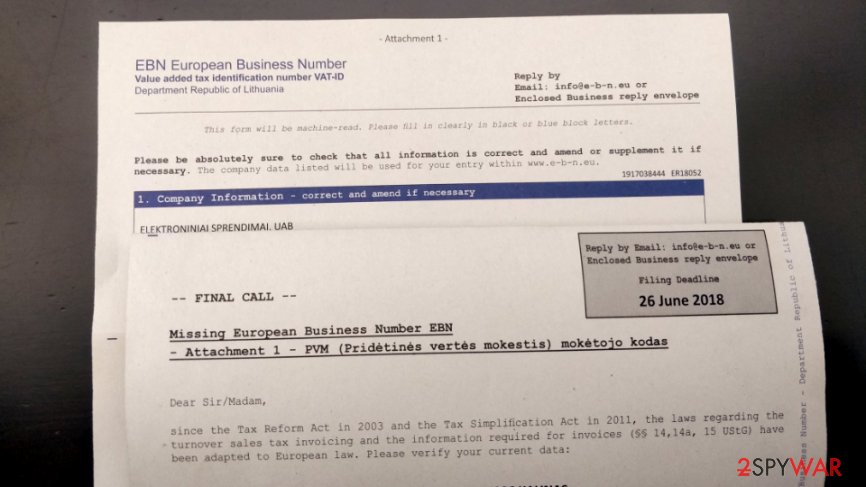 The postman knocks on the door and hands a letter. Office administrator thinks that it's an ordinary letter that gets in the mailbox every single day. However, two pieces of papers hidden in the envelope seem unusual. It's a final call for providing missing European Business Number EBN.
It is possible that a company filled some forms incorrectly or filled some blank boxes during the tax season?
Of course, mistakes happen, but not this time. It's a pure scam that aims at various businesses in Europe for almost two decades. Scammers aim to trick companies into paying for several hundreds of euros for "one year advertisement and for one year of publication" on some yellow pages.
Our partners in Lithuania received such scam letter, and we started digging deeper. We discovered that many companies in Europe received letters from Daniela Kunst – the marketing director of DAD GmpH asking to provide specific information about the company.
Unfortunately, some of the business owners failed to identify the hoax, and has been threatened to pay thousands of euros. Moreover, the DAD GmpH itself managed to press the charges for those who declined to pay. Long story short, the company was declared guilty of committing the criminal offense of fraud by Landgericht court in Hamburg.
The court said its verdict in 2008, but it didn't stop European Business Number scam from spreading during the past 10 years.[1]
The letter informs about Missing European Business Number EBN
At first glance, the letter seems legitimate. It includes the information about the sender and our company's details (you can see an example below). Judging from the appearance, it might resemble some document forms in Europe. However, if you read what is written there attentively, something seems shady about it.
Our colleagues from Virusai.lt found two pieces of paper and a reply envelope. One of the documents included the information about the missing details and other was a pre-filled form with all the business information, but lacking for VAT code (it is called Pridėtinės Vertės Mokestis (PVM) in Lithuanian).
The company is supposed to provide VAT, sign a document and put a stamp on it. The filled form should be sent in the added business reply envelope until the deadline. Our colleagues are given time until June 26, but fraudsters won't receive their agreement to pay 771 euros for weird advertising services in yellow pages:
The price quoted applies for one advertisement and for one year of publication unless specifically agreed otherwise. Prices are payable yearly. The price for the advertisement amounts to EUR 771 p.a. and is payable in advance within 14 days of the invoice date. If the consumer price index for Germany (CPI 2005 = 100) defined by the National Statistics Office increases or reduces by more than 5 % at the point at which a future invoice is due relative to its value on conclusion of the contract, then the price is adjusted by the same percentage. if the price is adjusted based on the above clause, the clause will become applicable again should the index increase by more than 5 % relative to the last adjustment. Client accepts Publisher's right to invoice the contractual amount in any other recognized currency. [Source: the letter]
Indeed, the purpose of the European Business Number scam is to trick companies into signing up for a three-year contract and paying several hundreds of dollars each year.
This information is provided on the other side of the pre-filled form. However, "General Terms and Conditions" are written in the blank colors and might be quite easily overlooked.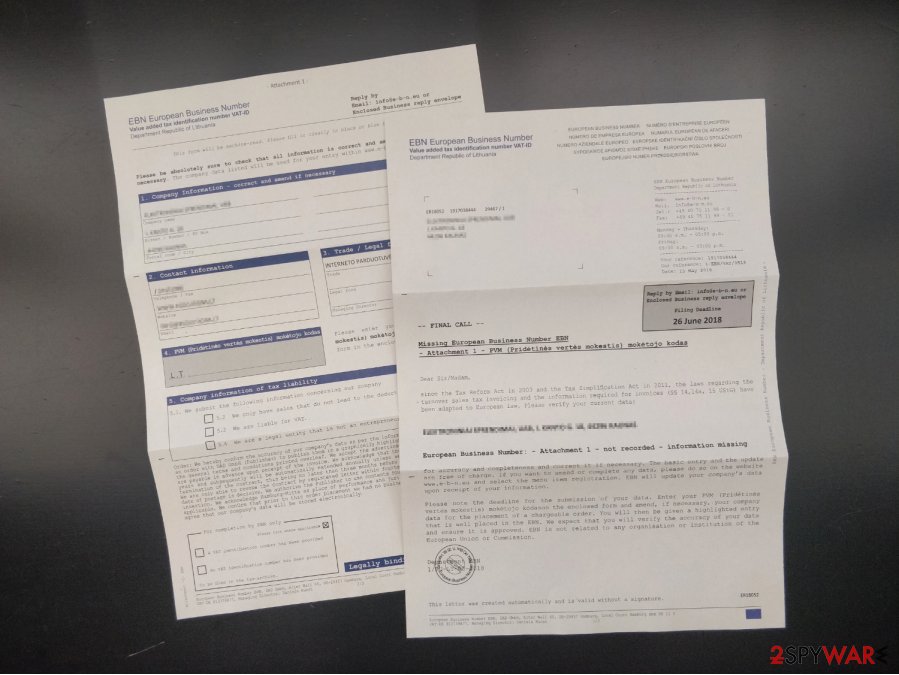 On the hunt for Daniela Kunst
The suspicious letter is said to be sent from DAD Deutscher Adressdienst GmbH – a company located in Hamburg Germany. In the footer, there's also a name of the managing director – Daniela Kunst. We decided to do a little research to find out who is this person who sent thousands of scam letters to companies in Croatia,[2] Bulgaria, Greece, Lithuania, and Estonia.
On the official company's website www.e-b-n.eu (if we can call fraudsters' site "official") there's no information about her. We looked up for her on LinekdIn, but there's no director of DAD GmpH there too.
Maybe, she is on Facebook?
She doesn't seem to be on world's largest social network too. We are pretty sure that it's a made up person. However, we found out on blogs that people who contacted the fraudster via email, received a letter from Daniela Kunst. But it's quite easy to use fake identity in this business.
Reading the comments further, we discovered that Miss/Mrs. Kunst might be Adrian Wittmer who is a well-known fraudster in the Check Republic. However, there's no proof that this person is actually standing behind the European Business Number scam or he is just responsible for other similar scams.
The complicated scheme of the scam
According to the information on various blogs and forums, Adrian Wittmer, might stand behind EBN scam. However, it is assumed that he might not be the only one. It is possible that there's a group of people working on this particular hoax.
However, Wittmer is a well-known fraudster whose name appeared in many different scams. He owned five fake companies in the Check Republic, and send emails to European companies on behalf of debt collectors.
The Swiss police have arrested him many years ago, and his company in Germany was closed. So, he relocated the business to the Czech Republic, where the climate for such criminal activities is better.
According to the commentator named Gorila:[3]
EBN in Hamburg is just the first stage in the business: harvesting signatures, issuing invoices and is sending payment reminders. [Source: Hacker's ramblings]
This activity is not against German law, so there's no need to hide in the Check Republic. However, the second part of the scam is punishable in Germany, so having business in another country helps a lot:
Two active companies founded and owned by Adrian Wittmer Credit Business Resolution s.r.o. CCF Credit Collection Factoring s.r.o are now sending threatening letters, representing themselves as acting on behalf of EBN/DAD. In reality, they are doing the second illegal part in the fraud which is punishable by the German laws. Hence DAD/EBN have relocated that part of the business into the Czech Republic. [Source: Hacker's ramblings]
However, there's no legal proof that this information is legitimate and real. But the scheme is followed by hundreds of people reports telling that they received threatening letters from debt collector located in the Check Republic:[4]
Hi George here from Greece, in 2015 I have done the mistake and paid them the first invoice, right after i asked them to cancel the 3 year contract but they refused. Since then I am ignoring every email they send me, mails for payment, and threats for leading me to courts etc. Today I received a different email from Credit Collection Factoring s.r.o in Czech telling me that i own to DAD around 2900 €. [Source: Raivo Laanemets blog]
Surprisingly, scammers sued their "clients" for unpaid services. However, instead of winning their case, the Landgericht Hamburg accused them of the criminal offense of fraud in 2008.[5] Hence, victims of the scam did not need to pay anything. Therefore, if you are one of those people who received a threatening letter, keep ignoring it.
European Business Number (EBN) scam spreads in Europe since the end of 90's
The first report about European Business Scam appeared in 1998. Of course, it was different than the one our colleagues received recently. However, during the past 20 of years, various versions of this scam reached businesses in and asked to pay for shady services different sums of money, for instance:
in 2014, companies in Cyprus and Serbia received letters asking to pay 480 euros;
in 2016, businesses in Slovakia, Slovenia, and Finland were charged for 677 euros (however, the price became higher in Finland in 2017 – 890 euros);
in 2017, Latvian companies were supposed to pay 771 euros.
Meanwhile, representatives from Lithuanian companies claim that the first letters appeared in their mailboxes ten years ago. However, the peak of the hoax was in 2016. Back then scammers asked for 677 euros for annual services. Though, the price increased to 771 euros in 2018.
It seems that fraudsters are unstoppable. European Parliament released a notice in 2014[6] about misleading letters from Deutsche Adressdienst GmbH (DAD) and warned members of the European Union to be careful with a scam.
However, we want to warn all business owners in Europe. This Hamburg-based company has nothing in common with authorities in the European Union. This information is even provided in the scam letter:
EBN is not related to any organization or institution of the European Union or Commission. [Source: the letter]
We want to remind to be careful. Always read all the information in the received documents, especially those parts in small letters and blank colors, before putting your sing and company's sign.
About the author
References
Read in other languages
European Business Number laiškas: gudriai išvystyta apgaulė išvilioja daugiau nei 2 tūkstančius eurų iš verslininkų Lietuvoje