Meet FBI Online Agent – an improved version of FBI virus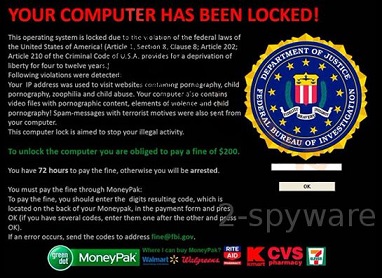 If your PC is blocked by FBI and its agent asks you to pay the fine of $200 for various law violations, you should double check this requirement. According to security experts, there's a huge possibility that your computer is infected with the latest version of FBI virus, which illegally uses the name of the Federal Bureau of Investigation to get the money from you. 'This version is called FBI Online Agent, it's completely FAKE and must be removed from the system immediately', say security experts.
As it was expected, FBI virus has been improving day by day. After starting with a huge, officially-looking alert filled with the FBI's logos and other tricky details, the latest its version uses an updated scare tactic: FBI Online Agent gives only universal details about the user. This bogus ramsomware's alert shows a countdown timer, case number, responsible agent and FBI's address. Of course, it also lists various illegal activities, such as copyright and pornography violation, terrorism promotion and similar, but it doesn't show user's location and IP address anymore. That makes us think that this FBI virus is designed for a wider audience and seeks to earn more money for its creators.
No matter that FBI Online Agent is different from its previous versions, it similarly tries to make users believe that this is a real FBI warning, which needs to be followed. It seeks to get $200 from each of its victim by making him/her purchase a MoneyPak voucher. The main sign, which clearly shows that your computer is infected with this ransomware, is a malicious warning "FBI Online Agent has blocked your computer for security reason".
Be aware that scammers are expected to improve this virus and present more dangerous and complex viruses in the future. Besides, there is a huge chance that they will try to change their distribution techniques as well.. In order to avoid ransomware on your computer, it's highly recommended avoiding any freeware and shareware programs that are actively distributed on the Internet at the moment. Besides, following safe surfing practices is also very important when trying to avoid cyber infections on your computer.
About the author
Read in other languages