New CallJam virus compromises Google Play app store
For some, it might be no surprise that Google Play app store has become the place for hackers to make their mischiefs. New adware was detected in one of Google Play applications – Gems Chests for Clash Royale. Fortunately, the program has been terminated and the malware removed. Nonetheless, these current attacks on Android users do not suggest reassuring speculations. As hackers are improving their hacking techniques in light speed, the virtual community gets a complex riddle to solve – how to download the apps without downloading the malware?
The crooks learn their lesson quickly and try to astound the virtual community with new hacking techniques. Now they are capable of forging false ratings in order to persuade users into downloading applications. Likewise, Gems Chests for Clash Royale became the bait containing the malware within. Before the virus researchers spotted the virus, the app had the rating of 4 stars. Consequently, it might have encouraged more than 100 000 users to download it. Unfortunately, they did not know that a secret "bonus" comes along with the software – CallJam virus. It has been named so according to make calls to premium users. Such feature brought a huge profit for the crooks while the victims got astounding phone bills. Fortunately, in order for this feature to get activated, the PUP asks for permissions. Additionally, the adware has another distinctive property. It does not hinder your gaming with frustrating pop-ups, but instead launches the browser and starts displaying the advertising content there. Thus, the victims did not only suffer from the irritating behavior of their browser but financial losses as well.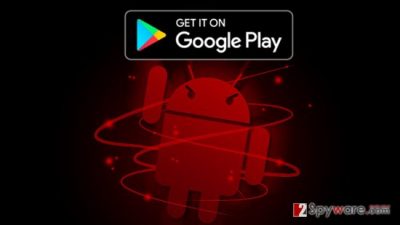 Unfortunately, this case is not the only when a seemingly legitimate Google Play app turned out to be malicious. After Android virus blew over, various adware and malware made their appearance soon afterward. Naturally, you might question: "is there a way to evade the cyber threat on my Android device?" While it is quite a challenge to confront malware in mobile devices, fortunately, cyber security companies offer a wide choice of mobile anti-virus programs. They significantly lower the risk of the virus assault. Though a phone or a tablet may still have more system vulnerabilities than an ordinary computer, the operation capabilities of viruses in mobile devices are limited as well. Likewise, even if you notice a strange behavior of a recently downloaded application, observe what permissions it asks and what changes it attempts to make.
About the author