New Windows 10 S version promises improved browser security
Windows 10 S presentation conference held by Microsoft representatives on May 2nd [1] has revealed some new security adjustments that await users who can't wait to get their hands on this new and improved Windows version. What especially fueled the security-oriented public's interest was the new policy that puts restrictions on what web browsers the new OS version will be allowed to run [2]. It turns out that Windows 10 S now come with a pre-installed Microsoft Edge browser with Bing set as the default search engine [3]. Of course, the installation of other web browsers is also possible: the desired applications can be downloaded from the official Windows Store. Nevertheless, regardless of what application you use for the web search, Microsoft Edge will be the default program to open files such as .htm, .html, etc. By implementing this additional verification step, Microsoft hopes to diminish the chances of users obtaining fraudulent applications and exposing their data to various risks. Unfortunately, the search engine will not be that easy to replace. Bing comes locked tight to the Windows 10 S and can only be replaced by upgrading it to Windows 10 Pro version [4].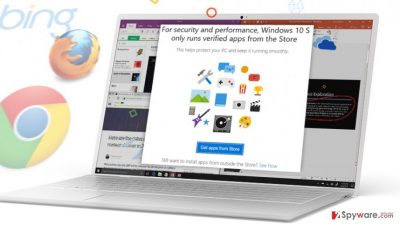 While most Windows OS fans rejoice Microsoft's steps towards a more secure web browsing, there is one group of people who are definitely not too happy to hear about these changes. You've probably already guessed it — it's fraudulent malware creators, especially those, whose main focus is the browser-based infections. Let's take browser hijackers [5] as an example. These popular lightweight parasites are designed to take over web browsers and alter their settings. Typically, they replace the infected browser's homepages and default search engines, forcing the victims to use useless or even malicious services. Infecting computer with Myluckysite123.com, myluckystarting.com or any other browser hijackers that are currently spreading through the web is fairly easy. Nevertheless, the consequences of the hijack are always unpredictable. You're lucky if you manage to spot and decontaminate the virus in time. Unfortunately, hijacker victims often end up with some more serious malware on their computers. Hopefully, the new Windows 10 S browser policy that prevents making unauthorized changes to homepage and default search engine settings will help build a stronger barrier which would shield our browsers from these nasty parasites. In the meanwhile, you should not forget to provide your computer with an extra layer of security and obtain some professional antivirus software with strong real-time protection capacities.
About the author
References