"No More Ransom" project puts up a fight against ransomware
Nomoreransom.org is a new online company that combines technology and knowledge to fight one of the most painful scourges of the present cyber world – ransomware viruses. Though these viruses have been around since 1986, in the last couple of years their popularity started to grow extremely rapidly. In 2015 alone, the activity of such infections increased by 35%. Even more staggering is the rate of the infected users. Within the years of 2014 and 2016, a number of infected computers jumped from 131,000 to 718,000. This only proves that hackers are surely getting better at what they are doing and that the cyber security community and the authorities must do something about it. For a while, different personal blogs, infosec-oriented websites,and forums were the ones the infected users would turn to in case of ransomware infection. Nevertheless, the information was scattered around the Internet, and there was a lack of a singular, specialized, informational source that would introduce the ransomware viruses, discuss how they work and give advice on how to avoid them. The Netherlands' police, Europol's European Cybercrime Centre together with Kaspersky Lab and Intel Security noticed this gap and decided to join their forces to set up the No More Ransom project. This initiative is intended to benefit the ransomware victims by providing ransomware decryption solutions and educate other users, companies and organizations about the dangers of these infections.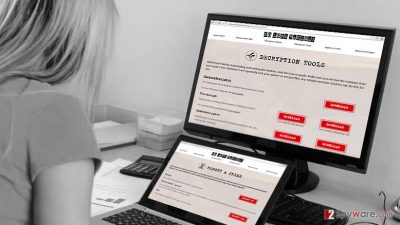 On nomoreransom.org there are plenty of useful functions, services and recommendations for the users whose computers are already infected with the virus as well as those, who are looking for ways to prevent the infiltration. Especially promising is the "Crypto Sheriff" service which allows the ransomware victims to determine the type of the ransomware infection by sending two infected files to a specialist of the site. After determining what virus has taken hold of your files, you may want to go to the "Decryption Tools" section of the site where you will find decryption keys for viruses such as Chimera, TeslaCrypt 3.0 and 4.0 or several versions of CryptXXX which you will be able to download on the infected device and get your files back without having to pay the ransom. Of course, you will not find decryption software of all the ransomware viruses out there because some of them, such as Locky, Cryptolocker or Petya are still too tough of a nut for the virus investigators to crack. In such a case, you will have two options only: pay the cyber criminals the money they demand for the file decryption or eliminate the virus from your computer. If you choose the latter, you can always reach out for the virus elimination specialists of 2-spyware.
About the author