Atwola. How to remove? (Uninstall guide)
What is Atwola and what is the purpose of it?
Atwola is a name of a tracking cookie. Technically, it would be wrong to call it Atwola virus, because it does not harm the computer. However, it is used to spy computer user's browsing activity and interests, so if you do not want to be tracked every time you browse the web, it goes without saying that you should get rid of it. Atwola tracking cookie can be inserted into any web browser, for example, Internet Explorer, Mozilla Firefox, Safari or Google Chrome, and its purpose is to observe user's activity on the Internet, including one's browsing history, downloads, search queries, clicks on ads or hyperlinks, and similar information. Reportedly, Atwola spyware is related to Search.aol.com virus, and at.atwola.com and ar.atwola.com sites are AOL ad servers (since ATWOLA is an acronym for AOL Time Warner Online Advertising), which means that Atwola cookie gathers information in order to select targeted ads for you.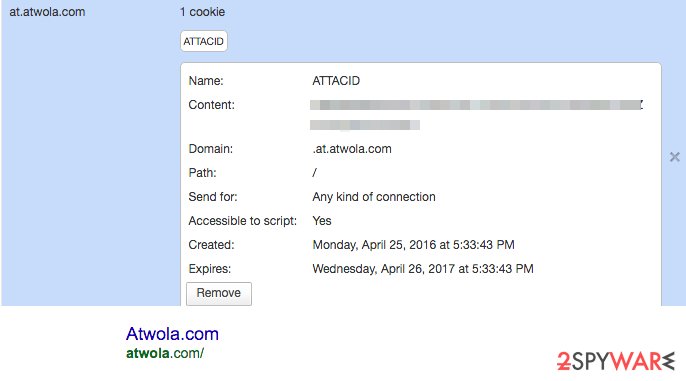 You might encounter these ads whenever you browse the Internet. They can show up as slide-in ads, banners, pop-up ads, or new tab pages filled with promotional content and commercial offers. These Atwola ads are highly unreliable and can contain redirect links, so if you ever see them on your screen, refrain yourself from clicking them. Untrustworthy ads can force you to pay a call on high-risk websites, so if you would like to keep your computer safe, stay away from them. We also advise you to scan your computer with an anti-spyware software to detect potentially unwanted ad-supported programs that might be related to Atwola cookie.
If you do not want some suspicious parties track your activity and gather information about you, we strongly advise you to remove Atwola tracking cookie from your browser and pursue all related components from your computer. To clean your computer from potentially unwanted programs (PUPs) and complete a full Atwola removal, we suggest using Reimage anti-spyware software.
How did Atwola hijack your browsers?
Atwola tracking cookie might be added to your browser right after visiting these suspicious domains related to it (ar.atwola.com or at.atwola.com), or clicking on advertisement powered by AOL. However, it is also possible to get this cookie if you use any of AOL products, also if Search.aol.com browser hijacker is installed on your system. You might accidentally install tracking cookie Atwola along with some suspicious potentially unwanted program (PUP). Therefore, we would like to give you some tips how to avoid getting such unwanted components and browse the web safely.
First of all, avoid pushy and bothersome web advertisements. Ordinarily, web ads are not supposed to show up every 2 minutes and open up in new browser windows or tabs. If you notice such occurrences frequently, there might be some adware type programs running on your computer system.
Avoid visiting untrustworthy third-party websites. High-risk web pages can be contaminated with malicious links inserted into clickable content (such as ads, buttons, hyperlinks, pictures, and so on). Clicking on corrupted objects can immediately download malicious components to your computer.
Be mindful when downloading new software to your PC. Rely only on well-known and secure web pages. If the website which provides the download link raises even the slightest suspicion for you, eschew downloading software from it.
Install programs in a right manner. Opt for Custom or Advanced installation settings at all times and deselect any suspicious "recommended downloads" added to your selected software. The chances are, such additions are unreliable or even harmful.
If you want to find out how to block Atwola cookie and fix your browsers, navigate to page 2.
Atwola removal instructions
Most of the time, Atwola virus enters computer systems without users' knowledge, and such activity is not praiseworthy. Besides, it tracks and gathers information about the computer user, which is also unacceptable. Therefore, we highly recommend you to uninstall Atwola from your system for good.
You can try to delete Atwola cookie via browser settings. Unfortunately, users have reported that Atwola tracking cookie has an ability to restore itself, so we definitely recommend you to use a professional anti-spyware program to get rid of it for good. As we have previously mentioned, you can remove Atwola with Reimage anti-spyware software. Good luck!
About the author
Removal guides in other languages