CHIP ransomware / virus (May 2021 update) - Decryption Methods Included
CHIP virus Removal Guide
What is CHIP ransomware virus?
CHIP virus authors use RIG exploit kit for distribution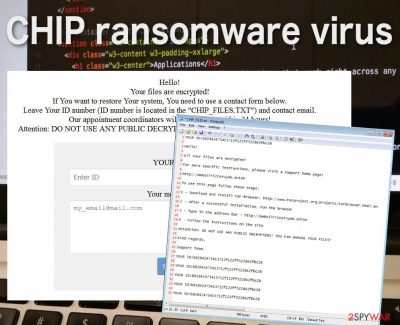 CHIP virus is a ransomware-type infection[1] created for the sole purpose of extorting money from the infected computer owners. In most cases, cybercriminals use exploit kits such as RIG to propagate the virus, although some cases of brute-force attacks were also observed.
Once installed, malware appends each of the personal files with .CHIP or .DALE extensions thanks to the encryption process, which is performed with a strong RSA[2] encryption algorithm. Soon after, victims can see a ransom note, titled "CHIP_FILES.txt" or "DALE_FILES.txt," which explains to victims what happened with their data and that they need to visit a specific .onion website and contact criminals through it for further details. As evident, malicious actors would ask a ransom to be paid in Bitcoin cryptocurrency, although agreeing with these demands might cost you your money.
| | |
| --- | --- |
| Name | CHIP ransomware |
| Type | File-locking virus, crypto-malware |
| Extension | .CHIP or .DALE |
| Cipher | RSA |
| Contact | Users can be asked to visit a unique .onion web address via the TOR browser or contact hackers directly via grion@protonmail.com or similar email |
| Malware elimination | Use SpyHunter 5Combo Cleaner or another reputable anti-malware to delete all malware on your system |
| System fix | Malware can seriously damage Windows system files, which may later result in crashes or errors. To remediate this damage automatically, we recommend using FortectIntego |
The files encrypted by this ransomware can be uncovered by finding a particular extension added to them. Usually, these viruses are programmed to target high-importance "working" content, including media files, Office documents, or PDF files.
It can also encrypt virtual or the most popular cloud drives,[3], so if you are thinking about backing up your data on such platforms to prevent ransomware attacks, you should start thinking about some other option. However, if infected, you need to remove the virus first because each second counts, and you can lose even more files stored on your computer.
When the files are encrypted, the criminals drop the ransom note that manipulates their victims into paying considerable sums of money in order to regain the lost access to their personal data. According to the latest findings, they ask people to contact them via one of the following emails:
grion@protonmail.com
grion@techie.com
grion@dr.com
grion@protonmail.com, etc.
In some other malware versions, users might be asked to download the TOR browser and visit a particular page. There, victim ID and a comment should be added in order to begin communication with hackers.
We should remind you that this malware is a creation of cybercriminals who should not be trusted![4] These individuals may try to convince you into thinking that they are the only ones who can help you to get your data back, but please, keep in mind that security experts have already found alternative ways to help people recover their data.
By paying up, you only support the criminals, but by carrying out CHIP ransomware removal, you can diminish their motivation to move forward with the virus invention. We suggest doing just that and contributing to the battle against cyber infections.
Originally, the virus earned its name from the extensions it adds to the infected files. However, the latest its version uses .Dale file extension. Documents that feature such extensions are inaccessible and remain like this until they are decrypted using the offered decryption key, or in case the encryption is bypassed some other way. The targeted files are compromised by changing their inner structure.
For instance, after the encryption, information on a Word document will be replaced by a jumble of unintelligible symbols. The number of symbols indicates the complexity of encryption: the more symbols – the stronger encryption. To solve this problem, the hackers offer the victim to purchase a private decryption key which will supposedly bring these files in their previous order.
On the infected computer, the virus automatically drops a ransom note in which this data retrieval process is explained in more detail, as can be seen in an example below:
YOUR ID:[random_string_of_characters]
Hello! All Your files are encrypted! For more specific instructions,
please visit a support home page: hxxp://mm6x57ri2coivya6.onion
To see this page follow these steps: 1 – Download and install tor-browser: hxxp://www.torproject.org/projects/torbrowser.html.en
2 – After a successful installation, run the browser
3 – Type in the address bar – hxxp://mm6x57ri2coivya6.onion
4 – Follow the instructions on the site
Attention: DO NOT USE ANY PUBLIC DECRYPTERS! YOU CAN DAMAGE YOUR FILES!
Kind regards,
Support Team.
YOUR ID:[random_string_of_characters]
As you can see, the hackers are not willing to discuss the financial issues immediately and urge the victims to access the predetermined payment site first. Even after that, the victims are asked to provide their own email address so that the hackers could contact them privately. The notice is declared as follows:
Hello!
Your files are encrypted!
If You want to restore Your system, You need to use a contact form below.
Leave Your ID number (ID number is located in the "CHIP_FILES.TXT") and contact email.
Our appointment coordinators will contact you within 24 hours!
Attention: DO NOT USE ANY PUBLIC DECRYPTERS! YOU CAN DAMAGE YOUR FILES!
It is likely that after you contact the criminals, you will be asked to transfer them a ransom that ranges from $500 to $1,000. Even with such large sums at play, you are never guaranteed that your files are safe and will be decrypted. Thus, the most rational decision in such a case is to remove the virus, try to recover the encrypted data via alternative techniques and take steps to protect your future data, namely, create backup copies of your files.
Malware distribution methods
When it comes to distributing this ransomware strain, we have to say that it is pretty basic. The virus primarily attacks computers through spam emails. Hackers have become surprisingly good at creating persuasive emails that inform about a tax refund, delivery confirmation, flight bookings, and similar issues, which, in reality, work as a hook to get the targeted victims to download malicious files.[5]
Thus, you should never rush to open similar emails or download attached files, even if the sender is an authoritative company or institution. If you are not cautious enough and download one of the infected .js, .wsf, .hta, .html files that virus developers use to distribute this virus, you may get infected and lose your files. Stay vigilant and stay away from such emails as far as possible at the same time taking care of your data backups.
Get rid of the virus and only then attempt file recovery
Without a doubt, ransomware is by far the most damaging type of malware that one can get infected with. The unique key that is used during the encryption is what stops people from an easy recovery after the infection. However, keep in mind that you can mitigate most of the damage caused by simply preparing regular data backups.
If you have none ready, you need to first copy the locked files over to a separate medium, for example, a USB drive. Then, you can remove malware from your system by scanning your PC with SpyHunter 5Combo Cleaner or another antivirus software. Don't forget to repair damaged system components – you might have to reinstall Windows for that. Alternatively, you can employ FortectIntego.
Finally, look for alternative data recovery solutions we provide below. Keep in mind that using them might not necessarily result in a positive outcome for you, although paying criminals is by far a worse choice to make.
Alternative Software
Different software has a different purpose. If you didn't succeed in fixing corrupted files with Fortect, try running SpyHunter 5.
Alternative Software
Different software has a different purpose. If you didn't succeed in fixing corrupted files with Intego, try running Combo Cleaner.
Getting rid of CHIP virus. Follow these steps
Important steps to take before you begin malware removal
File encryption and ransomware infection are two independent processes (although the latter would not be possible without the former). However, it is important to understand that malware performs various changes within a Windows operating system, fundamentally changing the way it works.
IMPORTANT for those without backups! → 
If you attempt to use security or recovery software immediately, you might permanently damage your files, and even a working decryptor then would not be able to save them.
Before you proceed with the removal instructions below, you should copy the encrypted files onto a separate medium, such as USB flash drive or SSD, and then disconnect them from your computer. Encrypted data does not hold any malicious code, so it is safe to transfer to other devices.
The instructions below might initially seem overwhelming and complicated, but they are not difficult to understand as long as you follow each step in the appropriate order. This comprehensive free guide will help you to handle the malware removal and data recovery process correctly.
If you have any questions, comments, or are having troubles with following the instructions, please do not hesitate to contact us via the Ask Us section.
IMPORTANT! →
It is vital to eliminate malware infection from the computer fully before starting the data recovery process, otherwise ransomware might re-encrypt retrieved files from backups repeatedly.
Identify ransomware affecting your PC
Modern-day ransomware had its roots in the early 2010s when cybercriminals began to understand the potential it has for money extortion. Over the years, thousands of new ransomware strains have been developed and spread all over the world, infecting regular consumers, small businesses, and high-profile organizations.
Because of the lucrative nature of ransomware, cybercriminals are creating new ransomware versions in the hopes of establishing themselves in this illegal business. Ransomware often uses different extensions, ransom notes, and other attributes that it can be identified by. However, quite often, this information can overlap or simply not be available, so identifying the threat might be difficult.
In order to deal with ransomware infection effectively, you must first identify it. Here are a few examples of how to determine the precise ransomware you are dealing with:
File extension
Almost all modern ransomware viruses are using extensions that are appended at the end of the original filenames. However, this is not a rule, and in some cases, cybercriminals change the name by replacing it with randomly generated characters, add the marker before the file name, or do not visually change the name of the file at all.
Here you can see an example of a unique extension .hhmgzyl that belongs to the Snatch ransomware family: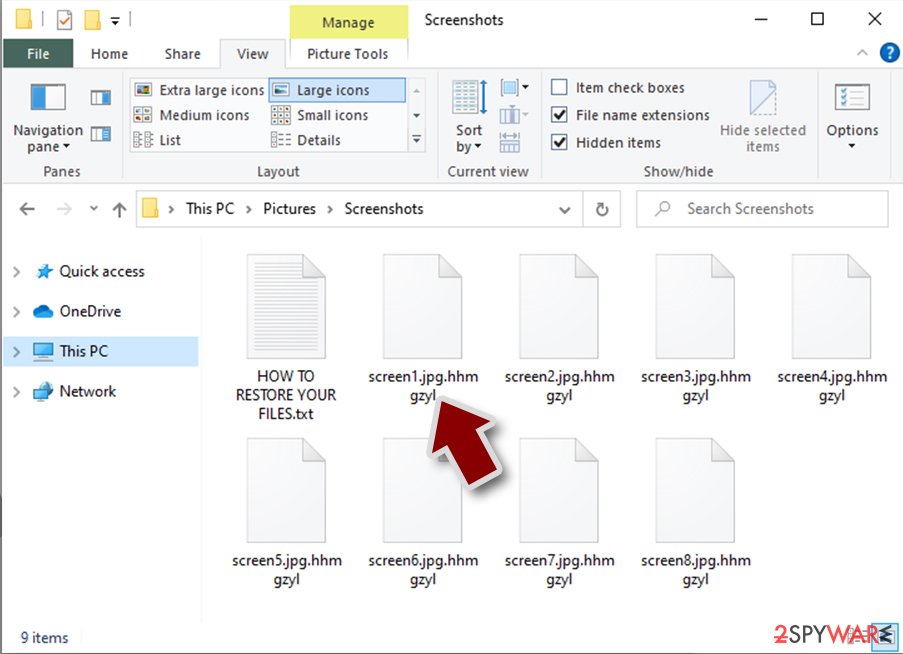 If your files are appended with .exe, .locked, .encrypted, or other broadly-used extensions that are difficult to identify, proceed with the next step.
Ransom note
Ransomware family might sometimes be identified by the ransom note it uses. In most cases, cybercriminals create a simple .txt file and place it on users' desktops or other places that are easily reachable (typically, where the encrypted data is located). Other times, a pop-up window can also be used, which is launched as soon as the encryption is complete. In some cases, threat actors name the ransomware within this note: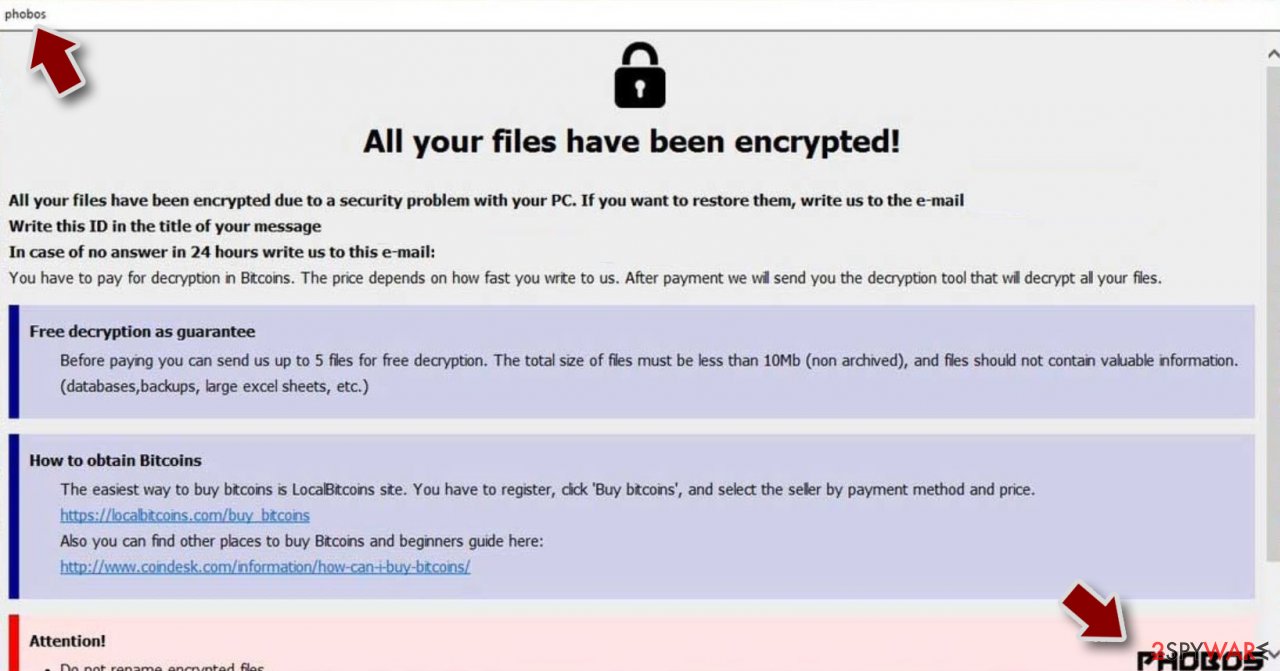 In some cases, it is possible to identify ransomware by its ransom note name, but they are typically very generic (e.g., FILES ENCRYPTED.txt, _readme.txt) and used by different cybercriminals groups.
Free ID Ransomware service
ID Ransomware is a free service that can easily let users identify the precise malware they are dealing with. All you have to do is upload the ransom note that can be found on the desktop and within folders where encrypted files are located and the sample of an encrypted file.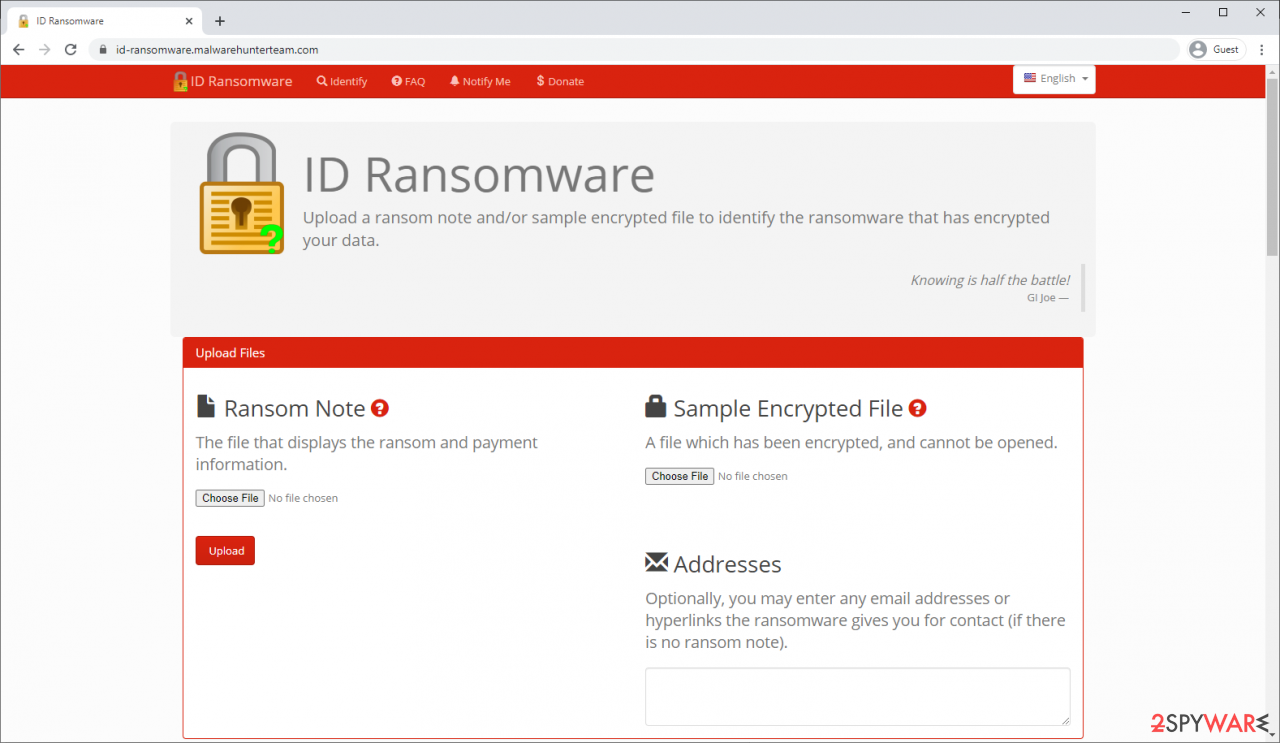 Soon after uploading the required files, you will be provided with all the relevant information, including what family ransomware belongs to and whether or not it is possible to decrypt files.
If none of the above helped you to identify which ransomware you are dealing with, you should use keywords (extension, contact email, ransom note contents, crypto-wallet address, etc.) to find the information on the internet.
Scan your system with anti-malware
If you are a victim of ransomware, you should employ anti-malware software for its removal. Some ransomware can self-destruct after the file encryption process is finished. Even in such cases, malware might leave various data-stealing modules or could operate in conjunction with other malicious programs on your device. 
SpyHunter 5Combo Cleaner or Malwarebytes can detect and eliminate all ransomware-related files, additional modules, along with other viruses that could be hiding on your system. The security software is really easy to use and does not require any prior IT knowledge to succeed in the malware removal process.
Repair damaged system components
Once a computer is infected with malware, its system is changed to operate differently. For example, an infection can alter the Windows registry database, damage vital bootup and other sections, delete or corrupt DLL files, etc. Once a system file is damaged by malware, antivirus software is not capable of doing anything about it, leaving it just the way it is. Consequently, users might experience performance, stability, and usability issues, to the point where a full Windows reinstall is required.
Therefore, we highly recommend using a one-of-a-kind, patented technology of FortectIntego repair. Not only can it fix virus damage after the infection, but it is also capable of removing malware that has already broken into the system thanks to several engines used by the program. Besides, the application is also capable of fixing various Windows-related issues that are not caused by malware infections, for example, Blue Screen errors, freezes, registry errors, damaged DLLs, etc.
Download the application by clicking on the link above
Click on the ReimageRepair.exe


If User Account Control (UAC) shows up, select Yes
Press Install and wait till the program finishes the installation process
The analysis of your machine will begin immediately
Once complete, check the results – they will be listed in the Summary
You can now click on each of the issues and fix them manually
If you see many problems that you find difficult to fix, we recommend you purchase the license and fix them automatically.
By employing FortectIntego, you would not have to worry about future computer issues, as most of them could be fixed quickly by performing a full system scan at any time. Most importantly, you could avoid the tedious process of Windows reinstallation in case things go very wrong due to one reason or another.
Restore files using data recovery software
Since many users do not prepare proper data backups prior to being attacked by ransomware, they might often lose access to their files permanently. Paying criminals is also very risky, as they might not fulfill the promises and never send back the required decryption tool.
While this might sound terrible, not all is lost – data recovery software might be able to help you in some situations (it highly depends on the encryption algorithm used, whether ransomware managed to complete the programmed tasks, etc.). Since there are thousands of different ransomware strains, it is immediately impossible to tell whether third-party software will work for you.
Therefore, we suggest trying regardless of which ransomware attacked your computer. Before you begin, several pointers are important while dealing with this situation:
Since the encrypted data on your computer might permanently be damaged by security or data recovery software, you should first make backups of it – use a USB flash drive or another storage.
Only attempt to recover your files using this method after you perform a scan with anti-malware software.
Install data recovery software
Download Data Recovery Pro.
Double-click the installer to launch it.

Follow on-screen instructions to install the software.
As soon as you press Finish, you can use the app.
Select Everything or pick individual folders where you want the files to be recovered from.
Press Next.
At the bottom, enable Deep scan and pick which Disks you want to be scanned.
Press Scan and wait till it is complete.
You can now pick which folders/files to recover – don't forget you also have the option to search by the file name!
Press Recover to retrieve your files.
Find a working decryptor for your files
File encryption is a process that is similar to applying a password to a particular file or folder. However, from a technical point of view, encryption is fundamentally different due to its complexity. By using encryption, threat actors use a unique set of alphanumeric characters as a password that can not easily be deciphered if the process is performed correctly.
There are several algorithms that can be used to lock data (whether for good or bad reasons); for example, AES uses the symmetric method of encryption, meaning that the key used to lock and unlock files is the same. Unfortunately, it is only accessible to the attackers who hold it on a remote server – they ask for a payment in exchange for it. This simple principle is what allows ransomware authors to prosper in this illegal business.
While many high-profile ransomware strains such as Djvu or Dharma use immaculate encryption methods, there are plenty of failures that can be observed within the code of some novice malware developers. For example, the keys could be stored locally, which would allow users to regain access to their files without paying. In some cases, ransomware does not even encrypt files due to bugs, although victims might believe the opposite due to the ransom note that shows up right after the infection and data encryption is completed.
Therefore, regardless of which crypto-malware affects your files, you should try to find the relevant decryptor if such exists. Security researchers are in a constant battle against cybercriminals. In some cases, they manage to create a working decryption tool that would allow victims to recover files for free.
Once you have identified which ransomware you are affected by, you should check the following links for a decryptor: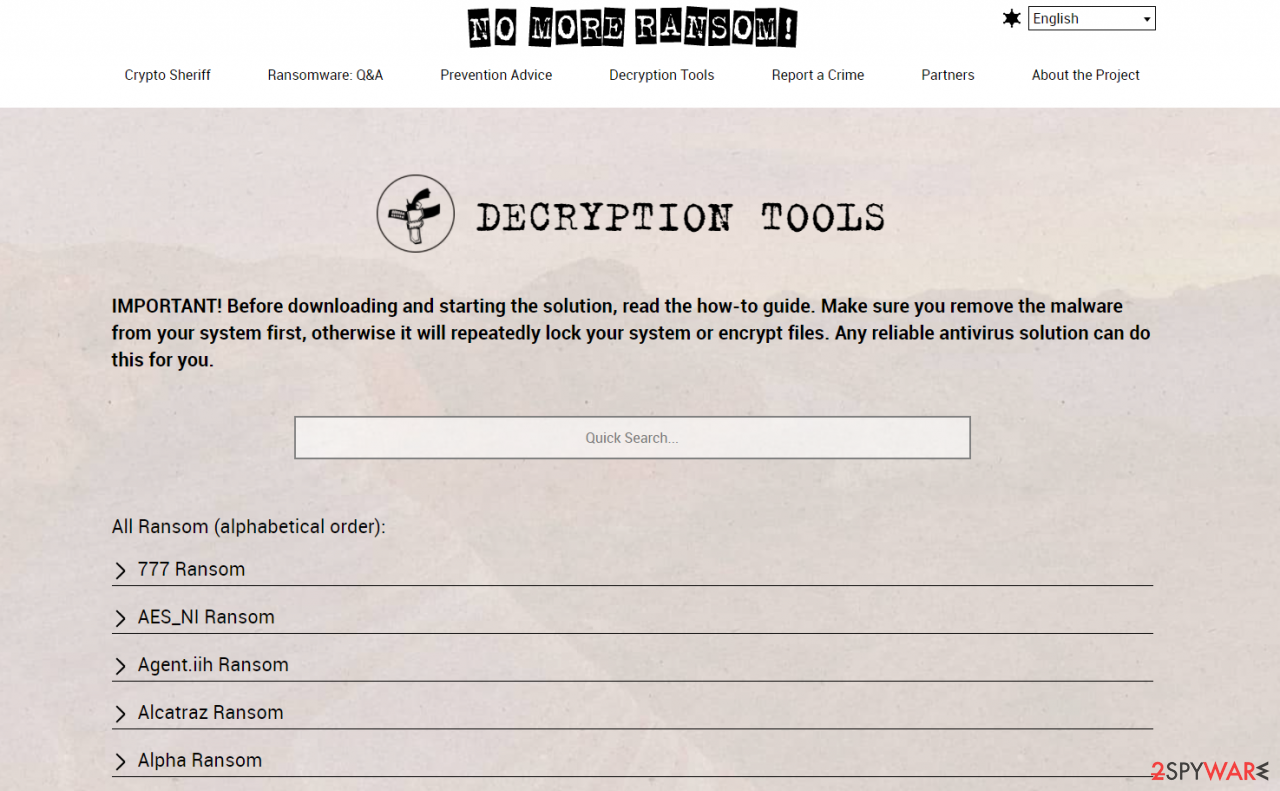 If you can't find a decryptor that works for you, you should try the alternative methods we list below. Additionally, it is worth mentioning that it sometimes takes years for a working decryption tool to be developed, so there are always hopes for the future.
Finally, you should always think about the protection of crypto-ransomwares. In order to protect your computer from CHIP and other ransomwares, use a reputable anti-spyware, such as FortectIntego, SpyHunter 5Combo Cleaner or Malwarebytes
How to prevent from getting ransomware
Protect your privacy – employ a VPN
There are several ways how to make your online time more private – you can access an incognito tab. However, there is no secret that even in this mode, you are tracked for advertising purposes. There is a way to add an extra layer of protection and create a completely anonymous web browsing practice with the help of Private Internet Access VPN. This software reroutes traffic through different servers, thus leaving your IP address and geolocation in disguise. Besides, it is based on a strict no-log policy, meaning that no data will be recorded, leaked, and available for both first and third parties. The combination of a secure web browser and Private Internet Access VPN will let you browse the Internet without a feeling of being spied or targeted by criminals. 
No backups? No problem. Use a data recovery tool
If you wonder how data loss can occur, you should not look any further for answers – human errors, malware attacks, hardware failures, power cuts, natural disasters, or even simple negligence. In some cases, lost files are extremely important, and many straight out panic when such an unfortunate course of events happen. Due to this, you should always ensure that you prepare proper data backups on a regular basis.
If you were caught by surprise and did not have any backups to restore your files from, not everything is lost. Data Recovery Pro is one of the leading file recovery solutions you can find on the market – it is likely to restore even lost emails or data located on an external device.
About the author
References